Taste of Southeast Asia: Dining in Thailand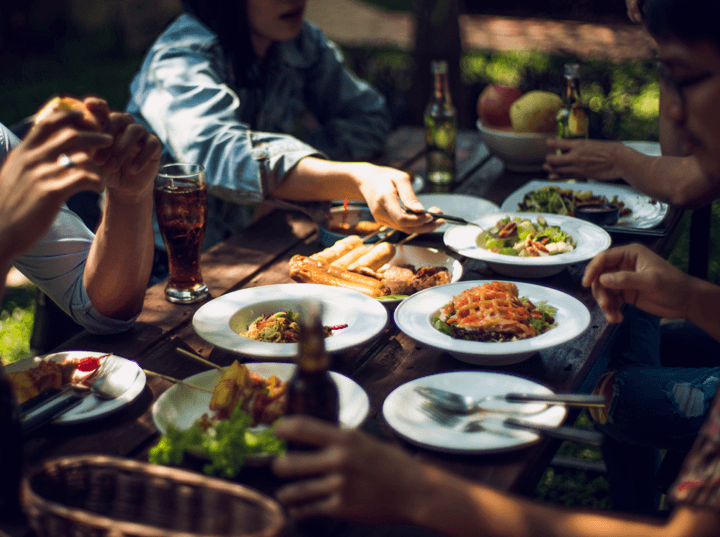 Welcome to the seventh installment in our Taste of ASEAN series. Follow our footsteps as we venture into the local kitchens of Southeast Asia, in search of all the tastiest dishes from each country.
In this feature, our food adventure takes us to the famous dishes of Thailand. Join us as we discover all the best places to find truly authentic tastes from this exciting nation. We've even got some western-friendly recipes for you to try at home. Let us know if we've tempted you to choose Thailand as your next travel destination.
Thai Cuisine
The Kingdom of Thailand, formerly known as Siam, sits between four Southeast Asian neighbors: Myanmar, Laos, Cambodia, and Malaysia. Known for its stunning beaches, breathtaking mountains, friendliness, and rich cultural history, Thailand is famed mostly for its food.
In 2018, Thai cuisine received mass international praise when three of its dishes appeared in the CNN Travel's World's 50 Best Foods. These being tom yam (hot and sour soup), som tam (papaya salad) and massaman curry (rich mild curry) taking the top spot.
You can expect to find five distinct flavors in Thai cooking – sweet, salty, sour, spicy and bitter. These flavors are expertly blended to produce a strong taste that is recognized as the signature taste of Thai cuisine. Common cooking ingredients include kaffir lime, shallots, tamarind, palm sugar, coconut milk pepper, galangal, garlic, chilies, coriander, and lime. The health benefits of these ingredients are also an important consideration in Thai cuisine, with fresh herbs and spices being specially chosen for their medical benefits.
Thai Restaurant – Khao Soi Khun Yai (Chiang Mai)
The largest city in northern Thailand, Chiang Mai is certainly worth adding to your travel itinerary. Boasting mountainous ranges and vast green landscapes, this region of Thailand has a plenty on offer including its appetizing food.
Khao Soi Khun Yai is a great starting place to dip your taste buds into northern Thai cuisine. Located in the old city amidst a row of shops, Khao Soi Khun Yai is known by locals and visitors for its noodle soup – khao soi. Served with garnishes of red onion, lime, and pickles – khao soi is typically made with noodles, coconut milk, chicken and a blend of Thai spices.
A humble canteen-style eatery, this venue is small on frills and big on taste. Open from 10.00 – 14.00 every day, make sure you head to Khao Soi Khun Yai's to enjoy a piping-hot bowl of their delectable khao soi.
Thai Recipe: Khao Soi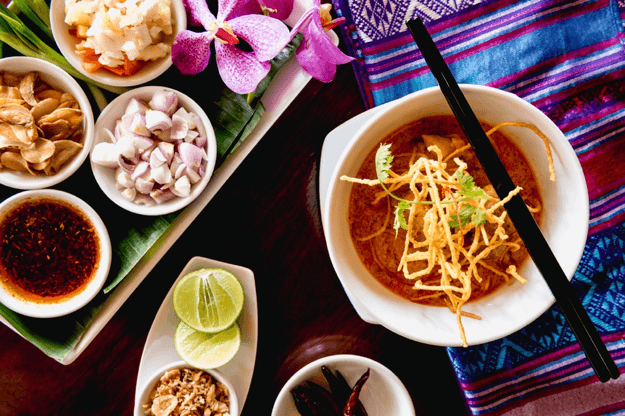 Food from the northern region of Thailand tends to be moderately spicy with sweet undertones, compared to its southern counterpart. As this part of the country is colder than other regions, Thai dishes feature various aromatic spices that produce a warming effect on the body. Famous local dishes include flavorsome hung lay curry (dry and rich pork belly curry), nam prik noom (green chili dip) and the best of all noodle curries – khao soi.
For a flavor of northern Thai food from the comfort of your own home, this khao soi recipe from Serious Eats is worth a try. Mix chili, lemongrass, lime, garlic, turmeric, ginger, cardamom, coriander stalks, and shrimp paste to form the curry base. Noodles, coconut milk, and the pre-prepared curry paste are then combined in a wok before chicken leg pieces are added to simmer slowly together. Once cooked, serve hot, top with fried noodles and lay out the garnishes. This mouth-watering dish might entice you to visit Thailand sooner than you expected.
Thai Restaurant – Thip Samai
With most international flights coming into the capital city, Bangkok is the central hub for all visitors to Thailand and a great place to sample local dishes. And, there's no better way to kick-start your culinary exploration of Thailand, than with a hot plate of pad thai (stir-fried noodles). Often considered as one of the best vendors of serving pad thai, Thip Samai will certainly not disappoint.
Located in the Phra Nakhon area of Bangkok, Thip Samai is known as the oldest pad thai restaurant in Thailand. With a passion for using fresh ingredients and a commitment to the original pad thai recipe, Thip Samai's version of pad thai has often been praised for its authentic flavor. Shrimps, tofu, beansprouts, and noodles are combined with Thai spices to stir-fry this glorious noodle dish. Finally, the noodles are encased in a thin egg omelet and served hot to hungry customers.
Head there to watch several Thip Samai's chefs working hard over big fiery woks to make batch after batch of fresh pad thai.
Thai Recipe: Pad Thai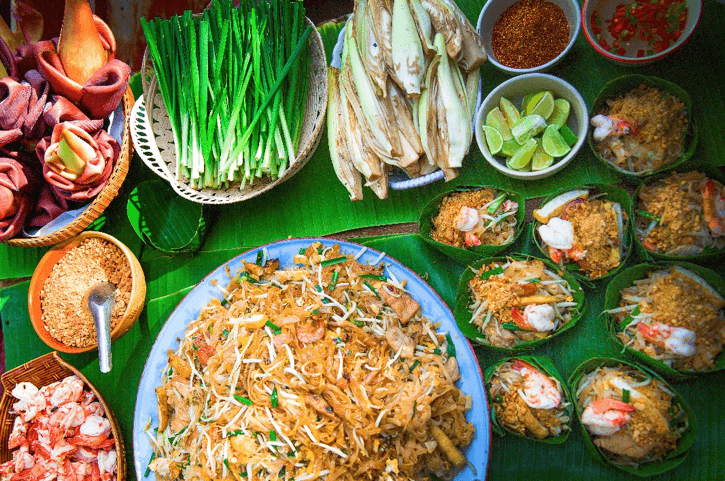 Stir-fried noodle dish – pad thai is considered the national dish of Thailand and it's easy to see why. Delicious smoky, sweet and spicy flavors are at the heart of this popular street food recipe. If we've got your appetites perked up for a taste of this tantalizing dish, here's a pad thai recipe from Bon Appétit to try at home.
Rice noodles, egg, shrimp, garlic, Thai fish sauce, tamarind, palm sugar (or syrup), chilies, bean sprouts, tofu, lime and crushed peanuts are all the ingredients you need to make pad thai in less than thirty minutes. Serve hot straight from the wok and enjoy!
Thai Restaurant – Black Ginger
If your daydreams of Thailand involve beautiful beaches, spectacular sunsets and coastal variations of Thai cuisine – Black Ginger in Phuket is a fantastic venue to satisfy your seafood cravings.
Part of The Slate Hotel in Nai Yang beach, this stylish restaurant presents an unforgettable experience. Featuring contemporary interpretations of traditional Thai design, Black Ginger is both a feast for the eyes and the stomach. The surreal atmosphere and awe-inspiring interiors make this an ideal place for a special dinner.
As for the menu, Black Ginger beautifully represents the flavors of the south. It features a variety of simple recipes that exude complex flavors, which is famously characteristic of Thai cuisine.
Visitors can expect to enjoy beloved signature dishes including som tam (papaya salad), tom yum (hot and sour soup) and the southern specialty – phanaeng curry (thick red curry).
Thai Recipe: Phanaeng curry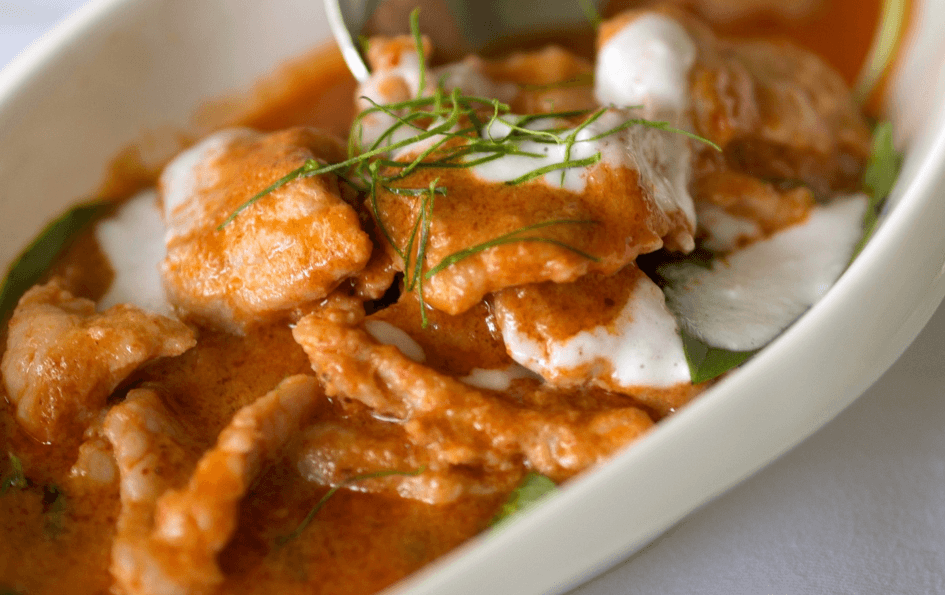 As with many southern-style Thai dishes, phanaeng curry (also known as panang curry) is believed to be heavily influenced by Malaysian cuisine. Rich, creamy, sweet, spicy and nutty this dish is widely popular throughout Thailand due to its distinctive flavor and texture.
If you can't wait until your travels to Thailand to eat this superb curry, here's an easy Panang curry recipe from Olive Magazine to make at home. Coconut milk, red curry paste, fish sauce, lime, sugar, chicken, chili, and coriander are combined with shortcut ingredient – peanut butter to produce a quick and simple version of Panang curry.
We've enjoyed taking you on another culinary tour of Southeast Asia thanks for accompanying us. Did you try any of the recipes at home? We'd love to hear from you. Join us next time, as we continue our food adventures further east to the beautiful country of Vietnam.