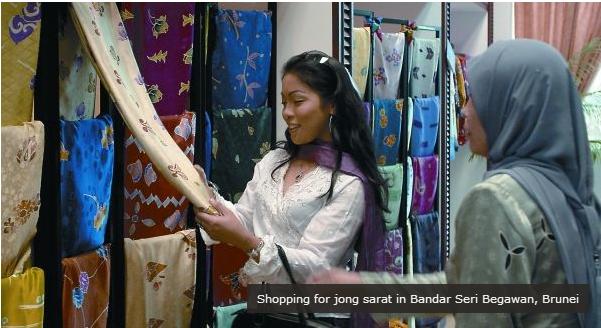 Shopping is probably not on people's minds when they come to Borneo, but very quickly they realise that it is a top attraction. Shopping in Borneo is fantastic value for the money.There is no sales tax in Brunei Darussalam and shopping in Labuan is duty-free.There are numerous and varied shopping malls in both Sabah and Sarawak, and all of these feature big sales events several times a year! Borneo is quietly becoming a shopping and bargain-hunter destination of choice for discerning consumers.
Whether you are a person who prefers large, modern malls, smaller shopping centres and strip malls, open-air outdoor markets (which are known locally as tamus), or eclectic little specialty boutiques, we bet you will find exactly what you are looking for – and at prices that will make you want to return time and time again!
BRUNEI
Brunei blends its traditional items with a wide range of imports. Traditional goods include jong sarat, the hand-woven cloth with silver or gold threading; the keris, a wavy-shaped dagger, and numerous other fine items of brass, silver, and pottery/ceramics.Textiles are also sought after for their reasonable prices and up-to-date designs.
Yayasan SHHB Mall and Complex, located in the heart of Brunei's capital, is probably the best known of the Brunei shopping centres. The Mall in Gadong features 150+ stores, spas, a Cineplex, food court, and nearby hotels, as well as a number of other restaurants, shops and cafes all within easy walking distance.
Kiulap is a popular, spread-out area with a number of boutiques and multi-storey shop lot buildings, just begging to be explored by those with keen senses and sharp eyes. Other popular destinations for shopping in the Bandar area include Plaza Athirah and Seri Complex at Mile 1 on Jalan Tutong, Sengkurong, the Delima Jaya Shopping Centre (dubbed our very own Little India by some), the Aman Complex, around the Tunku Link area and along Jalan Muara.
LABUAN
Its status as a duty-free shopping destination (and a fun day or weekend excursion in itself) deserves a mention here as well.This Malaysian Federal Territory island is hosting more frequent events and is just a short ferry ride from either Muara in Brunei, or from Kota Kinabalu in Sabah.A short primer on Labuan shopping can be found here: http://www.labuantourism.com.my
SABAH
Shopping is rapidly becoming regionally famous, especially with the recent opening of the 1Borneo Hypermall.Almost all of the major shopping outlets are found in the Kota Kinabalu city, and its surrounding area which features a number of easily accessible shopping venues.
Some of the more popular choices in Sabah include the Centre Point shopping complex and the Warisan Square.Another good excursion would be a visit to the Merdeka Complex, or a stroll down the shops of Wisma Sabah. Attached to the Hotel Tang Dynasty, you will find the Wawasan Plaza, with boutiques and retailers of its own.
KK Plaza is one of the newer shopping malls in the city area, and its location right beside the City Central Market makes for a wonderful way to while away the day. Keep an eye out for the Borneo Trading Post for a cool collection of handicrafts while browsing the waterfront area.Another choice for handicrafts shopping would be the Karamusing Complex, which is a big and popular mall in its own right.
If you happen to be in Kota Kinabalu on a Sunday, a 'must do' is the Gaya Street Sunday Fair. For more detailed coverage, check out the Shopping Section of the Travel Guide at http://www.sabahtravelguide.com.
SARAWAK
Sarawak has 2 major shopping destinations to choose from: Kuching -the capital city of Sarawak – and Miri, in the northeast corner, just a short border hop across from Kuala Belait in Brunei.
Kuching has provided a tourism website for its major shopping outlets; it can be accessed at the Shopping Centres section of http://www.catscity.com.my.Shopping destinations of note include The Spring, which just opened its doors in 2008; the Crowne Plaza/ Parkson Grand, across the riverfront from Fort Margherita; the snazzy Boulevard Shopping Mall, and the high-tech arena of Wisma Seberkas.Also worth a note here is the Tun Jugah Shopping Centre, not just for the mall itself, but also the 4th storey Iban Culture Preservation Centre – a great source of both information and unique souvenirs.
Miri has its own loyal shoppers, from not only Sarawak, but also from across the border in Brunei.Choices include Bintang Plaza, Miri Plaza, the Boulevard Shopping Complex which is the largest mall in Miri, and the Imperial Shopping Mall.If you are in the market for handicrafts and souvenirs, we would suggest checking out the shops and boutiques along Jalan Bendahara and Brooke Road.Another popular choice is the Miri Handicraft Centre where you can find a wide array of Sarawak's own artisan beadcraft.
BRUNEI
Tamu Gadong, Bandar Seri Begawan
Tamu Gadong closes at midnight on weekdays and stays open late on weekends and the eve of public holidays. On Friday and Sunday mornings, people come to shop for tropical indoor or outdoor plants, especially orchids.
Open daily, 6:00pm – 12:00am. Fri and Sun (flower market), 7:00am – 12:00 noon.
Rimba Horticultural Centre, Bandar Seri Begawan
This place has the largest collection of indoor and outdoor tropical plants for sale in Brunei.
Open daily, 8:00am – 6:00pm.
Tamu Kianggeh, Bandar Seri Begawan
A hive of activity, this local neighborhood produce market is nestled on the banks of the Kianggeh River.You can get local vegetables, medicinal herbs, and even handicrafts. Get
there early to get things off the boats as they arrive.
Open daily, 6:00am – 6:00pm.
Tamu Kampung Serambangun, Tutong
Situated about one kilometer from Tutong town, this vibrant tamu offers produce from the inland forests, local vegetables and food unique to this area.
Open daily, 6:00am –6:00pm.
Tamu Seria, Seria
Set up between Jalan Bolkiah and Jalan Nakhoda Manis in Seria, this colorful open-air market is the ideal place to shop for local goods.
Open Saturdays, 6:00am – 11:00am.
Tamu Kuala Belait, Kuala Belait
Another wonderful tamu, open for business once a week and is filled with all sorts of local fresh fruits, vegetables and the occasional handicrafts.
Open Sundays, 6:00am – 11:00am.
SARAWAK
Kuching – The Sunday Market
This market is along Jalan Satok and starts late Saturday afternoon. It is renowned for the Bidayuh ladies who set up shop here selling fruit and vegetables; the market is a must for weekend visitors, as it is very colourful and teeming with shoppers.
Miri – Saberkas Weekend Market
Takes place from Friday evening to mid-day Sunday, about 3km from Bintang Plaza. One of the most bustling and colourful open markets in Borneo.
Limbang – a weekly tamu
Held every Friday in the parking area in front of the market that is in the town centre. Mainly attended by Bisayah villagers (who speak a Brunei dialect of Malay), who come from all over the district to sell fresh vegetables and fruits.
SABAH
Kota Kinabalu – Gaya Street Sunday Fair
Every Sunday morning, the length of Gaya Street is closed off to traffic to make way for the fair. Shop for anything under shady trees and over-sized umbrellas, like batik sarongs, fruits and flowers, arts and craft, footwear, antiques and souvenirs, cakes, andeven pets and herbs!
Keningau Tamu
There are two 'tamus' or markets in Keningau; the first is held in Bingkor on Thursdays and the other in 'Pekan' Keningau (the town's centre) on Sundays. Look for their great range of handwoven baskets and trays, a product of the industrious Kadazandusun people.
Kudat Tamu
The tamu in Kudat is a great opportunity to discover local produce and unique handicrafts every Tuesday and Wednesday. This is the best place to 'people watch' as the local folks mingle while they do business and socialize.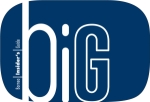 This article was provided by BiG Magazine (Borneo Insider's Guide) .