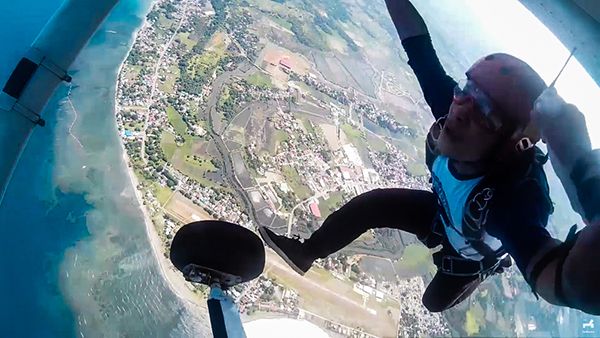 From ground level, Southeast Asia's scenery looks great. But from several hundred to several thousand metres up in the air, the view looks awesome: you'll see patterns that you could never see from the ground, and the scenery – whether it's local beaches, a smattering of temples, or jungle as far as the eye can see – looks much more vibrant from a birds' point of view.
The bloggers we've quoted here agree whole-heartedly – and they're talking from high-flying experience.

Zambales, Philippines: Skydiving for Beginners
While most people know Zambales in the Philippines for its pristine shoreline, Hali Navarro of Taralets Anywhere (Facebook|Instagram) knows it from a different angle, having experienced the scenery from about 4,000 feet up in the air as part of a skydive, which he explains to us below.
Unbeknownst to many, there are a few sites in the Philippines where you can skydive. I signed up on one in Zambales last 2015. It was inviting because it costed less than other skydive offers in the country.
Beginners can also do a solo jump without a license, although the height of the jump is considerably less at 3500-4000 feet compared to that of a tandem jump at 10,000 feet. Moreover, the skydive offers amazing beach views from above, which is actually what Zambales is known for (beaches for swimming and surfing).
The experience in itself was exciting and scary. There was a dry run where everyone was required to do practice jumps as the dive master gave instructions. We were given essential tips, such as not looking down before jumping to avoid panic and instead focusing at the instructor and wait for him to say, 'Go!' The dive master is the one who pulls the chute to open on solo jumps. After the jump, the parachute eventually stabilizes, giving a view of the sea and the fields in Iba.
Schedules of skydiving events in Iba, Zambales, can be as frequent as weekly. The rate is about P13,500 (about US$258) and above.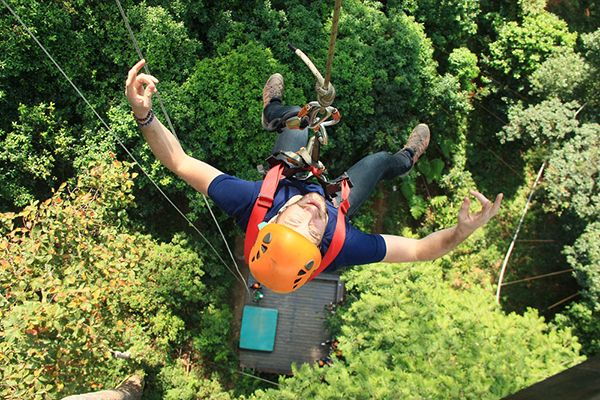 Chiang Mai, Thailand: Zooming Jungle Zipline
Ziplining through the jungle gave Ron Tuch of Red Pill Rebellion (Facebook|Twitter|Instagram) more than a fair shot of adrenaline, when he took on a daring course in Chiang Mai, Thailand. He spills the whole story below:
One the greatest things about traveling the world and discovering unknown places is the ability to get to know yourself and to do some reflection in the process. What better way to get to know yourself then to have some crazy adventures in Asia?
Some of my top adventures have been in Chiang Mai, Thailand. In particular, I loved the adrenaline kick I got out of Ziplining through the jungle of Chiang Mai with Jungle Flight. What made this even more of an adventure is I had never ziplined before and really didn't know what to expect. I was feeling nervous, excited and anxious all at the same time.
After experiencing over 3 hours on this adult playground in the jungle with 39 different platforms , 19 ziplines, and an 1100 meter (about ¾ of a mile) zipline roller coaster, it opened up my mind to doing all different types of new adventures.
I have since hand glided, off roaded, cliff jumped, and even snorkeled in the crystal blue waters of the Philippines. I also have upcoming plans to go skydiving in Hong Kong. All new experiences I had never done before.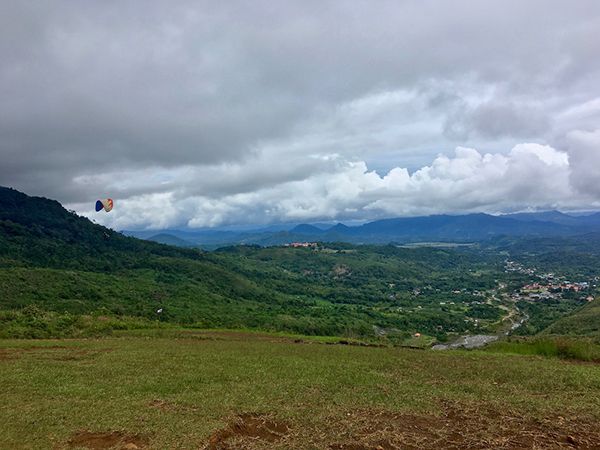 Ranau, Malaysia: Surprisingly Calming Paragliding Flights
Karen Alexis of Wanderlustingk (Facebook|Twitter|Instagram) thinks there's nothing more uplifting than gliding on the rising air currents near Kota Kinabalu in Sabah, Malaysia. The paragliding hotspot of Ranau is a significant spot on Karen's Borneo itinerary, and she tells us more about the activity below.
If you're looking for a unique activity in Southeast Asia, look no further than paragliding in Ranau, Malaysia.
Ranau is a city about 1-two hours from Kota Kinabalu in Sabah that suffered under the Japanese occupation in World War II. However, locals reclaiming its stunning rolling hills for adventure. In Ranau, you can paraglide with experienced professional paraglider piloting off the hills above the city.
This was my first time paragliding, so I expected more adrenaline. However, beyond the first jump, the experience is not what you'd expect: it's relaxing. Although I will never know how the birds feel while floating in the sky, I can only imagine the sensation of paragliding is similar.
Anyone interested in trying out paragliding in Ranau can contact one of the local day trip companies for a half day trip out to Ranau although people traveling around Borneo independently might be able to incorporate this exciting activity into a few days near Kota Kinabalu.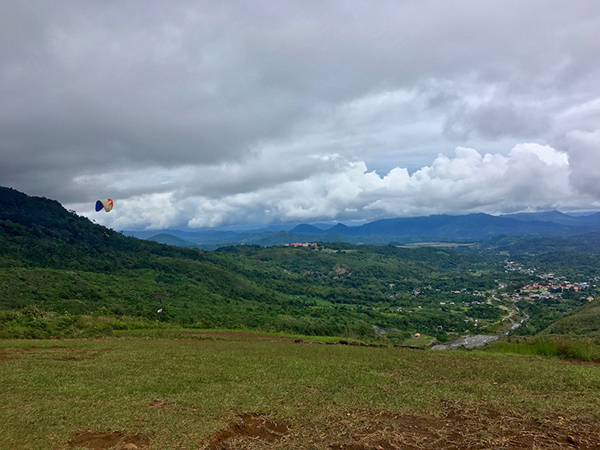 Vang Vieng, Laos: Karst Cliff Climbing
Dave on Arrival's Dave Christopher (Facebook|Twitter|Instagram) kissed the sky by climbing a karst incline in Laos – in flip-flops no less! He talks about the experience below, and provided us with a video of the experience from his Youtube page.
The popular little tourist town of Vang Vieng is surrounded by stunningly beautiful limestone karst mountains. It is a big part of what gives the town it's charm. But what few tourists do is actually go out and find out how to climb one.
There is almost no information online about where or how you can do it so you need to either get insider information from one of the locals or stumble upon a hiking trail by accident. Lucky for me, while I was cycling my way to the Blue Lagoon, one of the popular things to see there, I saw a sign that mentioned a viewpoint so I followed the less traveled road.
I found the head of the trail and started climbing up the steep mountain. It was not easy in flipflops, because I had not expected to be hiking that day. It only took about 30-40 minutes to reach the top.
The views that I saw [at the summit] took my breath away. Farmers tending to their rice fields in the valleys surrounded by towering mountains. A quiet village in the distance. 360 degrees of beauty. This hike was my favorite thing that I did in Laos – seeing the country from above is an amazing experience!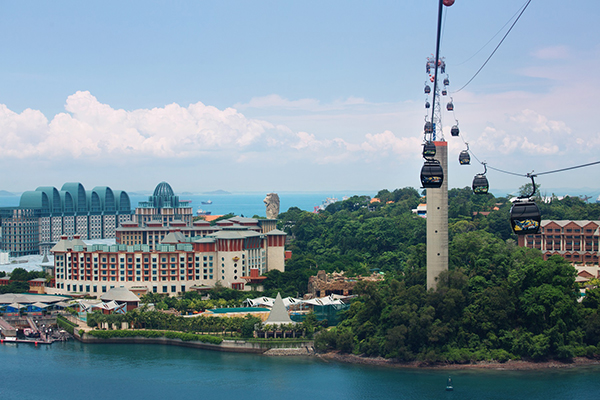 Other Aerial Experiences in Southeast Asia
Canopy Walk, Ulu Temburong, Brunei. 1,226 steps and 60 meters above the rainforest floor, Ulu Temburong National Park's Canopy Walk allows visitors to take in an unsurpassed aerial view within some of Borneo's oldest-growth forest. Stay long enough and you might see one of the resident birds or tree-living mammals that frequent Brunei's jungle canopy!
Hot-Air Balloon in Bagan, Myanmar. Bagan's 2,000-plus standing temples can't be all visited in one day – but they can certainly be seen, at least from a hot-air balloon that takes off before sunrise over the temple plain to offer a view of the gorgeous panorama below.
Singapore Sentosa MegaZip. At 75 metres high and 450 metres long, Sentosa's MegaZip provides one with a breathtaking view of the Imbiah Hill jungle canopy, as well as the white sands of Siloso Beach. MegaZip is the first 3 wire zip line, built to allow one to race with their friends and family at a heart pounding speeds of 60kph!