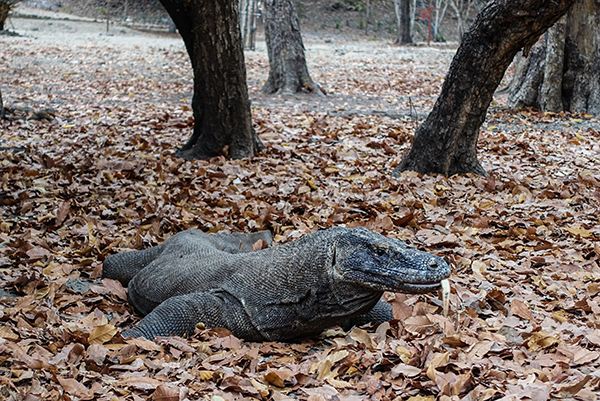 The new normal in Southeast Asia is "responsible travel" – and that's put plenty of formerly popular animal experiences under the microscope. Tiger sanctuaries and elephant rides are under scrutiny – after all, many such experiences come at the price of animal suffering.
So what's a responsible tourist to do?
We asked several bloggers to recommend alternative wildlife encounters in Southeast Asia – places that uplift the welfare of the animals in their care, and entertain visitors without causing stress or pain to the animals they see.
Indonesia's Komodo National Park: Here Be Dragons
Make Time to See the World's Linda Garside (Facebook|Twitter|Instagram) met Indonesia's strangest denizens on their own turf.
"The Komodo Dragon is the largest monitor lizard on earth, and can grow up to 8.5ft long, weigh up to 200lb and can run an impressive 12mph," Linda explains. "These prehistoric-looking creatures can only be found on Rinca and Komodo Island, both of which are found in Komodo National Park in the East Nusa Tenggara region of Indonesia."
Neither island in Komodo National Park is easy to visit: a motorized boat takes you from Labuanbajo to the smattering of islands west of Flores Island, of which Rinca and Komodo are but two. The lizards "can be visited on both islands, but only when accompanied by two National Park Guides – one to lead your group, and one to bring up the rear – for the protection of both the visitors and the dragons themselves," Linda tells us.
"The guides are knowledgeable and set boundaries to keep everyone safe while still allowing people the opportunity to get up close to these incredible animals," Linda says. "Although they look placid lying in the dust (where they spend most of their time in the heat of the day), you can sense their power – and if you arrive early in the morning, you may even get the chance to see them hunt!"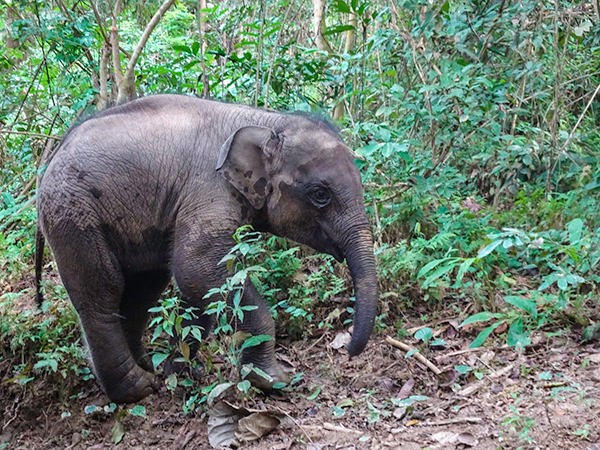 MandaLao Elephant Sanctuary, Laos: Elephants in Nature
The ill treatment of elephants is a scourge for Southeast Asia's wildlife tourism, so it's refreshing to find an ethical elephant-oriented tourist destination in Laos, "the land of a million elephants". Hannah Logan of Eat Sleep Breathe Travel (Facebook|Twitter|Instagram) visited Luang Prabang and found herself in MandaLao Elephant Sanctuary – and is happy to report that the place meets the high standards set by responsible travelers.
"Opened in 2016, MandaLao is an elephant sanctuary run by a team of wildlife enthusiasts whose goal is to allow visitors to connect with elephants in the most natural way possible," Hannah reports. "This means no riding, no whips, no chains, and no violence. Instead, visitors feed, bathe, and trek through the jungle alongside rescued elephants."
The 80-hectare camp feels like a playground for elephants, with an abundance of flowing water, forests, food, and human-assisted medical care. At the time Hannah visited, "MandaLao has seven elephants who have been rescued from the logging industry, including a young baby named Kit and, my personal favourite, a friendly and energetic female named Bung-Un," she tells us.
Elephant rides are forbidden – instead, small groups of visitors can just accompany the troupe of local elephants as they live as nature intended. "I did a half day tour at MandaLao sanctuary where I hiked with three of them in the jungle," she tells us.
For MandaLao visitors, the lack of elephant rides is a small price to pay for these intelligent creatures' happiness.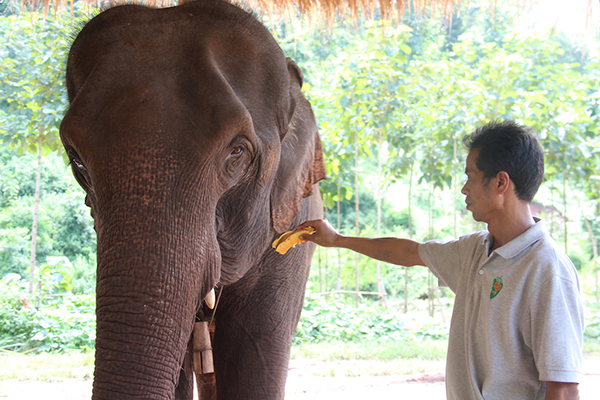 Green Hill Valley Elephant Camp, Myanmar: Pachyderm Rescue
Myanmar's elephants have dwindled in the wild, and many of its pachyderms have been tamed for use in the local logging industry. Such hard work takes a toll on the elephants, and it's up to places like the Green Hill Valley Elephant Camp to give them a better life post-retirement.
"[This] is a family-run elephant sanctuary, where they look after elderly and disabled elephants, rescued from the logging industry," explains Mum on the Move's Marianne Rogerson (Facebook|Instagram|Twitter). "The camp is located in the countryside, a 45-minute drive from Kalaw or approximately a 3-hour drive from Inle Lake."
Marianne visited the Green Hill Valley Elephant Camp with her two young children, spending a memorable day getting up close and personal with the locals. "The focus of the Green Hill Valley Elephant Camp is to care for the elephants through responsible programs that include a veterinary program, and to educate locals and tourists as to the importance of responsible elephant tourism," Marianne explains.
"Importantly there is no riding the elephants here, just the opportunity to join in with the daily mahout care program, including feeding and bathing the elephants and, of course, giving them a cuddle!"
The camp also runs a reforestation program along with the elephant sanctuary: "all visitors are encouraged to plant a tree during their visit," Marianne says.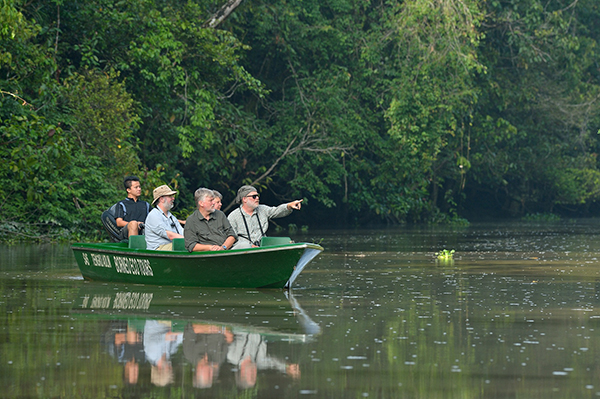 Sandakan, Sabah, Malaysia: Jungles and Rivers Brimming with Wildlife
Travelers to the city of Sandakan in eastern Sabah find nature within easy access: the varied wildlife of the Kinabatangan River, and the orangutans resident in Sepilok, make this city a big deal for nature lovers willing to go a little out of the way.
Stefania Guglielmi of Every Steph Travel & Lifestyle (Facebook|Instagram|Twitter) went on an ethical safari in Sabah and found herself sailing on the Kinabatangan River, watching out for the local wildlife.
"Over 3 days, we went on multiple safaris on electric-motored boats," Stef tells us. "We were able to see crocodiles, hornbills, a beautiful family of pygmy elephants and the kings of the jungle, the orangutans!"
Stef planned the trip to meet the highest standards of responsible travel: "I had done lots of research to make sure that i was going with a truly sustainable tour operator, and Borneo Eco Tours was the perfect one," Stef says. "What made the experience truly unique was staying at an eco-resort in the middle of the jungle, two hours by boat to the closest town.
"Sukau Rainforest Lodge is truly green (for example, by composting organic waste and filtering rainwater) and the owners do as much as they can to give back to the local communities," Stef tells us.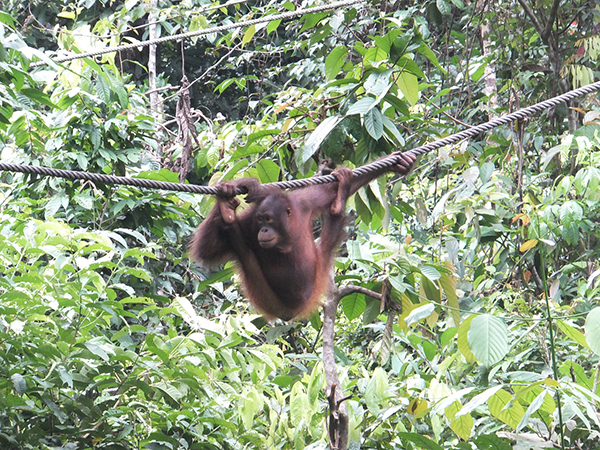 Sally Lucas of Our Three Kids V. the World (Instagram|Facebook) took a different trail, to Sepilok Rehabilitation Centre instead. "Sepilok Rehabilitation Centre is doing amazing work with orangutans and once rehabilitated they are returned to the wild," Sally tells us. "Orangutans are so critically endangered that I felt if I didn't do it now, the kids may never see them anywhere other that in zoos."
The Sepilok experience began early – beginning at 9am, Sally and family watched a video session that explained the ongoing conservation effort provided by local volunteers, before heading to a feeding area an hour later. "There are two feeding times, once in the morning and once in the afternoon," Sally says. "The centre can never guarantee if and how many orangutans will arrive on any given day."
The morning feeding time didn't disappoint – at least 10 arrived to eat breakfast, including a mother orangutan and her baby. "They arrived right on cue," Sally says. "We were lucky enough to see orangutans of varying ages."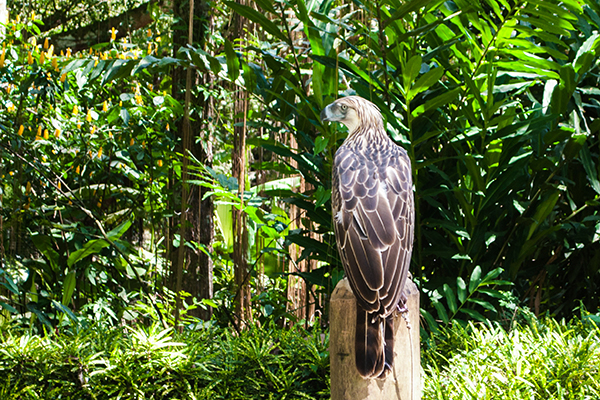 Philippine Eagle Center, Philippines: Long Live the King of the Birds
Mike Aquino of Southeast Asia Time Traveler (Facebook|Twitter|Instagram) found the Philippines' King of the Birds kept safe in a unique bird park in Davao City's hinterlands.
"The Philippine Eagle Center started out as a captive breeding program for its namesake bird," Mike tells us. "There are only hundreds of this large carnivorous bird left in the wild; the steady depletion of forest cover in the Philippines has driven it to near extinction."
To forestall disaster, the Philippine Eagle Center's breeders provide artificial insemination to captive females, and help the mothers raise the resulting chicks. But that's now a small part of the Center's work.
"The eight hectare park housing the Center shelters a population of Philippine eagles that have been captured by others," Mike says. "These birds are rehabilitated for eventual release." Other animals are also kept at the Center – some birds native to the Philippines, as well as a very rowdy colony of macaques – but the Philippine Eagle remains the star of the show.
"Even in captivity, the Philippine eagles of the Center look majestic – well worth paying homage to," Mike says.