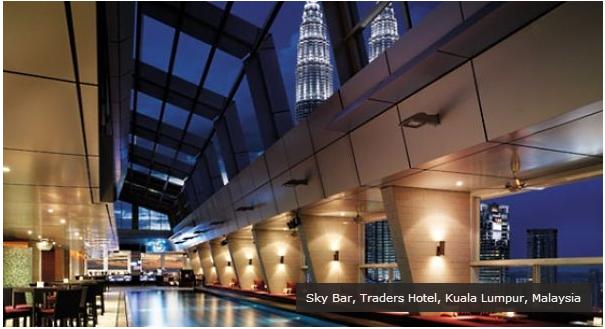 When travelling, there's no better way to relax after a hard day of shopping and seeing the sights than with a well-made cocktail. It's even better when the cocktail is served in a bar with a spectacular view and there is no shortage of sky bars in Southeast Asia. These are some of the best places to have a drink or two with a view.
Bangkok has a plethora of bars on top of skyscrapers. My personal favorite is the Dome, on the 63rd floor of Lebua State Tower. This sky bar – which changes color – is outside, beneath only the stars. The view is truly breath-taking, with the Chao Phraya River and the sparkling lights of Thailand's capital, laid out before you. The Sirocco restaurant next to the bar is excellent and there's a full range of spirits at the bar. Drinks are expensive but the accompanying view is worth the money. There's only a one meter glass fence between you and the metropolis below which is slightly disconcerting for those who suffer from vertigo.
Speaking of vertigo, Vertigo Moon Bar on top of the Banyan Tree Hotel is another great place to see Bangkok with a drink in hand. Designed to look like a floating ship on the 61st floor of the long, narrow building, you can drink at one end and dine at the other. Come for sunset and then bask in the moonlight listening to jazz while Bangkok bustles below. Other good high bars in Bangkok are located at the Centara Grand Hotel, the new Millennium Hilton and the Baiyoke Tower (the city's tallest skyscraper).
In Kuala Lumpur the best sky bar is conveniently called Sky Bar and found on the 33rd floor of Traders Hotel. It's a stylish establishment with a slick interior design and the view from the large windows is dominated by the iconic Petronas Towers which look stunning at night. There's a DJ spinning smooth tunes as well as a swimming pool, although swimming after a few drinks is probably not advisable.
Jakarta also has a bar named Sky Bar, centrally located on the 28th floor of Wisma Nusantara. Take a seat on one of the stools surrounding the curved bar and drink in the spectacular view as well as delicious cocktails (or beer or spirits, whatever you fancy). There's also some Italian, Mexican and Indonesian food if you are hungry. Happy hour is only from 5pm to 8pm but luckily the staff always seems to be happy and offer great service.
The New Asia Bar is where you go for an stunning 360-degree view of Singapore. Located on the 71st and 72nd floor of Singapore's tallest building, the Swissôtel Stamford, New Asia Bar offers good food during the day and a party atmosphere at night. It's the perfect place to watch the sunset as happy hour lasts from 3 – 9pm every day and resident DJs offer a groovy selection of house and soul music that gets guests dancing later in the night.
There aren't too many high bars in Manila but a good view can be found at the Angeles Beach Club Hotel Sky Bar, which is open 24-hours a day. It's a fairly intimate space with room for about 40 guests and it's aimed at males, with attractive dancers and hostesses who will both serve and drink with patrons. If that isn't to your taste, try the friendly Roof Deck Bar at the City Garden Hotel which offers a good vantage of the sprawling metropolis as well as the Le Jardin restaurant which serves delicious Asian and international dishes.
Neither Phnom Penh nor Vientiane is a "high-rise" city but both have bars with great views of the Mekong River. In Phnom Penh, the FCC (Foreign Correspondent's Club) is an excellent meeting place and a must for sunset drinking overlooking the convergence of the Tonle Sap and Mekong rivers. In Vientiane the Don Chan Palace Hotel is the tallest building in town and features a popular bar and disco with a balcony view of the Mekong.
Stuart Clarke is a freelance writer based in Bangkok who has written articles for The Age and Sydney Morning Herald newspapers and Rolling Stone magazine.