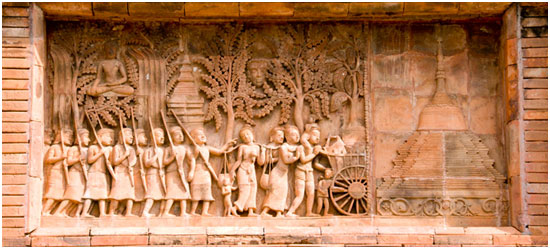 Thai history and culture comes alive in Lamphun, a relaxed and traditional northern Thai city that is filled with historic architecture from the Mon, Lanna and Chiang Mai eras. Visitors to Thailand can explore the past in the bucolic provincial capital of Lamphun, the oldest city in the north, and one of the longest-inhabited settlements in all of Thailand.
Founded in the mid-9th century by the legendary Queen Chamadevi, Lamphun was established as the centre of the Kingdom of Haripunchai. It flourished as a centre of Mon Buddhist culture and influence until its conquest by King Mangrai of Lanna in 1281.
Lamphun has been overshadowed by Chiang Mai ever since, and therein lies much of the town's charm. Located just 26 km south of Chiang Mai, Lamphun is generally visited as an enjoyable and rewarding excursion from the northern capital. Tranquil, lotus-filled moats and some of the most distinguished historical architecture in Thailand combine to attract both Thai and overseas visitors who want a glimpse of the Kingdom's past.
Exploring Ancient History 
History abounds in Lamphun.  In the centre of the old walled city, on the east side of Inthayongyot Road, stands the splendid Wat Phra That Haripunchai. This magnificent temple, unequalled in northern Thailand, was founded in 1044 by King Athitayaraj of Haripunchai on the site of Queen Chamadevi's royal palace. Legend has it that the queen's personal quarters are enclosed in the main 46-metre high Lanna-style chedi, covered in copper plates and topped by a gold umbrella.
In addition to an impressive Ratannakosin-style viharn, built in 1925 and housing the revered Phra Chao Thongtip Buddha image, the temple complex also includes the unusual stepped-pyramid Suwanna Chedi, dating from 1467. This is one of very few surviving examples of Mon architecture in Thailand. Nearby hangs a giant bronze gong, claimed to be the largest in the world. By any standards, Wat Phra That Haripunchai is a remarkable structure that history and culture buffs should not miss.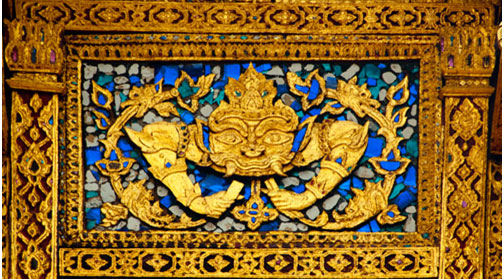 At least one other Lamphun temple is essential viewing, and in its own way it is as important as Wat Phra That Haripunchai. This is Wat Chamadevi, better known locally as Wat Ku Kut. Named after Lamphun's founding queen and most celebrated ruler, this temple lies on the western side of town, about one-and-a-half kilometres from the moats down the road to Sanpathong Village.
Wat Chamadevi is the site of the two oldest surviving monuments in Lamphun, both brick chedi decorated with stucco figures of the Buddha. Dating from 1218, they are considered to be the finest surviving examples of Mon architecture in Thailand. The larger of the two, Chedi Suwan Chang Kot, is a stepped pyramid 21 metres high. Nearby there is another chedi of smaller proportions but equal style. This structure, the Ratana Chedi, is said to contain the ashes of the great queen herself.
One of Thailand's Best Provincial Museums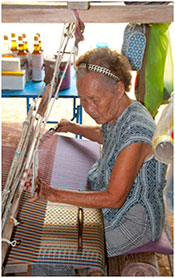 Back in the town centre, just to the west of Wat Phra That Haripunchai, is the informative and well-maintained Lamphun Haripunchai National Museum – certainly one of the best provincial museums in Thailand. It features displays of various fine bronzes, stuccoes and terracottas from Mon times, including masks and carvings of figures with the fierce eyes and enigmatic grin that are a hallmark of Mon Haripunchai Art.
Beautiful bronze repoussé Buddha images, some damaged, have also survived from the Mon era and are on display, together with distinctively Mon-style terracotta Buddha heads. In the basement of the museum is a carefully designed and maintained gallery housing an impressive collection of stone tablets bearing Mon letters derived from ancient south India, as well as later examples engraved with northern Thai script.
Immediately to the east of Wat Phra That Haripunchai, a covered footbridge lined with small shops selling northern food delicacies and locally-produced woven cloth crosses the River Kuang to Wiang Yong. This suburb is largely inhabited by Tai Yong people from Burma resettled in the area by Chao Kawila at the beginning of the 19th century.
The Yong have stayed put and prospered, and today there is a Yong Museum featuring aspects of their cultural heritage and, especially, a Yong Weavers Collective where visitors can watch local women weaving intricately patterned cloth for phasin tube dresses and other items of clothing. These items are on sale here and at many of the small shops on either side of the covered bridge.
Honouring Queen Chamedevi
At the southern end of Inthayongyot Road, near the banks of the encircling moat, stands a striking statue of Queen Chamadevi. This remarkable ruler, who was instrumental in the spread of Buddhism and of Mon culture in the region more than one thousand years ago, is one of the heroines of Thai history. By all accounts she was both determined and ingenious, and Queen Chamadevi is still revered, with amulets and pictures for sale at small stalls standing near the statue.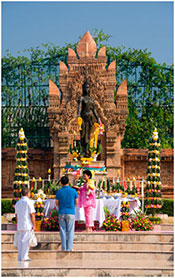 Further reminders of Queen Chamadevi are found to the north of town, outside the city walls on the way to the railway station. These are Lamphun's remarkable "animal shrines", chedi in various states of repair enshrining Queen Chamadevi's various royal animals. The largest and most impressive is dedicated to "Blacky-Purple", a great war elephant that helped the queen defeat King Viranga, ruler of the indigenous Lawa people.
Every day, the shrine is packed with local people bringing offerings of sugar cane and fresh bananas, and the precincts are stacked high with wooden and ceramic elephants. Other animals remembered at nearby shrines include Queen Chamadevi's horse, cockerel and cat, but none are as well maintained or as popular as that of "Blacky Purple".
In sum, it's astonishing how rich in cultural relics this small provincial city is. In recognition of this, in 2004 the Lamphun World Heritage Research and Development Project was formed as the first step in applying for UNESCO World Heritage status for the entire old city. This bid continues and, if successful, will make Lamphun Thailand's fourth World Heritage Cultural Site after Ayutthaya, Sukhothai and Ban Chiang.
While in Lamphun, visitors can sample Northern Thai food including nam phrik num, nam phrik ong, gaeng hanglae, sai oua sausage, khao soy noodles and khao niaw (sticky rice), called khao nung in Northern dialect. A real Lamphun speciality is kuaytiew mu tun lamyai – pork noodles cooked with lamyai (longan) fruit, for which the province is famous.
For souvenirs to remember this trip into Thai history, Tai Yong woven clothing such as dresses, blouses, jackets are unique and for sale in Wiang Yong and especially on the covered bridge. As a good luck charm, pick up a Queen Chamadevi amulet, which are for sale near the queen's statue.
Getting There
Chiang Mai provides the easiest access to Lamphun. There are regular buses from Chiang Mai Arcade Bus Station. Regular songthaew pickups leave from the Chiang Mai-Lamphun Road near the TAT office. Two trains departing from Chiang Mai Station to Lamphun Station in the early morning, and two trains return in the evening. Lamphun Station is about 2 km north of town, but there are motorbike taxis and songthaew pickups that take passengers into the old city.