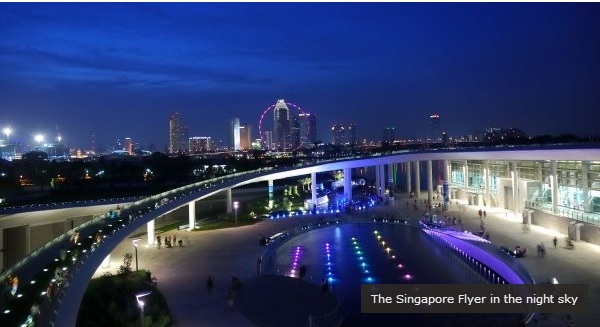 SoutheastAsia.org asked its writers what they would do with 2 weeks to spend in Southeast Asia.
Two weeks in Southeast Asia will give you a brief taste of the region, enough time to sample the varied flavors but it will no doubt leave you hungry for more. I have visited Southeast Asia many times and lived here for 18 months but there are still many more places on my tourist wish list. This is where I would go if I only had 14 days:
I would start my journey in Singapore because Changi Airport is one of the world's biggest, so it's easy to fly in from anywhere and fly out to many regional destinations. I wouldn't worry about packing much before you arrive as everything you need for your upcoming adventure is available on Orchard Road, in one of the many shopping malls. If you like shopping (even just window shopping), Singapore is paradise.
I'm not a fan of Singapore's heat and humidity but the evenings bring some relief so I would head to the old market (Lau Pa Sat) for some great food and then take a spin on the Singapore Flyer (like the London Eye, only bigger) for some spectacular views of the metropolis. If, like me, you're a party person, Singapore will keep you dancing until (almost) dawn – I'm a fan of the legendary Zouk 'super-club' and watching young Singaporeans let their hair down.
                               Singapore's Lau Pa Sat Market
After a hectic day and night in Singapore it's time to relax on the Thai island of Phuket. I would avoid staying in the main tourist area of Patong beach, opting instead for one the excellent hotels/resorts at Surin, Kata or Karon beaches. A day spent swimming and lying on the beach is a day well spent but I think it's worth joining a few bus-loads of tourists to see an amazing sunset from the headland of Laem Promthep. At night you can see the Phuket Fantasea show, a high-tech extravaganza of acrobatics, comedy and traditional dance, or head to Patong for a variety of bars and clubs.
From Phuket it's an easy boat ride to some stunning smaller islands in Phang Nga Bay. Stay a couple of days on Phi Phi Don, while taking short trips to the smaller Phi Phi Leh (made famous by the movie The Beach) and other uninhabited islands. I've had some brilliant times snorkeling and diving in the warm waters Phang Na, as reefs attract a wide variety of multi-colored tropical fish and occasionally whale sharks.
The turquoise waters of Phang Nga
Leaving island paradise is always difficult for me but another place in northern Thailand I love is Chiang Mai, where it's cooler in temperature but richer in history and culture. Chiang Mai's Old City is surrounded by walls and a moat which are almost a thousand years old. There are many beautiful old temples (wats) worth visiting, the Night Bazaar is a must-see and I also enjoy watching Muay Thai, but I wouldn't get too tired because a day trip to Elephant Farm and Tiger Zoo awaits the following day.
After Chiang Mai, it's time to immerse myself in Khmer history and culture by heading to Siem Reap and the breathtaking Angkor Wat. One of the most important archeological sites in the world, you should take your time exploring the sprawling temple complex on foot, marveling at the incredible architecture and sculptures. I found taking a boat ride around some parts of the complex to be a relaxing way to see the temples.
It takes more than one day to truly appreciate Angkor Wat so I think a sunrise return should be on the itinerary before taking a short flight to Cambodia's capital Phnom Penh. Cambodia's capital has more recent history of the Khmer Rouge genocide which shouldn't be ignored. Visiting the Killing Fields and Tuol Sleng Genocide Museum are definitely memorable, if not sobering, experiences.
Understanding Cambodia's past is important but so is enjoying the present. I like heading to the riverside for a sunset drink at the FCC and dining afterwards in one of the many great riverside restaurants. The FCC is a Southeast Asian institution, and a sunset drink next to the river is a fantastic way to relax after a day of history.
Next stop is Vietnam. After arriving in the capital Hanoi, I always get a bowl of pho as soon as possible (I think I could live on pho alone) and explore the 36 streets of the Old Quarter. From Hanoi, head to Ha Long Bay for an overnight cruise on an imperial junk. Ha Long is a place of such stunning beauty that if you come to Southeast Asia I insist you visit, it's like nowhere else on Earth.
Junks floating on Halong Bay
After a night on the water it's time to go back to Hanoi for the 'Reunification Express' train to Ho Chi Minh City. I've never actually taken this trip – it's one of the items on my wish list. It's a long train ride (up to 42 hours) but it's in air-conditioned comfort and there's some beautiful scenery, especially as the train runs along the coast between Hué and Danang.
After seeing a lot of Vietnam you'll arrive in frenetic Ho Chi Minh City where you should visit Ben Thanh Market, some museums, as well as exploring the city's narrow alleyways which are full of small shops and restaurants serving delicious Vietnamese food (mmm, more pho).
Time's almost up but there's one more day to get to Kuala Lumpur and experience a mix of Chinese, Indian and Malay culture. I'd recommend going to both Chinatown and Little India as well as a visit to the observation deck of the iconic Petronas Towers. There we have it – 14 days in Southeast Asia. After what you've seen, I have a feeling you'll be back for more soon.
Stuart Clarke is an Australian writer based in Bangkok. He has written for Sydney Morning Herald and The Age newspapers and Rolling Stone magazine.