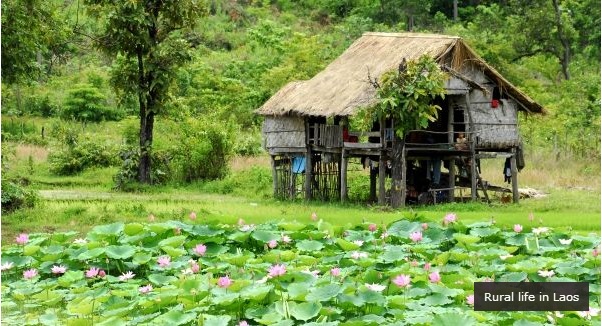 SoutheastAsia.org asked its writers what they would do with 2 weeks to spend in Southeast Asia.
Two weeks? Endless options? I need more limits…we're in Vientiane, my brother is in Melbourne, his two daughters and my two girls, all aged 9-12, years will fly up for the trip. The key…edu-adventure…two weeks in a living museum ending at the beach. That should keep the kids amused, and give the native New Yorkers time to compare child-rearing notes.
My route will travel to Cambodia's Angkor Wat, down into southern Laos and finally through central Vietnam. As Bangkok provides the most convenient gateway and meeting point for launching our journey, my trio takes an overnight train from Nong Khai in northeastern Thailand (near Vientiane) to meet my brother and his tribe, who arrive at "The Land of Smiles"' Suvarnabhumi Airport from Down Under in the morning.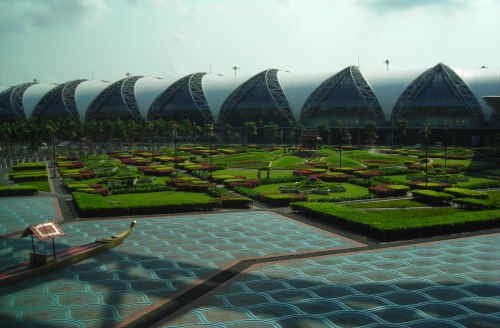 Bangkok's Suvarnambhumi Airport
Day 1-2: Angkor Wat, Cambodia
A pre-arranged van drives us through eastern Thailand into Cambodia to our first destination, Siem Reap. This pleasant countryside ride gently acclimatizes my nieces, and we arrive with time to check-in to our hotel, eat dinner and checkout the Angkor Wat sound-and-lightshow.
This preps the kinder for tomorrow's tour, which gives me more comparison time. I had last visited UNESCO-listed AngkorWat in 1996, and had the newly opened, ancient site to myself. At the time, a thunderstorm blew down the makeshift food stall, where I was sipping an Angkor Beer. I ran 50 meters to retrieve their giant umbrella, and received a complimentary beverage and entourage of local kids as guides.
                           The smiling faces of Bayon, Angkor
Day 3-5: Champassak, Laos
Our Lao Airlines flight lands in Champassak Province's capital, Pakse, and we take a sawng taew (covered pick-up truck with benches) to Tad Fane Resort's bungalows overlooking the twinTad Fane Waterfalls plunging 120 meters into a massive, forested hole.
Up early for a Pakse tour – Vat Luang Temple, French colonial buildings and provincial museums – before lunch at the ostentatious Champassak Palace Hotel, originally built for southern Laos' last king. A hired sawng taew takes us to Champassak Town and a boat to the Mekong's Don Daeng Island and village lodge. We rent bicycles to inspect Buddhist temples, an ancient stupa and basket-weaving village, occasionally stopping for fresh sugarcane or coconut juice.
The next day, we check-in to a guesthouse in town and hire a sawng taew to take us to another UNESCO-listed World Heritage site: the pre-Angkor Vat Phou Temple complex. The stone Khmer structures and less-crowded scene reminds me of my first Angkor Wat visit…a great place for hide-and-seek.
On the road before noon for the jaunt to the Mekong's 4,000 Islands to seek out freshwater dolphins and a rusty locomotive abandoned by the French 100 years ago. Then we hustle to SoutheastAsia's largest waterfall by volume, Khone Phapheng.
Day 6-9: Savannakhet, Laos
We catch the morning Pakse-Savannakhet flight to promised dinosaurs, and treat ourselves to rooms at the Savan Vegas Hotel and Casino. An afternoon walking tour of town quietly winds past French-colonial buildings, a 1920s Catholic Church and Talad Yen Plaza to the Dinosaur Museum's femurs, tibias and meteorite chunks.
A stop at the Provincial Tourism Department (PTD) reveals a range of tours. We opt for the self-guided Ho Chi Minh Trail Circuit, and hire a sawng taew for a super-early pickup and 400-km drive in the mountains. First stop, a dinosaur footprint, before Phine's scenic view and bombed out Tad Xay Bridge. Time limits us to Lam Sonbattlefield's disused weapons being collected for its under-construction war museum and a suspended cable bridge, leaving waterfalls, the weaving center and Stone Pillars for another day.
Next up, the PTD's "Home stay in thespiritual heart of Savannakhet". The easy guided trek takes us through the Dong Natad protected forest to Nong Lom Lake and then Ban That village, as the kidslearn about the lake's legend, local taboos and forest products. The overnight stay drops jaws as my kids seamlessly fit in. The next day starts at the 800-year-old That Ing Hang Stupa, before trekking to the Meuang Kao ancient city ruins and Turtle Lake.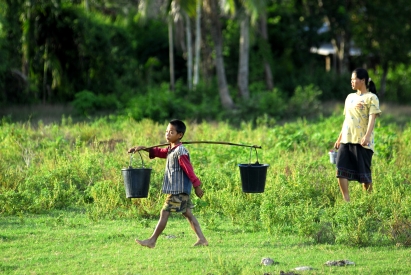 Rural life in Laos
Day 10-11: Hue, Vietnam
The kids get a well-earned rest on a VIP bus to Hue, and its 200-year-old Royal Citadel, a UNESCO World Heritage site with a 10-km-long wall and 24 bastions surrounding four sections – the ceremonial Thai Hoa Palace, the princes' Kham Van Palace, religious shrines, and administration – which itself encases the Emperor's Forbidden Citadel and private palace with a 2.4-km wall and moat. After touring the citadel the next morning, a hired van takes us to our Danang beach resort.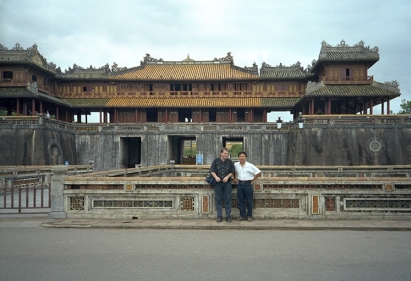 Hue, Vietnam
Day 12-13: Danang/Hoi An, Vietnam
We take an early morning dip in the South China Sea before catching a shuttle bus to UNESCO-listed Hoi An. The Old Town's 400-year-old Japanese Covered Bridge and collection of weapons and war photos at the Museum of Say Huynh Culture precede a boat ride to explore the area's river system.
My brother grumbles over the great deals on tailored suits and lack of time. The kids are clearly full of culture and nature. They want nothing but the beach the next day. Not even the mysterious Marble Mountains' caves can sway them, because…
Day 14: Ho Chi Minh City, Vietnam
…today we fly to HCMC, bid farewell,and go home.
Vientiane-based Bernie Rosenbloom writes for TTG Asia, PATACompass, and EcotourismLaos.com; and he co-authored The Responsible TourismGuide to Cambodia, Laos and Vietnam.