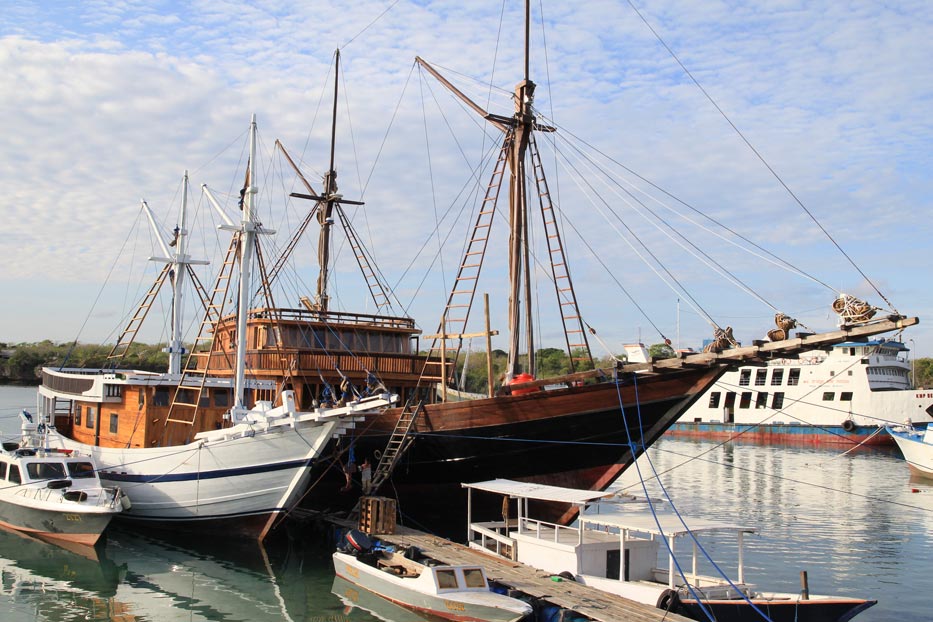 Icon of the Indonesian archipelago's seafaring culture, the Phinisi Schooner will be presented as the main highlight at the 36th International Tourism Fair in Belgrade, Serbia which will take place at the Belgrade Fair Grounds from 27th February to 2nd March 2014. This year, Indonesia also specially participates as the partner country of the event.
The Phinisi Schooner is the masterpiece of the Bugis ethnic group living in South Sulawesi that has for centuries plied the international waters, sailing as far away as Malacca, Burma, Vietnam and Australia. The traditional Schooner of 100 tons to 200 tons today still plays a vital role in traditional transport and inter-island trade. One can still observe how these fascinating ships are being built at shipyards in Bulukumba, South Sulawesi.
Indonesian Ambassador for Serbia, Samuel Simon accompanied by Director General of Marketing of the Ministry of Tourism and Creative Economy, Esthy Reko Astuti at a Press Conference in Belgarde Fair on Monday (24th February) said that the participation of Indonesia as Partner Country of the tourism fair marks the 60 year of diplomatic relations and friendship between Jakarta and Belgrade since 1954.
The Indonesian delegation, led by Deputy Minister of Tourism and Creative Economy, Sapta Nirwandar will present the tagline "Wonderful Indonesia: The World's Heart of Wonders".
During the exhibition, 11 representatives of Indonesia's tourism and travel industry will offer their products and services and introduce various fascinating destinations all over the archipelago. The 11 exhibitors are: AntaVaya Destination, Asvinia Travel Services, Bali Tourism Development Corporation, Bali Tropic Resort and Spa, Hotel Indonesia Natour, ICS Travel Group, Marintur Indonesia, Panorama Tours, Polow Indonesia Tour & Travel, and Tunas Indonesia Tours & Travel. There will also representatives from provincial governments of Indonesia who will promote the tourism attractions of their regions.
There will also be art performances from the provinces of South Sumatra and Central Java. Visitors can also observe and learn the techniques of making the traditional Sumatran Songket textiles, paintings on silk, the art of Batik, and take a sip of Indonesia's finest coffee.
Belgrade Tourism Fair is the largest tourism event in Serbia and Southeast Europe. It has met worldwide business needs for more than 30 years, creating partnerships with the exhibitors and attracting an increasing number of visitors annually. Last year, more than 880 exhibitors featured at the Tourism Fair, while the number of visitors exceeded 58 thousand. This event's international character is confirmed by more than 250 international exhibitors from 43 countries – where an increasing number of worldwide exhibitors are interested in this business fair event every year.
Since 2003, it has been a member of the European Tourism Trade Fairs Association – ETTFA. Its quality made this event a member' of another prestigious organization – the
International Tourism Trade Fairs Association – ITTFA.
More Information on the Belgrade International Tourism Fair is available at: http://www.beogradskisajamturizma.rs/en/