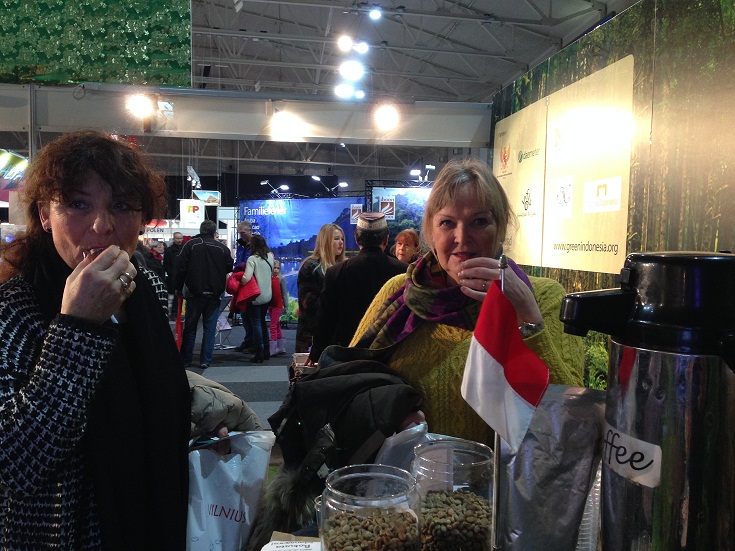 The Embassy of the Republic of Indonesia in Oslo, Norway, successfully promoted eco-tourism potentials and the creative industries of Indonesia at the Reiselivsmessen 2014, the largest travel and tourism exhibition in Norway. The event took place at the Telenor arena, Oslo, from 10th to 12th January 2014.
Themed 'Conserving Life, Enriching Culture, and Empowering Communities', the Indonesian pavilion presented a variety of nature-themed tourist destinations and creative forest products.
This year, the exhibition managed to record the largest number of visitors. On the first two days, the number of visitors reached 26,143 people, and in total the exhibition estimated to have reached over 47,000 visitors – outnumbering last year's 45,000 people. Among these, more than 3,000 people visited the Indonesian Pavilion.
"The Indonesian Pavilion is rated as one of the most exciting platforms that attracted visitors' attention with the concept of sustainable eco-tourism and creative industries, as well as cultural multimedia designs and cultural performances," said Charge d'Affaires Ad Interim of the Embassy of Indonesia in Oslo, S. Sayoga Kadarisman as quoted from greenindonesia.org. With this concept, the Embassy sought to attract tourists from Norway, who are known for their deep interest in everything related to nature. Indonesia and Norway, said Sayoga, have a strong cooperation in the field of reducing emissions from deforestation and forest degradation.
Those who visited the Indonesian pavilion were not only keen to start planning a vacation to Indonesia but also came to buy the various products on display. Two of Indonesian finest authentic products, Mace arabica coffee from Papua and cocoa (Chocolate) from South Sulawesi attracted most visitors' attention. According to them, both of these products suited the Norwegian taste. "Norway is the country with the second largest Top quality coffee drinkers in the world. Norwegians also average in eating 5 kg of chocolate per year per person," said First Secretary for Economic Affairs ofI the Indonesia Embassy in Oslo, Hartyo Harkomoyo . With these positive responses, Hartyo added, the Embassy is optimistic that there will be more opportunities to market both products in Norway.
A number of travel agents also showed interest in cooperating and widening their network in Indonesia. Furthermore, three travel agencies said that they wanted to collaborate further with the Indonesian Embassy in Oslo, to promote Indonesia as one of their main destinations. "Indonesia has very large tourism opportunities, and our travel agent has 11 cities representatives in Indonesia. Therefore, we are committed to promote Indonesia in Norway through many travel agents in this country," said a representative of one of the largest tour operators in Oslo working on the Southeast Asian market, as he expressed hope for future collaboration with the Embassy.
The Indonesian Pavilion also received plenty of positive responses from the public. Many visitors to the Indonesian pavilion left their positive comments and impressions, as recorded on the website www.greenindonesia.org , which was specifically designed for the exhibition. Among some of these comments are:
"I want to see all miracles of Indonesia – wild life, nation. And taste national foods 🙂 Good luck, Indonesia!!!," wrote Monika.
"Very beautiful and nice stand, take care of the forests :-)" said a visitor who did not leave his name.
"We really liked it. We learned things we didnt know before. Thank you," said Emilie.
"This stand is like an oasis. The green makes me feel relaxed and the friendliness of the people is exuberant. The emphasis on ecology and green values makes it a valuable place to come to. Thank you," said Ingeborg Wingerei.
Source: greenindonesia.org
Photo Courtesy greenindonesia.org