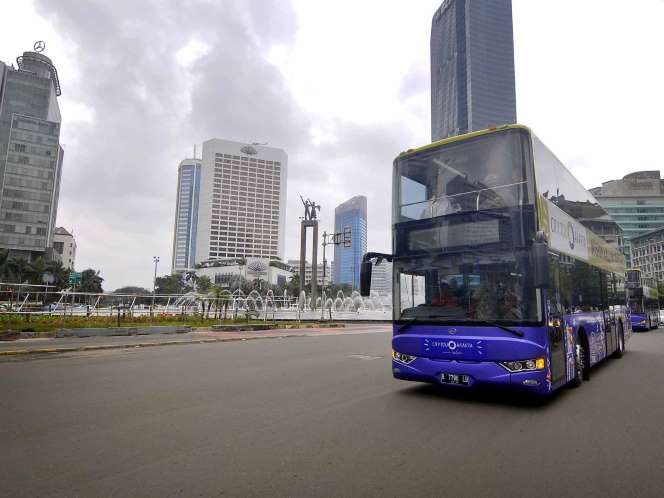 Starting today, 24 February 2014, the Jakarta City Government provides Free City Tours on its brand new Double Decker buses. After a one week trial operation, the bright blue colored buses can now be boarded by international and domestic tourists for a free city tour from designated bus stops.
The Bus starts from the Bunderan HI (Hotel Indonesia Circle) in front of the Kempinki Hotel Indonesia, traveling north to the Sarinah Department Store, at Jalan Thamrin, then on to the National Museum at Jalan Merdeka Barat. The route then continues pass Jalan Majapahit into Jalan Juanda, where it stops in front of the Santa Maria School, which lies opposite the Istana Negara (Negara Palace), If you wish to visit the Pecenongan Street Food area, this is the stop to step out. The bus then continues and stops at Gedung Kesenian (Cultural Theater) located near the vintage Pasar Baroe shopping street. The bus will then pass Lapangan Banteng, passing the Catholic Cathedral, then stops at the Istiqlal Mosque.
From here the tour takes the bus to the Presidential Palace at Jalan Merdeka Utara, then to the National Monument (Monas), and ends at the Municipal Hall of Jakarta, to start again at Bunderan HI.
The 11 km. tour is expected to take 1.5 hours to complete the circle. Five buses will serve the tour. Buses are equipped with video screens and tour guides will provide the information you need along the route.
Passengers may board or step out of the bus at any of the designated stops.
Stops are at: Bunderan HI – Sarinah Department Store – the National Museum – Santa Maria school – Gedung Kesenian – Istiqlal Mosque – Merdeka Palace – National Monument – Balaikota (Municipal Hall).
Jakarta's City BusTour operates daily between 07.00 hrs. to 19.00 hrs.
Photo Courtesy ANTARA FOTO/Zabur Karuru