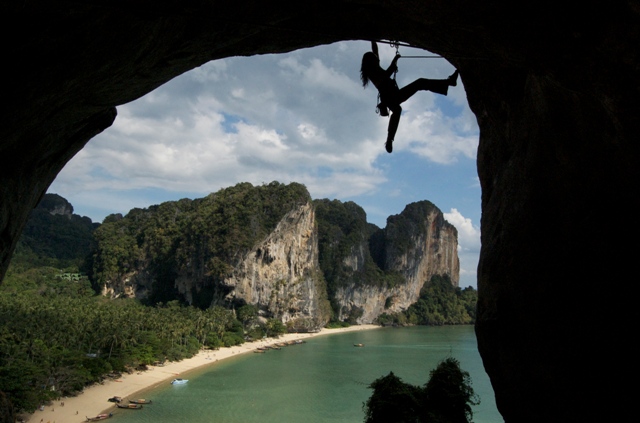 Image © Maria Ly / Creative Commons
The limestone cliffs of Krabi seem tailor-made for the sport of rock climbing. Hundreds of climbing routes trace their ways up the cliffs on the Krabi coast and around the surrounding Railay Peninsula's islands.
The rock climbing crowd congregates primarily on two beaches in Railay Peninsula, both accessible only by long-tail boat – Railay, suited for novices to the sport; and Tonsai, where the more experienced climbers go for a challenge.
Once you arrive, your climbing adventure is limited only by your skill and your appetite for risk. Beginner and intermediate climbers have over 700 bolted routes to choose from, with grades ranging from F4 to F8c – the sheer number of routes means there's little need to compete for space with other climbers.
More adventurous rock rats can take on several walls in the peninsula well-suited for deep-water soloing; the rocky cliffs hang over the sea, permitting climbers to ascend without bolts and ropes before letting go for a splashdown in the water below.
The best time to climb in Krabi happens between November and April, when the rains let up and the sun opens on Krabi – perfect beach weather. The multitude of climbing schools around Krabi offers everything from the basics to the most advanced courses. If you're new to the sport, try a three-day course that enables you to climb a beginner-level route at its conclusion. Package rates generally include instructors, equipment, insurance, and refreshments.
Elsewhere on the web: Find out more about Krabi on the official tourism site. For details on this particular Thailand adventure, read TourismThailand.org's page on rock climbing.