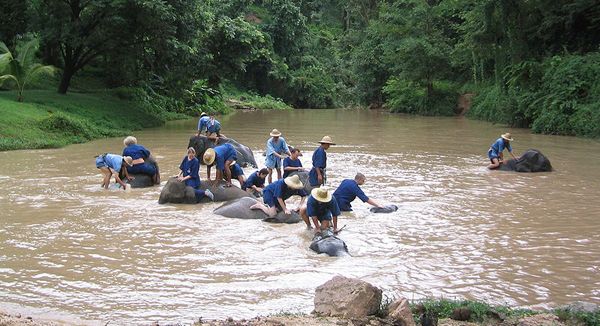 Thai Elephants have had their share of problems over the last few decades. As with any industrializing country, much of Thailand's success has come at a cost to its ecological heritage, leaving tame elephant refugees incapable of returning to the wild.
Elephants have long been a national symbol in Thailand. They once served as an important form of all-terrain transport and made formidable super weapons that dwarfed conventional cavalry. At the beginning of the 20th century there were 100,000 of these magnificent beasts wandering around Siam. This number plummeted to 3,500 domesticated creatures by the mid-nineties, and has now dwindled to less than 2,500 with only about 1,000 or so in the wild.
Traditionally, elephants were employed to work as loggers, clearing brush and hauling logs. A logging ban in 1989 threw them out of work. The problem with tame elephants is that they grow attached to their mahout or trainer, refusing to obey anyone else without years of handover time. And when you consider that they have a lifespan similar to humans, taking care of them requires a serious commitment.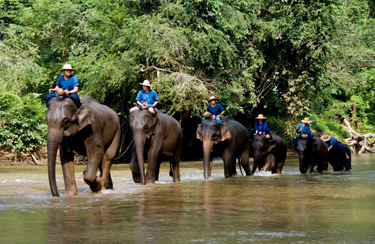 With few other ways of generating income, many mahouts walked their creatures hundreds of kilometers to Bangkok, where they sold premium priced vegetables to both locals and tourists to feed to them. But the city streets are dangerous and no place for any size elephant. Pollution, frequent car accidents and concrete that is hard on their feet not to mention finding 200kg of fresh vegetation every day is difficult in a concrete jungle.
Thai authorities have recently legislated them out of the city. Many have ended up as performers at elephant shows for tourists, and while this is an improvement on urban vagrancy, they are often harshly treated.
Luckily, many sanctuaries have sprung up, supported by NGOs and government bodies that also take form as private enterprises, that make for fun and educational eco-tourism. One of the better known ones in the country is the Elephant Camp at Anantara Resort in Lampang in Thailand's north (http://www.anantara.com). Here, rescued elephants roam 160 acres of bamboo forest where they are provided plenty to eat. All the animal and camp maintenance is paid for by Antantara, which also sponsors Thailand's annual elephant polo tournament.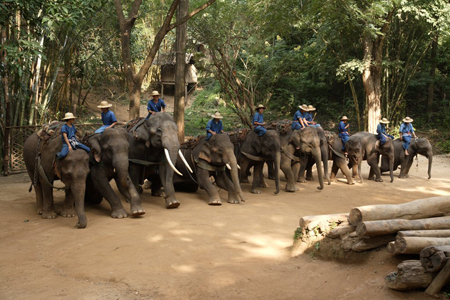 A highlight of a stay here is the mahout training, which Englishman and certified mahout trainer John Roberts says, "…is designed for those who would like to get a feel for the bond between elephant and mahout." At the crack of dawn, the trainees retrieve their elephant from the forest and start learning the commands to drive them, mount and dismount (which you realize is not easy once you are standing beside one of these huge animals), leapfrogging onto the head and sliding down the trunk, or climbing up and down a courteously raised leg, then riding and commanding them through a jungle trek – which is not too difficult since they have been down this route before and aren't known for forgetting things.
A more independent sanctuary taking a less orthodox approach is the Boon Lott Elephant Sanctuary (BLES) near Sukothai, and actually has more elephants than Anantara. The brainchild of Englishwoman Katherine Conner, this small sanctuary specializes in rescuing abused elephants and provides 200 acres of land for their 13 animals to wander in relative freedom. As Katherine puts it, "There are no performances, just elephants being elephants."
Katherine was originally a volunteer at an elephant hospital, later founding BLES with her Thai elephant handler husband. She regularly travels around Thailand investigating abused elephant reports and rescuing those in need.
Boon Rott also takes in a small number of paying guests who help take care of the elephants, gathering food from the jungle, scrubbing them down and making repairs in the camp – and are rewarded by getting up close and personal with these noble beasts. Many end up being return guests and regular donors. The sanctuary is funded entirely by private donations.
Katherine has many ambitious plans in the works, from buying up adjacent land to improving the premises to accommodate the growing population. A read of Katherine's online diary (http://www.blesele.org) is an insight into the intelligence and unique personalities of her charges (no pun intended), as she describes the daily interactions of problematic males in musth, to fallings out between different members of her herd of recovering orphans. Love and attention is a crucial starting point to dealing with Thailand's elephant situation, and Katherine obviously has plenty of it – and hopefully it will prove to be contagious.
Bangkok-based Cameron Cooper has spent two decades travelling Asia, seeking oddities, adventure, and the meaning of life, while contributing to The Melbourne Age, Discovery Channel Magazine, and worked as an editor at Thailand's Nation newspaper.