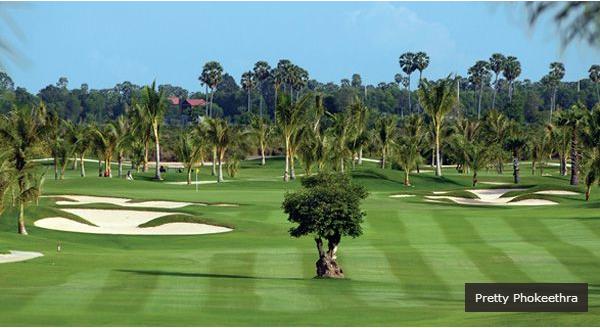 Splashing out with jaw-dropping lures like the golden-roofed Royal Palace in Phnom Penh and the awe-inspiring Angkor Wat in Siem Reap, and showcasing culture and cuisine unlike anything found elsewhere in Southeast Asia, Cambodia promises much. And it truly delivers on all fronts. Ardent golfers can also look forward to outstanding holidays with a novel Cambodian twist.
Capital Courses
Phnom Penh bustles with vitality throughout the year. The pace intensifies from November to March – the best time to visit as temperatures are somewhat cooler – when the million-strong capital is awash with visitors and intrepid golfers. It's not far to go, however, to escape the crowds. Nearly 200 ha. of tranquillity surrounding the Royal Cambodia Phnom Penh Country Club are just a short taxi ride from the capital.
Because of its capital city status you'll likely find senior diplomats and top executives pondering this 7079-yard playground, especially at weekends. Unless they're polished players they will probably also stumble around a predominately flat layout that embraces nearly 100 bunkers and a dozen water hazards. The 186-yard water-dashed 3rd is particularly troublesome.
Shoot it out on the Royal's popular driving range instead or test your skills at the Cambodia Golf & Country Club, 35 km west of the city. Designed by a Taiwanese/Japanese consortium, I found this 7077-yard rural sports field to have a definite farmland feel.
Set over 120 ha., the aptly nicknamed "Sugar Palm Course" has two distinctive nines. The outbound jaunt has wide fairways lined with flowers and strategically placed rocks. The back nine holes are plotted around numerous ponds which often require players to consult their caddies for appropriate club selection.
Links with History
After putting around Phnom Penh, head north for a tryst with 36 terrific tees in Siem Reap. This laid back city of 100,000 abounds in sophisticated visitor facilities used by those coming to see Angkor Wat, the massive temple complex at the hub of the world's biggest city in the pre-industrialized 12th century. In addition to swish designer hotels and gourmet restaurants, golf options are also first rate with two amazing courses intertwined with antiquity.
Some 900 years after the red sandstone was quarried for Angkor Wat, stone cutters revisited the same remote area to cleave blocks that would eventually be shaped into statues, tee markers, bridges and retaining rock walls at the Angkor Golf Resort. Handmade ornaments are but some of the distinctive elements Nick Faldo integrated into his 7279-yard signature sensation 15 minutes outside the charming city.
The 559-yard 13th hole underscores his design philosophy with a succession of massive bunkers to the left and then right of the 'S-shaped' fairway. The elevated green encourages a daring approach shot, though piles of sand set before the patch of finely cut turf compel cautious golfers to carefully consider their options.
Other matchless features stamp this course with individuality. Stands of native sugar palms, particularly encircling the 3rd green, are unique and so are the white cranes frequenting the 11th, a 349-yard classic risk-reward hole. The reason for their interest is a water carry of 283 yards off the black Faldo tees. The tranquil lake sweeps along the entire length of the paspalum turfed fairway.
The Phokeethra Country Club also has a tangible link to yesteryear. During the days of the Khmer kings, roads were constructed for use by caravans and convoys. Whenever a stream was encountered a stone bridge was built. The design of the Phokeethra Country Club, 24 km from its affiliated Sofitel Phokeethra Royal Angkor Golf & Spa Resort, incorporates the 11th century – and therefore older than Angkor Wat – Rolous Bridge. It's just behind players teeing off from gold markers at the opening hole.
While the 1st is the most historically notable hole on the 7145-yard course, you are certain to remember others as you progress around a playfield beautified with more than a half million shrubs. I didn't even attempt to count them at the foliage-flushed finishing hole. Full attention is needed here to make two successful water carries on the dogleg left 588-yard signature finale.
This is indeed a memorable end to an amazing escapade at the Phokeethra – a Sanskrit word meaning the City of the Serpent Spirit – where a treasured game is truly a sporting journey through the ages. With its combination of ancient on-course architecture and modern clubhouse technology players start their game in the 11th century and finish it in the 21st!
Thomas E. King is a professional golf and travel writer based in Sydney, Australia. He is the Executive Editor of Media East Pty Ltd, a 35 year established editorial agency supplying features on cultural destinations and golf/spa resorts in the Asia/Pacific region to publications around the world.