The Southeast Asian kingdom of Cambodia is a magical combination of ancient tradition and modern culture. This lush nation, located on the Indochinese Peninsula, is a must-visit for nature lovers because of its biodiversity and mesmerizing national forests and islands. The 181,000 square kilometers of Cambodia are crisscrossed with sinuous rivers, vast swathes of fertile land, and impressive mountain ranges, all of which are home to some of the world's best natural wonders.
Here are five of the most incredible natural wonders and attractions in Cambodia.
Phnom Kulen National Park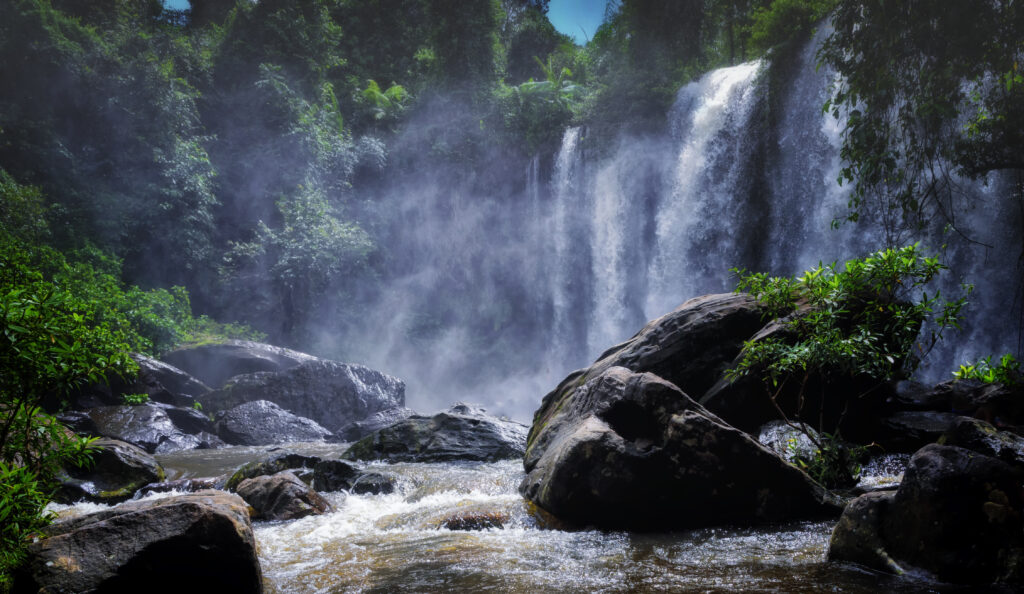 The waterfall at Phnom Kulen National Park | Visit Southeast Asia
Named after the mountain range in which it resides, Phnom Kulen National Park is sacred land. This area is where King Jayavarman II, founder of the Khmer Empire—which later became Cambodia—had himself crowned King of Kings. Located 48 miles from Siem Reap, the second-largest city in the country, Phnom Kulen is relatively easy to access by car. This 373-square-kilometer mountainous park is home to temples, caves, waterfalls, rivers, and statues, attractions that make it a must-visit destination.
Some of the best places to see within Phnom Kulen National Park are Srah Damrei—otherwise known as the Elephant Pond—for its off-road collection of stone-carved animal statues and the park's two waterfalls, which are popular places to picnic. Fun fact: the taller waterfall in the park makes a brief appearance in the 2001 action film Lara Croft: Tomb Raider. Film appearances aside, visitors should also make time to trek along the River of a Thousand Lingas, a series of carved tributes to the Hindu god Shiva located alongside the actual Kbal Spean river.
Phnom Kulen National Park is part jungle, part land filled with ancient temples and ruins, natural beauty, and sacred history. Make sure to head to this mystical location for a sense of Cambodia's founding and some of its most ancient history. This is a natural wonder of Cambodia that you won't want to miss!
Battambang Bat Caves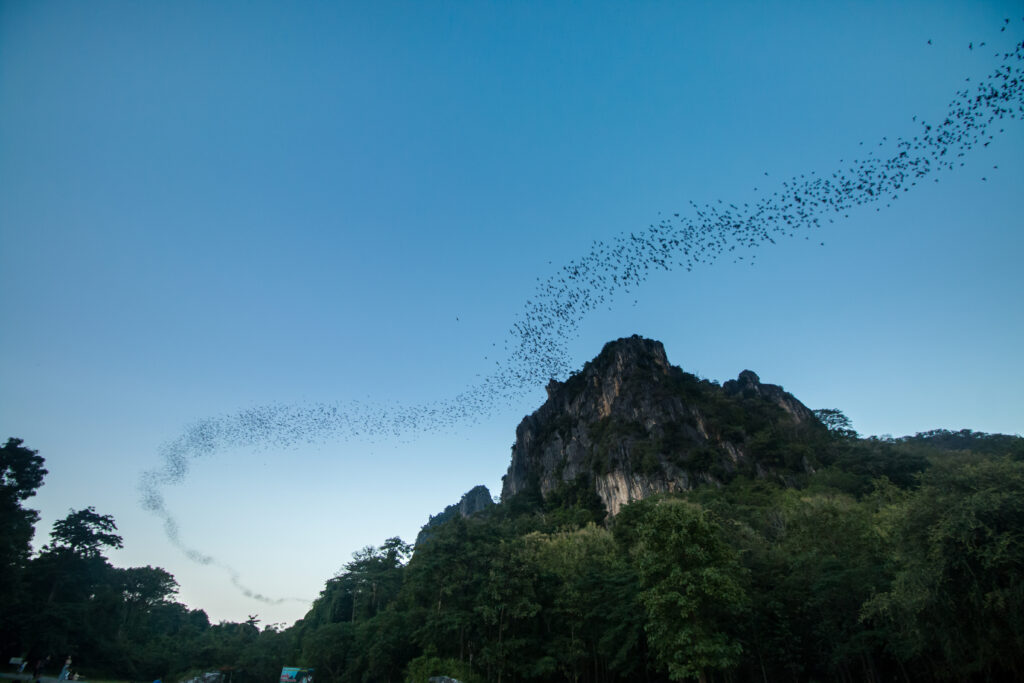 Battambang Bat Caves | Visit Southeast Asia
Every night without fail, millions of bats burst from the Battambang Caves to fly off into the sunset. One of Cambodia's most unique and incredible sights, the Battambang bats are sure to impress even the most jaded nature lovers. Located at the base of the limestone cliffs of Phnom Sampeau are the streets where visitors gather to see the spectacle of bats. Braver tourists can also hire guides to bring them up hidden paths to the mouth of the bat caves. (Some even believe these bats represent the lost souls of the victims of the Khmer Rouge's genocide.)
There are so many bats residing in the caves that the mass exodus can take up to 30 or even 40 minutes, and it usually begins around 5:30 pm. This magnificent sight is one of the fascinating natural wonders of Cambodia; Phnom Sampeau and the bat caves are a short 12 kilometers outside of Battambang's town center, making it an easy drive if you visit Battambang.
Bou Sra Waterfall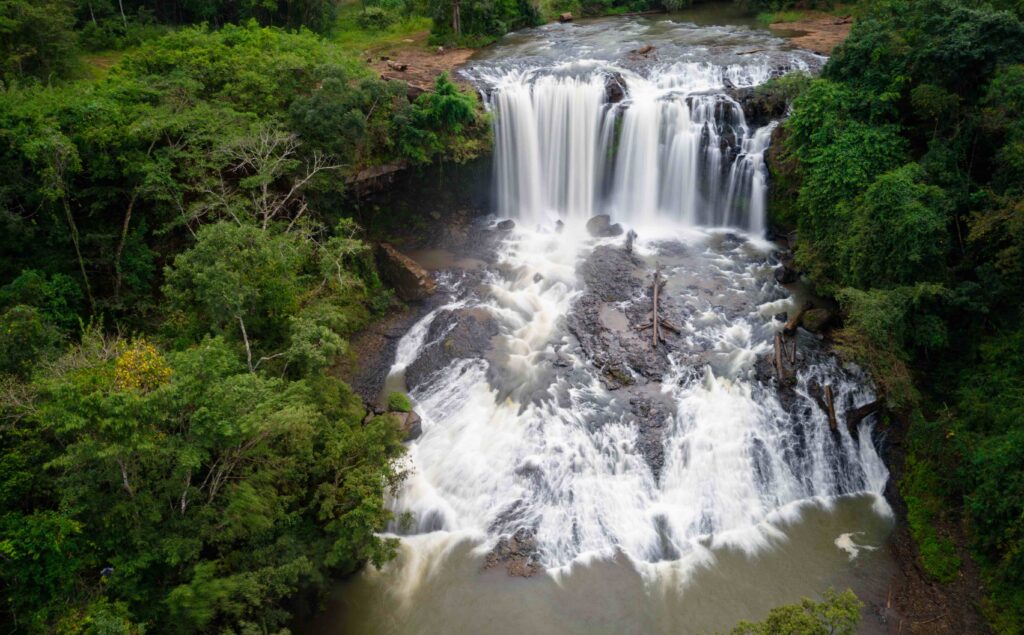 Bou Sra Waterfall | Visit Southeast Asia
Bou Sra Waterfall—also known as Bousra and Busra—is considered one of the best tourist attractions in Cambodia. Located in the sparsely populated eastern province of Mondulkiri, Bou Sra is almost at the country's border with Vietnam. This scenic waterfall is the highlight of the Bou Sra Eco Park, a preservation site for local flora and fauna and home to an ethnic village called Pichinda. The waterfall is known for its three stages, which vary in height and speed; each stage is about 15-20 meters high.
The park also offers two zip lines over the waterfall, with lengths of 100 and 300 meters. Whether visitors view the waterfall from above or from one of many viewing stations, they will be impressed by the triple-tier plunge and sheer breadth of the natural attraction. The road to the waterfall is relatively challenging due to its rural location, but the journey there is well worth it.
Preah Monivong National Park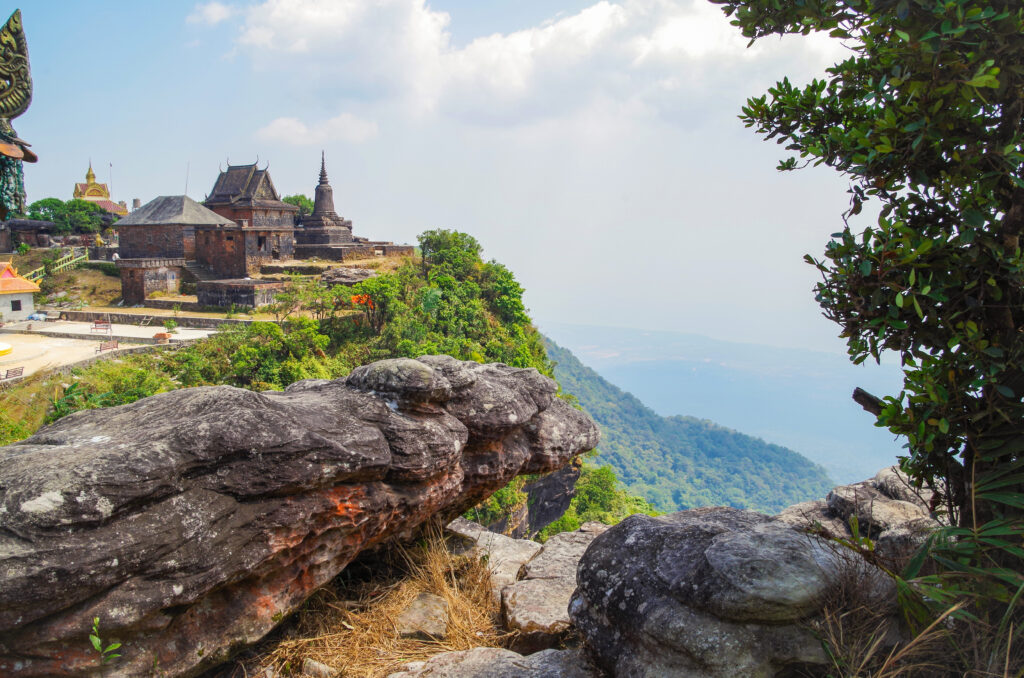 Preah Monivong National Park | Visit Southeast Asia
Home to evergreen rainforests and many endangered species, Preah Monivong National Park—also known as Bokor National Park for Bokor Mountain, its highest point—is 1,423 square kilometers of pristinely preserved land in the southeastern corner of Cambodia. Located within the Dâmrei Mountains, or 'Elephant Mountains,' this elevated park is one of only two ASEAN Heritage Parks in Cambodia. This area is popular among locals and tourists alike, who flock here for its incredible nature and historic sites.
The most famous attraction within the park is the Bokor Hill Station, an abandoned resort settlement built by French colonialists in the 1920s. It also includes a Catholic church, an exceedingly rare sight in a country that is about 97% Buddhist. Preah Monivong is known for much more than just Bokor Hill, though—it is home to countless endangered species, including Asian elephants, tigers, macaques, sun bears, pangolins, and much more, including over 300 species of birds.
Koh Rong Island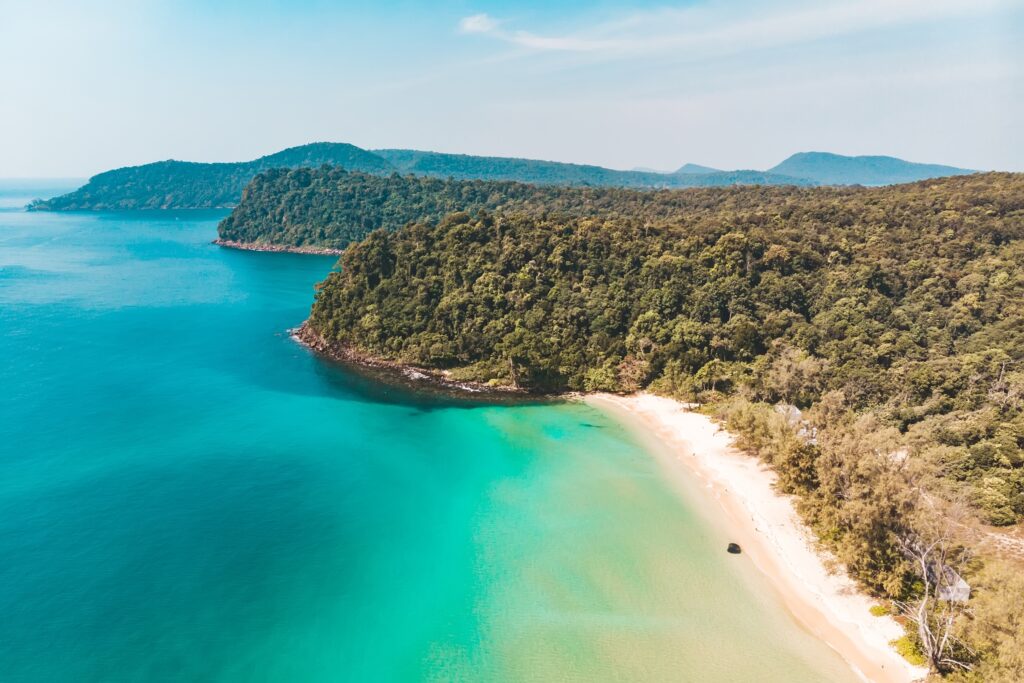 Koh Rong Island | Visit Southeast Asia
Koh Rong Island is so beautiful that almost every inch of it looks like a tropical stock image. This stunning attraction is Cambodia's second-largest island, best known for its sandy coves and coral reefs. Koh Rong has about 43 kilometers of untouched beaches ranging from white to rose-colored, and it once hosted the reality TV show Survivor. Inland is home to dense jungle terrain replete with winding rivers, waterfalls, and local villages.
This tropical island is about 25 kilometers off the coast of Cambodia, in the Gulf of Thailand. It is hilly yet delicate, and its waters are home to an impressive array of marine life. Koh Rong is the perfect destination for a tropical vacation and for those who want to experience Cambodia's aquatic diversity. The entire island exists as a natural wonder.