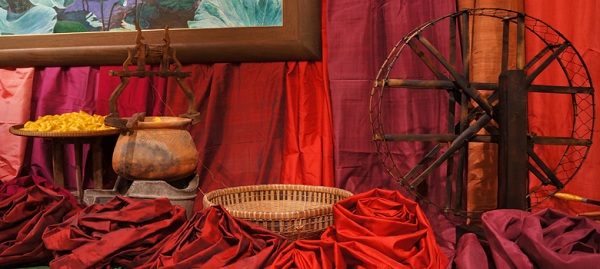 I stand before the gorgeous Thai watercolour painting, admiring its cleverly balanced composition, gloriously harmonized colours, and meticulous attention to detail. Leaning forward, I am startled to realise it isn't a painting at all, but a embroidery made up of thousands of delicate, hand-dyed silk threads precisely stitched into a stunning work of art.
Welcome to the world of Thai hand embroidery. In rural and remote locations throughout Thailand, villagers earn extra income to improve the lives of their families and communities by drawing upon their innate artistic talent, creating astonishingly detailed embroideries that you can admire and even purchase as a wonderful memento.
Sophisticated Thai hand embroidery has its roots in a Royal Project originally championed by Her Majesty Queen Sirikit. In the mid-1970s, the Queen established the SUPPORT Foundation to help Thai people in the southern provinces to become more self-sufficient by generating a new income stream doing Thai hand embroidery. At the same time, the project would encourage the wide adoption and preservation of a traditional Thai handcraft technique that has been handed down through many generations of skilled artists.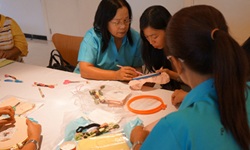 WORKS OF ART METICULOUSLY MADE FROM COLOURED SILK THREAD
To start off the project, the Queen arranged for experienced teachers to train villagers in southern Thailand to be artisans, mastering the techniques of traditional Thai embroidery. They were given kit bags containing wax paper templates and the coloured silk thread needed to make their works of art. Beginners started out with simple projects such as small flowers and animals, while more experienced embroiderers moved on to larger and more complex patterns.
As the popularity of the Thai hand embroideries grew and the villagers became more adept at their craft, the Queen commissioned first-rate artists to create more elaborate embroidery templates reminiscent of watercolour paintings. In 2001, a special studio area was set up at Chitralada Palace, the royal residence in Bangkok. Here, artists create embroidery templates that capture the essence of "Thainess", the things that make the Kingdom unique. This includes episodes from Thai literature, local lifestyles and customs, cultural traditions, historical murals, and scenes from Thailand's indigenous nature including wildlife, plants and flowers.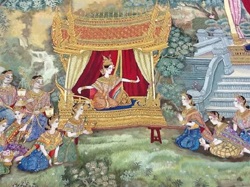 A treasured piece of fine artwork, a Thai hand embroidery is made from slender silk threads that give it a smooth, subtly textured and shiny appearance. The artisans who craft these works of art follow the embroidery templates provided by the SUPPORT Foundation. To maintain hand-crafted authenticity, they even dye the raw silk thread into hundreds of subtle hues themselves, then use the coloured thread to carefully recreate an exquisite reproduction of the original.
The SUPPORT Foundation program has grown from the southern provinces to include over 10,000 trained artisans throughout Thailand. Thai hand embroiderers have become so skilled that, in 2007, the Queen commissioned an annual competition to find the most superb works of art and inspire future generations of Thais to uphold the tradition.
A RARE DISPLAY OF THAI HAND EMBROIDERY AT THE QUEEN'S GALLERY
As part of this year's celebration of three auspicious royal birthdays: His Majesty the King's 85th Birthday on December 5th 2012; Her Majesty the Queen's 80th Birthday on August 12th 2012, and His Royal Highness the Crown Prince's 5th cycle (60th) birthday on 28th July 2012, the SUPPORT Foundation is holding an exhibition of the best in Thai hand embroidery from all across the country at the Queen's Gallery from August until mid-November, 2012. The Queen's Gallery is located at 101 Ratchadamnoen Klang Road, near the Democracy Monument in central Bangkok.
If you want to purchase a work of genuine Thai hand embroidery, it's available to the public only at the Queen's Gallery. During the SUPPORT Foundation exhibition that runs through November, a large selection of Thai hand embroidery is being sold on the gallery's fifth floor. In addition to artwork, embroidered clothing, bags and book covers are on sale. The Gallery Shop on the ground floor will also offer Thai hand embroidery items after the exhibition, depending upon availability.
With Thai hand embroidery, not only will you have a rare and distinctive keepsake of your Thailand holiday, or a wonderful gift for somebody back home, you will have a handcrafted item made with love and care and the deepest respect for Her Majesty Queen Sirikit. It's Thainess you can touch and cherish forever.
HIGHLIGHTS OF THE EXHIBITION:
"THE EMBROIDERER"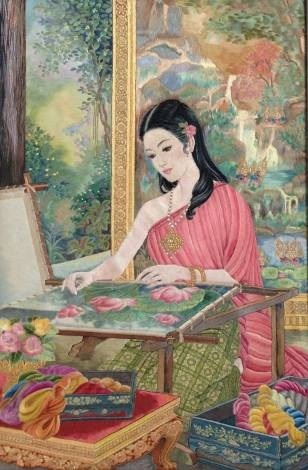 Painter: Pinij Ployphum, staff of the SUPPORT Foundation's Embroidery Template Section,
Chitralada Palace
Embroiderer: Orawan Chaiyo Embroidery teacher of Sakon Nakhon province,
and of Sri Buathong group, Ang Thong province
Embroidery time: 1 year
"SOURCE OF LIFE"
Painter: Staff of the SUPPORT Foundation's Embroidery Template Section,
Chitralada Palace
Embroiderer: Embroidery teachers of Chulabhorn Camp, Khok Kian Sub-district,
Muang district, Narathiwat province
Embroidery time: 1 year
For more information about Thailand, please visit TourismThailand.org