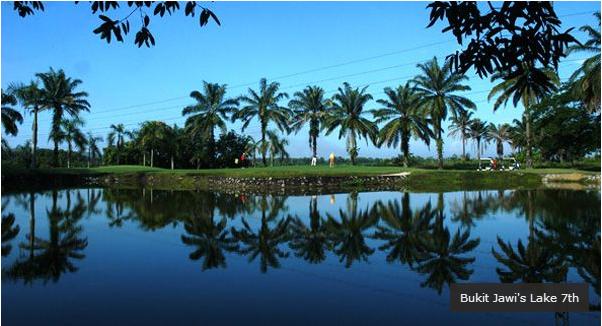 Malaysia's sun-flecked and palm-bedecked islands have long been favorites with travelers seeking rest and relaxation. These days a number of the larger islands have broadened their appeal by offering visitors a scorecard filled with world-class golf grounds.
Penang is Malaysia's best-known holiday resort island. In addition, it has, arguably, the finest selection of golf courses to be found on any of Southeast Asia's diverse isles. However, two of these are not actually on the island itself. Instead they have been built on a slender sliver of land on Peninsular Malaysia that's also part of Penang.
Peninsular Playgrounds
In the mid 1990s when a new township was being master-planned in a former agricultural area it was decided that the sporting centre-piece would be a signature golf course. Two courses, in fact, now attract enthusiasts at the Penang Golf Resort and both of them were designed by Australian golf guru, Graham Marsh.
The area's association with agriculture was suitably remembered during the design phase. Not only are there palm groves throughout the relatively flat course; each of the four sets of nine holes has a distinctive horticultural theme.
On the par 72, 6324-meter East Course the first nine holes feature flowering trees while the back nine has a garden theme. On the par 72, 6247-metre West Course the landscaping emphasis is pines and palms, respectively.
Even high handicappers need not unduly fear either course as Marsh's expertise allows for various playing options with three tee positions for men. By the time you get around to the West Course's 8th hole you will also be well accustomed to Marsh's affinity with weaving lakes around fairways. This par 3 is a perfect example. Spanning just 160 metres from tee to green, a large lake comes into play along the fairway's length.
Not far away is another 36-hole treat, the Bukit Jawi Golf Resort, one of the sporting venues for the inaugural Penang Golf Circuit. The course – coming on line in the 1990s – was designed by Singaporean Wong Yew Kuan. The futuristic three-storey clubhouse gave me the impression it just might have come from the drawing board of an alien.
Once again, two 'tee'rific courses await. The 6385-metre Hills Course is the longest and most confronting of the 'twins'. Set on hilly terrain there are numerous blind holes while others are wide open and subject to sea breezes. Good luck on this true championship challenge.
Gentler but definitely no pushover is the 6163-meter Lake Course where golf balls can be lost on seven large lakes. The signature 15th hole is the pride of Bukit Jawi. Here you only need three well played strokes to take the ball 165 meters from tee to island green. It's a giveaway par unless the ball plops into still waters.
It's just 20 km from this family-oriented resort to the mammoth Penang Bridge. This soaring structure connects slender sliver with famed island.
Island Gem
My favorite place to putt among the palms on Penang Island is the Bukit Jambul Country Club. Designed by Robert Trent Jones Jr, this par 71, 5763-metre international standard golf playground was carved out a 54.5-ha jungle plot on the side of Bukit Jambul. Reflecting the ingenuity of its innovative architect, the course features tees surrounded by so much lush greenery that players can't see the next tee or adjacent greens.
The abundance of thick shrubbery means that if you hook or slice the ball you could well be spending quality time amid the foliage. Before entering the jungle, however, you also might want to get some advice about wildlife. Iguanas and even pythons are common here. Cobras are not unknown although none of them are particularly good golfers!
The 362-metre 10th is like no other hole you've probably ever played. It's definitely like no other hole I've ever seen. The heart-stopping nature of the 10th is that it requires a daring carry over a stand of trees to a landing area some 50 meters below.
Before teeing off into oblivion take a moment or two to plan your mental game and survey the scene. Your view will encompass Peninsular Malaysia in the distance, Asia's longest bridge, a grand panorama of the historic capital city, Georgetown and the whole of the 10th hole, a dazzler rated as the most beautiful in all of Malaysia.
Thomas E. King is a professional golf and travel writer based in Sydney, Australia. He is the Executive Editor of Media East Pty Ltd, a 35 year established editorial agency specialising in features on cultural destinations and golf/spa resorts in the Asia/Pacific region.