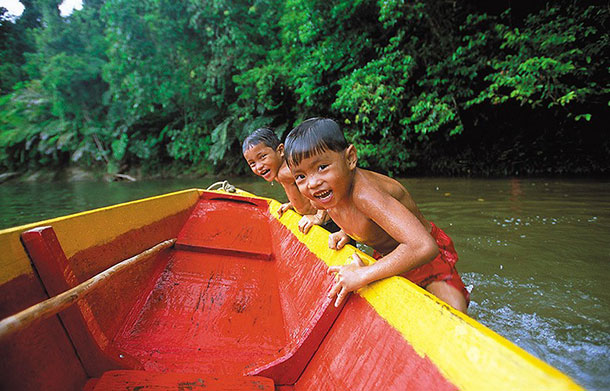 Long known as the "Green Jewel of Brunei", Ulu Temburong presents to the adventure tourist as a teeming 500 square kilometers of unspoiled rainforest. To date, it is the country's only national park, and its most tangible proof that Brunei's real riches run green.
Ulu Temburong has so far survived the rapid deforestation sweeping across Borneo. Strict measures are implemented to keep it intact; only scientists and conservationists, for instance, are allowed in the park.
The most popular tour brings visitors to a walkway suspended 50 meters above the ground. Those with the will and mettle to tackle the heights are rewarded with a sweeping view of the rainforest and miles of dense, vibrant canopy from all sides.
The park's inhabitants — the Bornean gibbon, pygmy and flying squirrels, and hornbills, among others – might be seen from time to time. Visitors can also opt to hike the trails to the forest's waterfalls and lagoons for a refreshing dip, or sign up for a night tour to experience the rainforest and its sounds after dark.
Travel to the park starts off with a water taxi from the capital. Upon reaching Bangar, town in Temburong, tourists travel about 18 kilometers by road to the settlement of Batang Duri where various choices of lodging ranging from a glamping style accommodation to a rainforest resort situated along the this area. The real adventure begins once you hop on a traditional longboat ride up the Temburong River. Local boatmen will maneuver the vessel along the fast-flowing river streams to The Ulu Temburong National Park.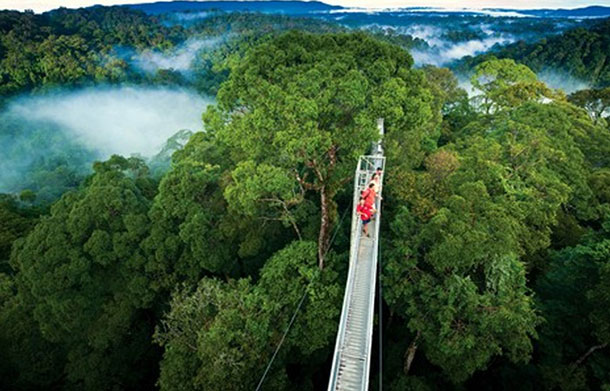 Similar Southeast Asia Experiences
If you're interested in trekking through Southeast Asia's unspoiled wilderness, take on these other trails elsewhere in Southeast Asia: the routes between Makassar and the Tana Toraja heartland in Indonesia; the many trekking trails through Kinabatangan River and Similajau National Park in eastern Malaysia; visiting Sapa in Vietnam; and ascending the Rice Terraces in the Philippines.