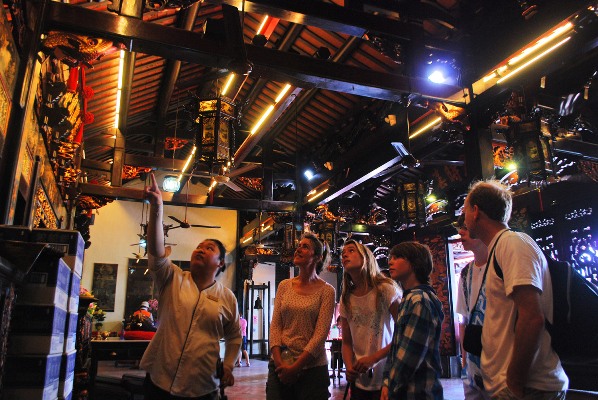 The ancestors knew something we moderns seem to have forgotten: how to reconcile varying religious beliefs. Southeast Asia's trading ports were bastions of tolerance; how could they be otherwise, when on any day you could be doing business with a Malay Muslim, a Chinese Taoist, or a European Christian?
Instead of building walls, community leaders built bridges instead: areas where different traditions could coexist, and on occasion, cross-pollinate.
Melaka, Malaysia's Jalan Tokong Besi demonstrates this ideal perfectly. Down a single street, no more than a short walk distant form each other, stand three different houses of worship, each built for one of Malaysia's three dominant religious traditions.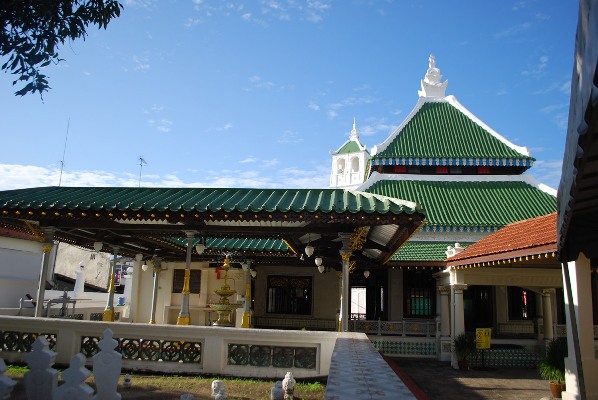 Beginning from the south, you'll first encounter Payyatha Vinayagar Moorthi Temple, the oldest Hindu temple in Malaysia. Built on land donated by the Dutch colonial government in 1781, the Temple is dedicated to the Hindu god Ganesha (Vinayagar to the Chitty Tamils who worshiped here).
Next door stands the Kampung Keling Mosque, completed in 1748 by the Muslim Indian community. The temple bears distinct Asian influences, with Chinese, Malay and Hindu touches found nowhere else: the minaret, for one, looks like a Chinese pagoda.
A block further north, the Cheng Hoon Teng Temple can be found – it's the oldest Chinese temple in the country, having been built in 1645. Richer in detail than the two preceding temples, Cheng Hoon Teng is constantly busy with devotees praying for successful outcomes (icons of different Taoist deities stand at the altar, each specializing in different devotions).
For more on the locality, read about Melaka, Malaysia.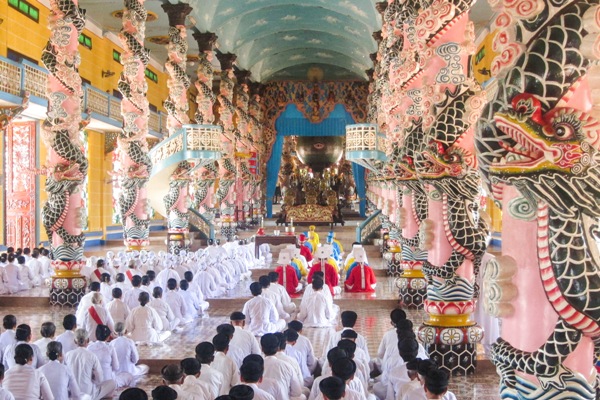 In Viet Nam, the Caodai community holds fast to the belief that every faith has a grain of truth, and their way combines the best of them all. Their Great Temple (Holy See) can be found about 100 km northwest of Ho Chi Minh City, outside the city of Tay Ninh near the border with Cambodia.
From Ho Chi Minh City, the Cao Dai Great Temple is an easy day trip. At first glance, it looks like a Catholic cathedral, which was common iconography in French-dominated colonial Vietnam at the time of its construction from 1933 and 1955.
The Temple's interior is an exercise in intricate detail: with images of saints (their pantheon includes figures from all traditions, among them Jesus, Buddha, Muhammad, and Joan of Arc), dragons wrapped around the supporting columns, ceilings painted in blue with cloud details, and devotees worshipping in multi-hued vestments. (The common believers wear white; higher-ups wear yellow, blue and red).
The Caodai's main religious symbol – the left eye of God – watches over everything, from almost every corner. For those keeping count, the Eye appears in fifty different places across the Temple, reminding devotees and believers that the Caodai supreme deity bears witness to all creation.
For more information, read about the Cao Dai Temple.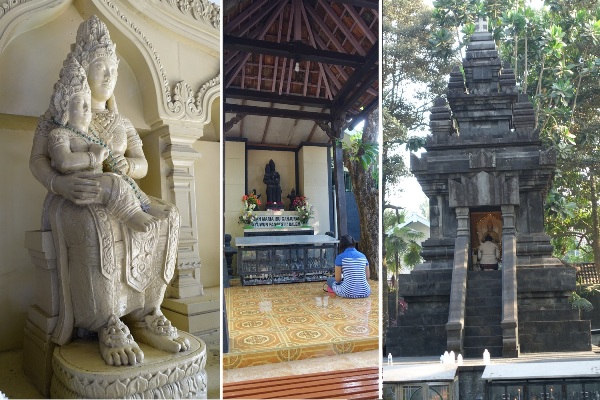 The Ganjuran Church near Yogyakarta in Indonesia approaches reconciliation in a different way, by combining Javanese iconography into a Catholic house of worship: the result is something far greater than the sum of its parts!
Built by Dutch Catholic plantation owners in 1924, the Ganjuran Church attracted a Javanese congregation that grew from about two dozen in its early days to about 8,000 in the present. The church hall looks like a joglo, or Javanese meeting hall, complete with a detailed ceiling that hearkens back to a similar joglo in Yogyakarta's Kraton (royal palace). A candi (temple) outside bears an image of the Sacred Heart of Jesus: as with non-Christian candi in Java and Bali, devotees remove their footwear before ascending to pray.
The localized appearances of Catholic icons will surprise visitors accustomed to seeing European-looking Jesus and Mary icons. The Mary and Child near the entrance looks like a Javanese queen; the angels near the altar sit cross-legged like a Javanese royal servant. And the Stations of the Cross around the church perimeter show Roman soldiers that look like Javanese warriors!
This writer took a taxi from Yogyakarta to Ganjuran Church; the trip easily took less than an hour. For more on the locality of the Church, read about Yogyakarta, Indonesia.
Beyond its much-visited beaches, the city of Phuket, Thailand has an older side worth seeing. In the 19th century, Phuket was also a major Peranakan Chinese cultural center, rivaling Singapore, Malacca and Penang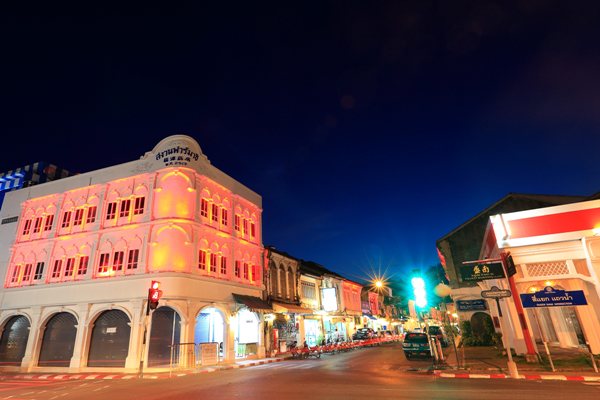 The dramatic growth of the tin mining business in the early 19th century lured in a large number of merchants and coolies from China, leading to the construction of Sino-Portuguese mansions and shophouses in Phuket town. Their tenants and builders – tin mine tycoons and their descendants – incorporated unique Peranakan architectural styles into their homes.
Each shophouse looks narrow from the front, but its space runs as long as ten meters or more rearward, allowing the narrow home to accommodate more people than evident at first glance. Walk along Old Phuket Town, specifically the roads of Dibuk, Phang-Nga, Yaowarat, Thalang and Krabi to admire the beauty of the crafted facade of the remaining shophouses. Some of them have been repurposed as boutique hotels. For an in-depth history of Peranakan culture in Phuket, you might want to pay a visit to the Phuket Thai Hua Museum.