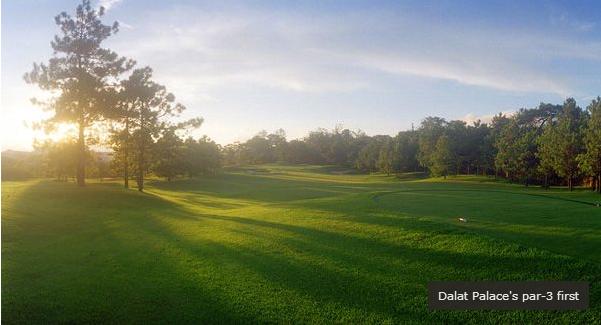 Many visitors to Ho Chi Minh City – still commonly called Saigon – find the city's fantastic attractions and frantic nightlife to be almost addictive. Others want to break away from the metro's magnetic grip after a day or two and make a beeline for a cosy sports sanctuary. Three serene yet contrasting golf courses are particularly popular for players wanting to decamp from Vietnam's most dynamic city for a day amid the greens.
Inner City Haven
The only playing field within municipal boundaries is the Saigon South Golf Club, offering nine par 3 holes. This compact course set behind the FV hospital and open from 6 AM to 9.30 PM is less than 15 minutes (traffic permitting) from the city center's Opera House. The night-lit diversion has pocket-pleasing green fees. And a bucket of 50 balls for rocketing off the 45-bay driving range costs less than US$3.
While accessibility and affordability are plus points at Saigon South you may want to flex your muscles on a full-size layout. Several championship courses are within an hour's drive of the central city.
Greater Saigon Getaways
About 45 minutes beyond city concrete and glass towers is the tranquil Vietnam Golf and Country Club. Set over 300 ha., Vietnam's first 36-hole international standard golf course is a combined effort from Taiwan's Chen King Shih and America's Lee Trevino. Opened in 1994, the club hosted the first professional golf tournament ever organized in the country.
While you decide whether to tee off on Chen's 6835-yard foliage-flecked West Course or over Trevino's wide and open 6922-yard links-style East Course those who don't fancy a bout with a little white ball can swish down the slides at the adjacent Water World. Taxis are available for the trip to this playground, though many drivers know it as the Thu Duc Golf Course due to its location.
There's only one name for the Song Be Golf Resort. Allow up to an hour using Highway 13 to reach this international standard golf course set over 100 ha. Three ribbons of green (the Palm, Lotus and Desert courses) have been carefully woven through a rural landscape of fruit trees and coconut palms. The Desert Course, as expected, is strewn with sandy hazards. In addition, tree-lined fairways are a real threat to high handicappers while a series of lakes provide yet more challenges over the 27 holes.
Song Be is a family-oriented facility with a children's playground, gym and an idyllic waterfall pool that lures weary players to linger longer. Note that weekends are usually very busy – forget about holidays! Mondays are concession days with discounted green fees and other enticements. On Tuesdays the draw is Ladies Day.
Golf Excursions
Should you want to really get away for a day or two of serious R&R I recommend two additional sophisticated green fields where stylish accommodation is also available. Just under 200 km east of Saigon is the beach centre of Phan Thiet where a museum devoted to the life of the nation's founding father, Ho Chi Minh, might be of interest.
Beyond this, waves of sand stretch along much of the idyllic coastline. Windswept mounds are an integral part of the award-winning 6725 yard course at the Ocean Dunes Golf Club. Nick Faldo can take credit for this seaside sensation. He decided that the natural dunes would define the course's distinctive layout and look.
The most outstanding hole is the striking ocean-backed signature 9th. Though it spans just 148 yards the fairway is surrounded by sand banks covered in Casuarinas. This jewel has been included in the rarefied list of Golf Magazine's "Best 500 Holes in the World".
The breeze at Phan Thiet is always salt scented. In contrast, it's the perfume of pine that greets golfers to the highland retreat of Dalat. Located 297 km north of Saigon, the 18-hole course at the Dalat Palace Golf Club is an absolute gem. Originally built for Vietnamese royalty in 1922, this 700-yard hilly playground was renovated to world-class standards and reopened in 1995.
Golf can be played throughout the year in the charming French colonial hill station, although winter mornings can be foggy and quite chilly. Regardless of season the signature 6th with its commanding view of the lake and forested hills provides a superb introduction to the challenges and charms of Vietnam's most picturesque and, arguably, best golf course.
Thomas E. King is a professional golf and travel writer based in Sydney, Australia. He is the Executive Editor of Media East Pty Ltd, a 35 year established editorial agency supplying features on cultural destinations and golf/spa resorts in the Asia/Pacific region to publications around the world.