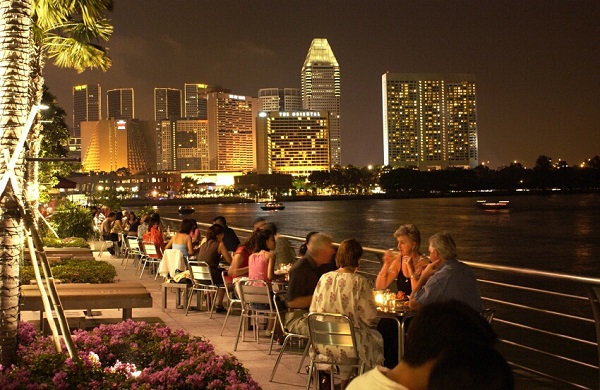 Every city in Southeast Asia has at least one – a district that only comes alive at night, when tourists converge after dark to swap travel stories over a few beers or cocktails. The bar scene in Southeast Asia is loud, energetic, and rarely ever looks the same from place to place.
We asked a few bloggers to tell us about their favorite watering holes, and realized that each of their recommendations offers a different take on drinking after dark. From craft beers to roast spiders, check out what unique experiences you'll find at each of the bar-hops mentioned here.
Craft Beer at Singapore's Clarke Quay
Hard-partying expats and hearty local drinking habits altogether make Singapore a creative hub for experimental brewmasters. Dutch travel blogger Chris Wiersma discovered Singapore's talent at craft beers on his last visit to the bustling island-nation. He found himself at Clarke Quay, a nightlife hotspot right alongside the Singapore River.
"Clarke Quay is an area [that] you'll probably end up sooner or later in Singapore," Chris explains. "It does serve mostly to tourists, but you'll find locals too especially on party nights. It's just a huge bar / restaurant where you can hang out no matter what you want to drink."
With dozens of bars to choose from, Chris draws from his experience to make a few recommendations for Clarke Quay visitors.
"Level 33 I recommend to go, if you're a first timer in Singapore – go for the view and have dinner; not only for beer," Chris says. "From all the craft beer bars in Singapore, I would return to Brewerkz as the area to party all night. With 12 beers on tap, there is a variety for everyone and some beers rotate and chance."
The prices at Clarke Quay can be quite high compared to other watering holes around the region – but Chris offers a workaround. "For some strong beers it's then cheaper to buy a taster rather than a pint," he tells us. "At Brewerkz, on certain busy times, the prices go up, but a flight of 4 tasters stays the same price."
Check out this explainer on wining and dining at Marina Bay, Singapore for a same-same-but-different look.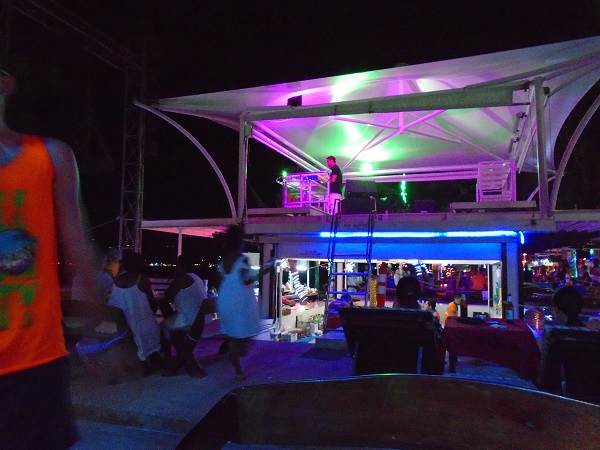 Chaweng, Koh Samui – Beachside Bars
A hard-partying nightlife tends to be the flipside to many of Southeast Asia's top beach destinations, and the gorgeous Thai island of Koh Samui is no exception. Travelers looking to tipple in Koh Samui head to its central party district, Chaweng, where the numerous soi (streets) lead to different establishments catering to the famous (some say infamous) local bar scene.
Travel blogger Tasha Haley took a rare break from family-blogging to party with friends at Chaweng, and loved what she found. After a long night out, Tasha and friends wrapped up their evening at the Ark Bar.
"The Ark Bar is in the heart of Chaweng, Koh Samui's most popular area for partying, food and nightlife in general," Tasha recalls. "Not only does it have a dedicated DJ, pool parties, live photo steams on the TV's, but it has its own beach, loungers and people dancing with fire throughout the night."
Beyond the Ark Bar, Koh Samui can explore the rest of the bar scene in Chaweng, particularly those around Soi Reggae and Soi Green Mango.
Read about holistic treatments in Koh Samui for a healthier take on the island.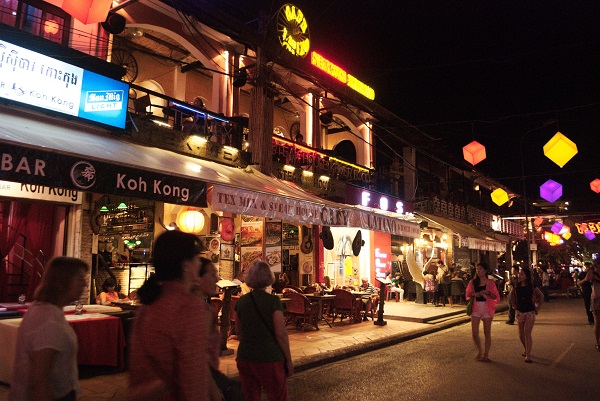 Pub Street: After-Temple Treat
A visit to Angkor Wat and the surrounding temples can be a massive expenditure of effort – so what better way to unwind after a long day of temple hopping than to head off to Siem Reap's Pub Street?
This nexus of bars and restaurants couldn't be better situated: just a few blocks down from the Old Market and right across the street from the Night Market, Pub Street feels very connected to Siem Reap's leisure options.
"This vibrant junction offers not just pubs, but delicious local food, bizarre eats on sticks, shops and massage parlours as well," explains travel blogger Aditi Shukla. "Enjoy a sundowner over chats and promotional deals, and end the hectic day on a light note."
Pub Street is less about "authenticity" and more about variety: the establishments that line this road come in all forms, from cocktail bars to steakhouses. Popular bars include Temple Club and Angkor What? – most of the bars are friendly, loud (in a fun way) and inexpensive, with beers costing about 50 US cents a pop!
"The atmosphere of the bustling maze is really vibrant and that's what adds charm to the street," Aditi tells us. "Our recommendations would be the kebab by the lanes, cocktail-hopping during happy hours and packing a bunch of tiny coconut pancakes on your way back home."
Explore this itinerary that covers Siem Reap, along with Vietnam and Thailand highlights.
* * * * *
Chris Wiersma blogs at CTB Global; you can follow his adventures on his social media channels: Facebook, Twitter, Instagram, and Google Plus.
Check out Aditi Shukla's travel and adventure experiences at her blog Lyf&Spice, or follow her on Instagram, Twitter, Facebook and YouTube.
Tasha Haley blogs with her husband David as the Meldrums on the Move – you can also follow their social media updates on Twitter, Snapchat, Facebook, and Youtube.