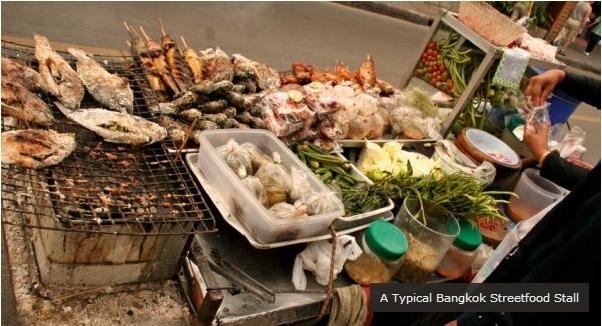 There's something about a visit to Bangkok that can transform you. You arrive not knowing galangal from a cheaplu leaf. You can't even pronounce gai hor bai toey, let alone know what it is. And yet, by the time you leave, dried chili, lemongrass, and kaffir lime are your friends, and you know how to season with fish sauce to taste. What's more, you'll probably be able to concoct a Thai curry for yourself, and you won't be getting the paste from a jar. In fact, you'll be pounding at fresh spices with the expertise of a Thai grandmother, and amazing your friends with your culinary know-how.
Visit Thailand, focus on the food, and you'll discover there is an amazing variety of restaurants, food stalls, and markets to tempt the taste buds. Guidebooks will certainly point you towards marvelous restaurants, but be sure to explore the street food that ordinary folks enjoy. Not only can you eat extremely well and cheaply, but the neighborhood ambience is unbeatable. Sit beside schoolgirls in neatly ironed uniforms in a curry house, or visit the duck shop and have roast duck sliced in front of you, served with little dishes of chili sauce. If you're used to Thai restaurants overseas, you may be surprised at the spiciness of its cuisine in Thailand. Expect many dishes to be very spicy, especially if they contain the smaller varieties of chilli. However, if spicy dishes aren't your thing, you can always find mild offerings such as fried rice dishes, bowls of plain noodles and mild yellow curries.
Noodles are about the cheapest meal you'll find in Thailand. They are most commonly served fried with egg, bean sprouts, ground peanuts, and lime juice (pad thai), but come in bewildering varieties, from wide flat ribbons to delicate see-though strands. It's the practice to order a basic dish of noodles and then add optional extras such as strips of beef, roast chicken, or shrimps to taste.
You'll find food stalls on every street in Bangkok. There are particular concentrations of them around markets and bus stations, where night markets spring up towards the end of the afternoon. Handcarts are trundled into position, gas flares, and before you know it, woks are sizzling on every pavement. Thais generally sit down to eat; local etiquette frowns on those who walk along the street while munching on their dinner, so use the plastic stools provided. There are night markets in every neighborhood, so ask locals to point you to the right direction, but one of the best is Pratunam Market on the corner of Phetchburi and Ratchaprarop Roads.
Bangkok's floating markets are equally delightful. Floating kitchens drift past with offerings of crispy fried noodles with shrimp (meekrob), coconut custard cooked in a miniature pumpkin (sangkaya) or various cakes of glutinous rice and coconut cream wrapped up in neat banana leaf parcels. You can get to the floating markets by taking one of the standard group tours for around 1,000 baht, or charter a long-tailed boat for around 500 baht an hour from the pier at River City and Tha Chang ferry terminal. The floating market in front of the Taling Chan District Office at weekends is very authentic. Bang Khu Waing is also an excellent floating market, but you have to be keen—it's all over by 7 a.m.
The great thing about a cook's tour of Bangkok is that you'll be permanently satisfied; this is one destination where great food is guaranteed. And if you take the increasingly popular cooking courses available throughout the country, long after the holiday is over, you can still enjoy the taste of Thailand, and your kitchen will never be the same again. Your pronunciation of gai hor bai toey may never be correct, but at least you'll know it's chicken wrapped in pandanus leaf and grilled over charcoals—and be able to cook it.
And if your better half isn't truly impressed, just take out your kitchen knife and carve a romantic lotus blossom out of a radish. You'll be amazed at the things you learn in Thailand.
Tip
Street stalls are generally hygienic, with many vendors wearing plastic gloves to prepare food. It's best to frequent stalls where plastic cutlery is used, rather than metal cutlery that may not be washed too well. Spicing it Up Common Thai spices and herbs include ginger, cumin, chili, shallots, garlic, coriander (both leaves and roots), and sweet basil, whose leaves are narrower than European basil, and tinged with purple. Galangal, though resembling and related to ginger, has a citrus and peppery flavor and is used in tom yum soup, stock and curries. Lemongrass is another tom yum staple. Also imparting a citrus flavor is kaffir lime leaf, cooked in soups and curries or added raw to salads. Of course, nothing says Thai cooking more than chilies, which can be red, yellow or green. Small bird chilies (phrikl khi nu suan) are the hottest, so beware. Thai culture has seen many influences from India, and perhaps this explains the prevalence of spicy food. But some say spicy food is simply the perfect response to a hot climate: Thais claim eating spicy dishes will help cool the body down.
Back to School
Attending a Thai cooking course in Bangkok can add a delightful culinary twist to your holiday. Most courses offer a balance between lectures, demonstrations and hands-on experience. The Peninsula Bangkok (http://www.peninsula-bangkok.com) has short programs designed for the amateur, and pleasant courses on Thai tea appreciation and Thai desserts. The Mandarin Oriental (http://www.mandarinoriental.com) also runs its own cooking school; among the useful lessons is how to order from a Thai menu. More advanced cooks should try the Dusit Thani Hotel (http://bangkok.dusit.com).  Recipes are taken from the Benjarong Restaurant, well known for its royal Thai cuisine. If you want to get into the spectacular art of fruit and vegetable carving, UFM Baking and Cooking School (http://www.ufmeducation. com) has a five-day course.
Typically Thai
Thailand is renowned as the "Land of Smiles" and smiles are certainly plentiful, though they may indicate embarrassment or even annoyance as well as pleasure. Thais are said to be hospitable, gossipy, friendly and fun loving, with a slapstick humor. Often too polite to ask questions, disagree, or criticize, Thais generally stay calm even in the most frustrating of circumstances and have a relatively open and tolerant society. "Mai pen rai"—"no problem" or "that's okay"—is perhaps the most widely uttered term in the land. Thais prize relaxation and comfort (the Thai term is sabaisabai) and are not at ease with formality—queuing is certainly a virtually unknown concept. To foreigners, Thais often appear to have a cavalier attitude to arrangements and punctuality. Just keep smiling!
PAL flies between Manila and Bangkok twice a day. Swing around tour packages are available. For more information, call PAL reservations office (+632 855 8888 and +632 855 7777) or log on to http://www.philippineairlines.com.
This article was provided by Philippine Airlines' Mabuhay Magazine.Mabuhay Magazine is published by Eastgate Publishing Corporation (email:info@eastgatepublishing.com";website: www.eastgatepublishing.com).