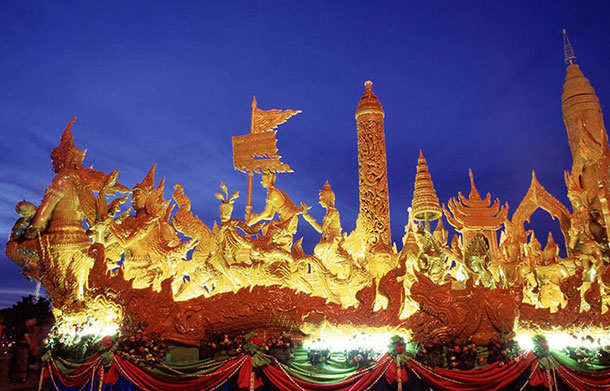 At the onset of Buddhist Lent in July, the northeastern province of Ubon Ratchathani hosts the Candle Festival. One of the biggest festivals in the province, it's a time when huge and elaborately carved candles are paraded throughout the city on Khao Phansa Day.
The candle procession traces its roots to the practice of giving Buddhist monks a bundle of small candles along with other basic needs to use during the three-month lent when they can't leave the temple grounds. Over time, the candles grew more elaborate and during the reign of King Rama V in the 19th century, the Candle Festival was established.
The festival is one way for visitors to see many Thais' devotion to Buddhist tradition—not to mention their serious skills in carving candles. (If you visit days before the parade, a stop by one of the temples might give you a peek into how they do it.) Different temples, districts, and other groups all throughout the country participate with their lavishly carved candle floats. Some are a jaw-dropping 20 meters long, many portray scenes from Buddhist and Hindu mythology, and all feature painstaking, intricate details.
After you've picked up your jaw from the ground from the impressive works of wax, there are also a number of cultural shows and exhibitions of handicrafts made by local artisans to catch. As with any Thai festival, there's plenty of mouth-watering food. Don't miss out on the fiery Isan dishes that Ubon is known for, such as the laap ped (a spicy minced duck salad with roasted chilies) or tom saep (spicy pork soup).
You Might Also Like…
For similar festivals that honor nearby bodies of water, visit Cambodia's River Festival; Indonesia's Lake Toba Festival; and Myanmar's Hpaung Daw Oo Festival. For other festivals in the month of November, visit Myanmar's Tazaungdaing Light Festival and Cambodia's Bon Om Touk (Water Festival).