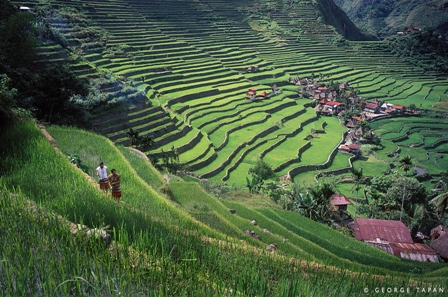 Image courtesy of the Philippines Department of Tourism
Hiking through Sagada takes you through the Cordillera Mountains' peaks, caves and falls, and serves as an object lesson in isolation: its remote location prevented Spanish conquistadores from setting foot in the region, preserving the indigenous culture of the people.
At the tourism office in town, you can book a starter sight-seeing tour that stays close to the town center. The trip covers a dip in Bokong Falls, a hike to Echo Valley to see the hanging coffins, or a breathtaking view of the Rice Terraces from the Mt. Kiltepan viewpoint. Go down the hillside and you'll find the entrance to an Underground River that leads deep into Sagada's Cave Connections.
If you're feeling more adventurous, you can pick an itinerary that ventures further out – you'll wade through rice paddies to marvel at the Bomod-ok Falls; gaze at the grand rock formations inside Sumaguing cave; explore the caverns of the Sumaguing-Lumiang Cave Connection; and have a picnic by Lake Danum, before climbing Mount Ampacao to take in the Sagada panorama.
Sagada stays moderately cool for most of the year, but the months of December and January bring frigid winter winds from Siberia, making the mountains colder than usual.
Elsewhere on the Web: Read the Philippines Department of Tourism's overview page on the Mountain Province, including Sagada.