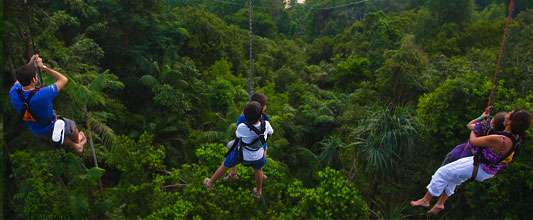 Southeast Asia hosts a myriad of tree top adventures starring high-speed zip lines soaring hundreds of metres through trees and over water to awaiting platforms. Zip-line tours often include elevated walkways, suspension bridges, abseiling, trapezes, and climbing nets. Some zip-line and above-ground experiences take place in the jungle, while others are crafted into nature parks near big cities. Tree top adventures are available for kids, teens, adults, and even the elderly. So if you are up for an adrenaline rush, leap on a zip line and soar like a bird.
Brunei Darussalam: Ulu Temburong National Park hosts elevated walkways and suspension bridges, making is easy for adventurers of all ages to navigate over rough terrain. The nine-hour day adventure departs from the Bandar jetty and a boat ride to Bangar Town before driving through secondary forest and hill paddies to the Batang Duri longhouse and park entrance. Now the fun begins as you weave your way through rugged jungle on elevated walkways and suspension bridges over rivers and mountain ridge tops that offer amazing above-ground views. A longboat ride along the Temburong River rapids cruises you to a trail and waterfall walk. A water taxi awaits to bring you back. Sources: Brunei Bay, Frommers.
Cambodia: For a true, in-the-air adventure, head to the rainforests at Angkor Archaeological Park and The Flight of the Gibbon's aerial courses. You'll soar on zip lines through jungle treetops, traverse suspension bridges, and abseil from towering trees. The experience offers up to 21 tree platforms, 10 zip lines, four "sky bridges" spanning hundreds of metres, spiral tree-climbing staircases, and a 50-metre abseil. Along the way, you'll travel through 6 hectares teeming with wildlife including gibbons. Source: Cambodia's Ministry of Tourism.
Indonesia: Groups, families, and adventurers seeking a challenge in Indonesia can enjoy a day of leaf-filledfun at Bali Treetop Adventure Park in Bedugul's Bali Botanical Garden. The park features seven circuits and 72 challenges, all between two and 20 metres above the ground, geared to various ability levels. Along the way, you'll encounter suspension bridges, trapezes, monkey ropes, climbing nets, bizarre ladders and the Tarzan Jump with the Flying Fox's 160 metre-long abseil. Source: Bali Treetop.
Lao PDR: Laos offers several renowned canopy experiences throughout the country. Green Discovery's Tree Top Explorer in southernmost Champasak Province presents one-room tree-house accommodation some-20 metres high. Their aerial tour flies over roaring gorges on zip lines, some more than 400 metres long, before a "via ferrata" hiking system guides you back. For a thrill, try abseiling down a waterfall. Green also offers the Nam Lik Jungle Fly near Vientiane, which features zip lines up to 37 metres high and 180 metres long, ropes, giant nets, and slings. The adventure starts with a boat ride and ends in a comfortable tent on a bamboo platform inside the forest. The Gibbon Experience involves trekking, flying on extreme zip lines, exploring the forest, and experiencing a tree house stay. This three-day adventure in Bokeo Province includes hiking along Nam Nga River, and staying in a waterfall tree house with a fresh-water swimming hole at its base. Source: Green Discovery Laos, Visit Laos.
Malaysia: Two zip-line adventures stand out in Malaysia. Bukit Tinggi's Flying Fox takes you to speeds reaching 70 to 80 kph while soaring 150 metres above the ground. The Flying Fox is part of the Aerial Forest Ropes Park, which features multiple zip-line and aerial rope courses for anyone over age seven years. The park also offers rock climbing, a canopy bridge walk, and a rope obstacle course. The Langkawi Zipline Jungle Canopy Adventure teaches about the Mount Gunung Raya area's nature while zipping across the ancient tropical rainforest canopy. During the adventure, you'll abseil, climb, trek, and glide high above the ground on a cable system. The family-run adventure starts from the base of Langkawi's tallest mountain (890 metres) and home to some 400 tree species and an array of wildlife. In between zip-line platforms, you'll repel steep boulders with the aid of a tightrope. Sources: Whoa Adventures, The Star.
Myanmar: Myanmar currently does not offer zip lines, tree canopy tours or tree house accommodation.
Philippines: With more than 20 zip-line locations, the Philippines rules the tree canopy scene in Southeast Asia. In Luzon, check out Tree Top Adventure's cable rides of up to 220 meters in length, and its Superman Zipline's 130-meter run located in Subic, Zambales, Pugo Adventure's three zip lines crossing rice fields and a river, and Camp Explore's 380-metre-long zip line through Sierra Madre's forests. Those staying in Manila can ride the 110-metre zip line in La Mesa Eco Park, while Corregidor Island offers the 300-metre ROCKet Zipline. You can view Taal Volcano from four zip lines up to 300 metres high at the Tagaytay Ridge Zipline and Cable Car, or look down 160 metres on Mayon Volcano from the zipline of Lingnon Hill in Albay. For a bird's eye view of Boracay Island, check out Fairways and Blue Water, or catch The Rush Zipline at Tierra Alta's 600-meter zipline that guests can ride in four different ways. Asia's longest zipline, the Dahilayan Adventure Park Zipzone in Bukidnon zooms you 840 metres down a mountain, Davao City offers the Eden Nature Park & Resort's 200-metre SkyRider with a city and gulf view, and Zip City's 320-metre flies through Mount Apo. Source: Travel Book Philippines.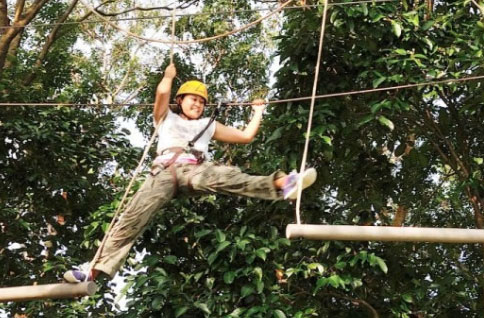 Singapore: Even the megalopolis of Singapore offers zip-line nature parks. Forest Adventure features 50 obstacles among four lengthy zip lines across a reservoir, with courses for people of all ages and abilities. The Kid's Course has 16 simple crossings for little adventurers, while the Grand Course presents 2.5 hours of fun in the trees for teens and adults, including 34 obstacles such as bridges, trapezes, logs, and the zip lines. MegaZip Adventure Park in Sentosa presents one of Asia's most extreme zip wires, which zooms 450 metres over the jungle canopy and Siloso Beach. The park's more strenuous ClimbMax delivers an aerial obstacle course set amongst the treetops, with wobbly bridges, swaying tightropes, and sky-high cargo nets with which to tangle. Sources: Forest Adventure, Megazip.
Thailand: Thailand delivers a variety of tree-top experiences throughout the country. The Chiang Mai Tree Houses Resort offers a three-day jungle trekking programme, with overnights in tree house accommodation, and a grand finale with canopy zip lines descending 1,200 metres via 15 platforms. Chiang Mai's Flight of the Gibbon features 5 km of jungle zip lines with 33 platforms as well as sky bridges and abseil descents. Flight of the Gibbon has also entered Khao Kheow Open Safari, accessed from Bangkok and Pattaya. Jungle Flight on Koh Phangan presents two zip lines 400 metres above the island's jungle, and their office is just a few steps from Charm Beach Resort with a luxury, beachfront tree house. Krabi Tree Top Adventure Park hosts a canopy walk on suspension bridges, while its Flying Fox zips you among the treetops. Jungle Safaris in Khao Sok National Park, Surat Thani, also offers a range of exciting back-to-nature tours as well as room stay. Sources: Treetop Asia, Koh Phangan Jungle Flight, Asia Web Direct, Blue Elephant Thailand Tours.
Viet Nam: Operating mainly in Da Lat and Hoi An, Phat Tire Ventures offers an above-ground rope course featuring a 100-plus-metre zip line, suspension bridge, and a pole leap through pine trees near a lake. For those visiting Dalat, stay at the "Crazy House", an artistic structure built like a tree at Hang Nga Guesthouse. Sources: Phat Tire Ventures, Thienan Hotel Dalat.