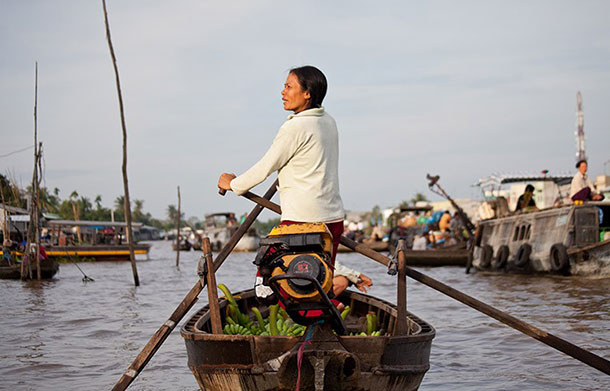 A trip to Viet Nam won't be complete without seeing the floating markets in the Mekong Delta. Viet Nam's southwestern region where the might Mekong River flows and drains to the sea is home to countless tributaries, rice paddies, fish farms, swamplands, mangrove forests, islands, villages, and floating markets. To see everyday life in the delta, there are tours departing from Ho Chi Minh City or you can do it on your own, whichever you prefer, but be sure it includes experiencing one or two of the Mekong's floating markets.
The biggest (and most popular) one is Cai Rang. It's a 30-minute boat ride from Can Tho, the delta's centre where you probably will want to stay the night to get an early start at Cai Rang. The wholesale floating market gets up at around 5 a.m. and it's worth the early wake-up call—seeing the sunrise, the river's bustling commerce, the swarm of boats, the abundance of produce and colour. If your sampan has been gliding through the quiet and palm-lined backwaters of the river beforehand, the sight of Cai Rang poses as a sharp contrast.
For a less crowded market experience, Phong Dien is deemed Mekong Delta's "best floating market." It might have something to do with the fewer motorised boats and tourists. The market also just doesn't sell produce like Cai Rang, it trades all sorts of tools, boats, weaving products, and even noodle soups. Some local vendors might even approach your boat to sell some drinks and snacks. But similar to Cai Rang, it's best seen in the early morning hours but if you miss it, Phong Dien is at least open until the afternoon.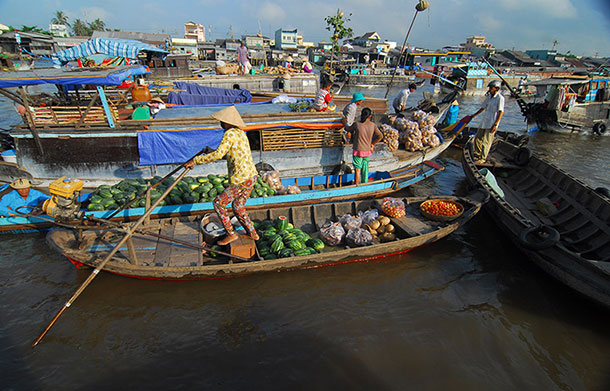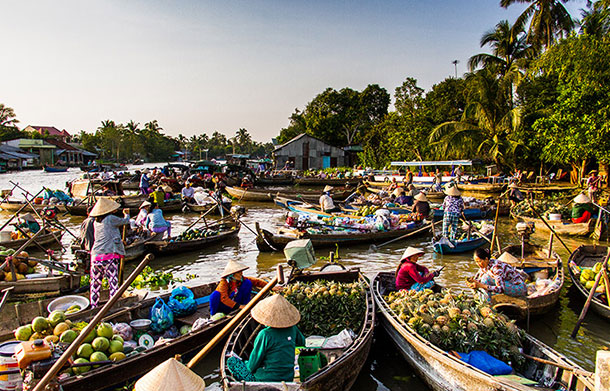 Similar Southeast Asia Experiences
Southeast Asia's traditional communities have a strong affinity with water, as you can see around the lakeside villages in Inle Lake, Myanmar and the water village at Kampong Ayer, Brunei. For other traditional markets around the region, visit Bangkok, Thailand's markets; Hanoi, Vietnam's Old District; Kuala Lumpur's Chinatown; Bandar Seri Begawan in Brunei; and Inle Lake in Myanmar.