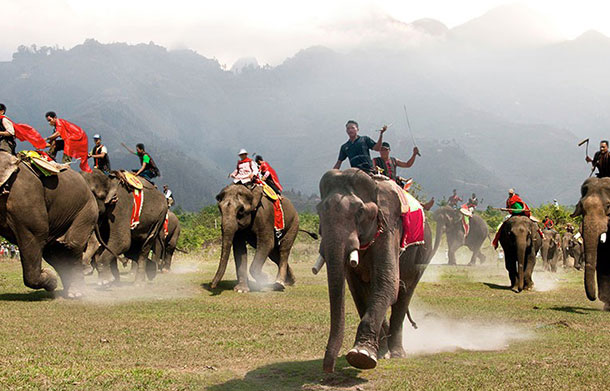 The ground shakes, the dust from the earth rises, and a herd of elephants rush past you—it's an incredible sight and it makes the Elephant Race Festival one of the most unforgettable cultural celebrations in the Central Highlands of Viet Nam. It is held in Don Village of the Buon Don District in Dak Lak Province, home to the M'Nong ethnic group who are known for their tradition of hunting and training wild elephants. The large mammals hold a significant place in their spiritual and cultural lives and the festival is supposed to reflect the martial spirit of the M'Nong people.
During even numbered years, normally in March, Dak Lak turns more than just a destination for tourists to ride elephants. It's a time when elephants from different villages compete in a race and participate in a series of different competitions—swimming across the Serepok River, and playing football and tug-of-wars, among other games. People from near and distant villages come and watch in their colourful costumes. You can book a hotel in the capital Buon Ma Thuot, which is around two hours away from Buon Don.
The race starts at the sound of a tu va (horns made into musical instruments) and as the elephants charge ahead, the thunderous sound of beating drums and gongs rival the cheers of the crowd. Find yourself amidst this spectacular festivity and you can't help but get swept by the exuberant atmosphere. It also doesn't hurt that the Central Highlands provide a magnificent natural backdrop of pine forests, beautiful waterfalls, and bucolic sceneries.
You Might Also Like…
For a similar elephant-focused festival, visit the Boun Xang (Sayaboury Elephant Festival) in Laos. For alternative March festival stops, visit Thailand's Bun Luang and Phi Ta Khon Festival, and Cambodia's Mekong River Festival.