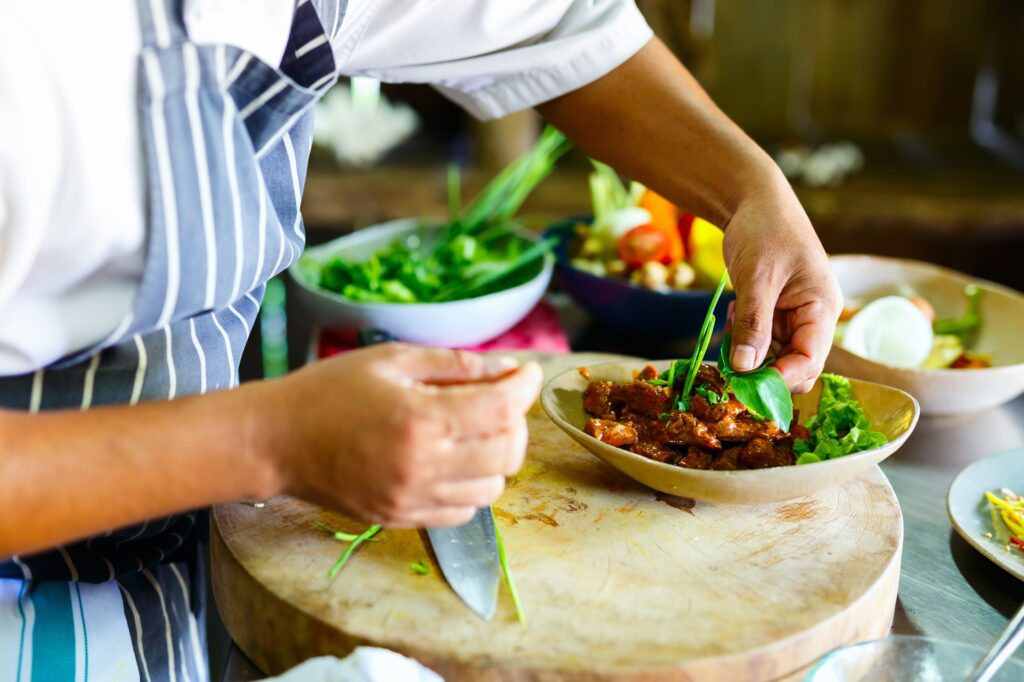 Welcome to the final feature in our Taste of ASEAN series. We've been on an incredible culinary exploration searching for all the best-tasting native dishes from southeast Asia. Each country has provided us with fascinating local ingredients and intense flavors, while showcasing a whole range of delightful recipes.
We conclude our hungry-eyed adventures in our final installment with the immensely charming country of Cambodia. Join us as we delve into the local flavors of Cambodian cuisine, and if you can't wait until your next trip to Cambodia – we've got you covered with tasty recipes to try at home. You could be hopping on a plane to this wonderful country, sooner than you thought.
Cambodian Cuisine
Officially the Kingdom of Cambodia, this southeast Asian country combines both ancient and modern worlds to create an unforgettable experience for all visitors to Cambodia. Bordered on land by Thailand, Laos and Viet Nam, Cambodia stands as a predominately Buddhist country that embodies influences from neighboring countries and its significant French-colonial history.
Cambodian cuisine, referred to as Khmer cuisine typically consists of rich sauces, herbs, flowers, vegetables and strong pungent pastes including fermented fish. Like many other southeast Asian countries – rice is an essential food in Cambodian culture and it's common to see rice being eaten throughout the day. Street vendors and restaurants sell many forms of rice including crisp rice snacks, rice soups, rice desserts and it is also served as part of main meals.
For a taste of true Cambodian cuisine, be sure to try the national dish – fish amok (fish in coconut curry) as well as favorites – num banh chok (rice noodle soup) and cha houy teuk (jelly dessert). And for more adventurous foodies, there are local delicacies – fried tarantula, stuffed frog, and 20-day-old duck fetus to challenge the bravest of taste buds.
Cambodian Restaurant – Khmer Grill
Home to one of the largest religious sites in the world – Angkor Wat, the ancient city of Siem Reap is an essential feature on any travel itinerary to Cambodia. We suggest taking a well-deserved break from a long day of sightseeing with a stop at Khmer Grill and introduce your taste buds to Khmer barbecue.
Praised for its food and friendliness, Khmer Grill's popularity is shared amongst locals and visitors alike. This daytime-café come evening-restaurant packs in the crowds, so it's wise to get there early for a table. Serving up local delights including bai sach chrouk (grilled pork with rice), beef lok lak (stir-fried beef) and mouan ang (grilled chicken) – these dishes are guaranteed to convert you to Cambodian cuisine.
Cambodian Recipe: Moan Ang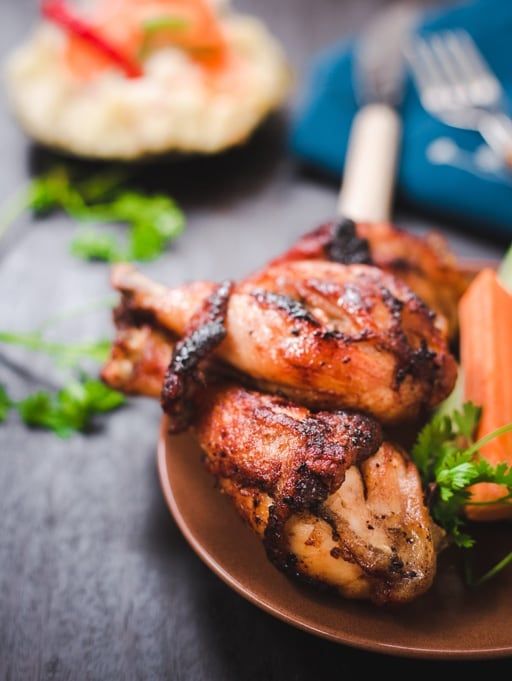 Grilling chicken over open fires was a traditional cooking technique adopted during the peak Khmer Empire, some nine hundred years ago. Still popularly used today, grilled chicken is the perfect demonstration of indigenous Khmer cooking and is widely enjoyed throughout Cambodia.
To sample a taste of Khmer cooking at home, try this delicious Cambodian grilled chicken recipe from Epicurious. Garlic, sugar, fish sauce, soy sauce, and salt are combined to create the marinade to the chicken. While the chicken marinates, vegetable oil, garlic, and paprika are mixed together to form the glaze. Once everything is ready to grill, the chicken is glazed and cooked on the grill. Finally, complete your meal with a Khmer-style dipping sauce made from salt, pepper, lime, and sugar for a traditional Cambodian feast.
Cambodian Chefs – Kimsan Twins
Shared first names inspired two chefs- Kimsan Pol and Kimsan Sok to dub themselves as the "Kimsan twins". Graduating from NGO training schools for underprivileged children, this culinary duo has stamped a place on the culinary landscape of Cambodia with their impressive gastronomy restaurant – Embassy.
Also located in the ancient city of Siem Reap, Embassy is a one-of-a kind restaurant that combines high-end cuisine with the truly authentic flavors of Cambodia. The Kimsan twins take a contemporary approach to Cambodian cooking with a keen focus on locally-sourced produce. Drawing inspiration from each of their mother's styles of cooking, they have adapted traditional Khmer recipes to offer an impressive gastronomical experience for diners. The pair creates a new innovative seven-course menu each month while staying loyal to authentic Cambodian flavors. Complementing wines and sorbets are also included to pair with each course.
Previous menus have featured gastronomical interpretations of traditional Khmer recipes including red tree ants, fish amok, rice cakes and stir-fried beef.
Cambodian Recipe: Beef Lok Lak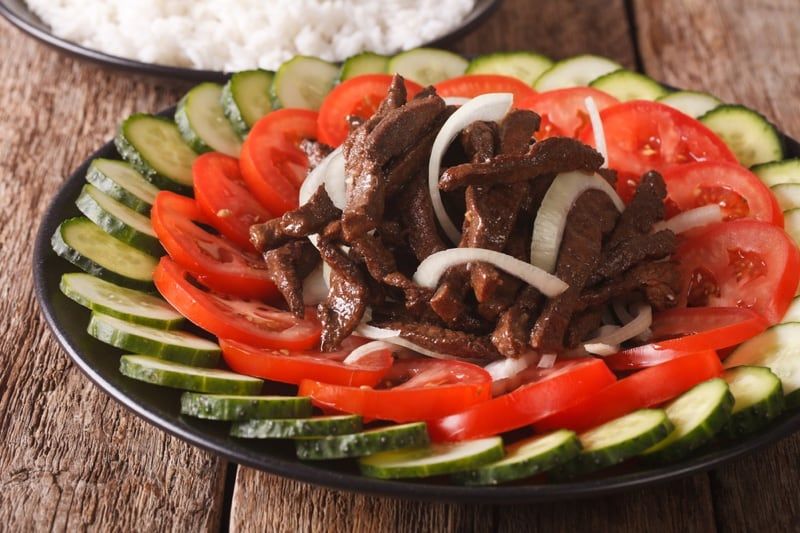 Flavorsome stir-fried dish – beef lok lak, borrows influences from Chinese and Vietnamese cooking and is typically eaten for breakfast, lunch or as a snack. Easy to find at most street vendors and eateries around Cambodia, it's a national favorite that's not to be missed.
To make your own version of this aromatic stir-fried beef dish, Hemsley and Hemsley offer an easy lok lak recipe to try at home. A quick and simple recipe that combines the flavors of black pepper, lime, garlic, ginger and fish sauce – this salad is guaranteed to impress even the fussiest of eaters. Serve the stir-fried beef on a bed of lettuce – or eat it Cambodian-style, by wrapping the filling in a piece of lettuce leaf and enjoying this dish by hand.
Cambodian Restaurant – Romdeng
For those traveling through the busy capital city of Phnom Penh, Romdeng is a restaurant that's worth your time. A training school for vulnerable street youth, Romdeng has earned quite a reputation in Cambodia for its mission to provide young people the opportunity to develop lifelong culinary skills.
Set in a beautiful colonial building with stunning surrounds, the menu at Romdeng boasts a wonderful selection of contemporary dishes that exude all the authentic flavors of Khmer country cuisine. For daring diners, there is a variety of insects on offer from stir-fried ants to deep-fried tarantulas. Visitors who are seeking more conventional dishes can choose from a wide range of traditional fare including Khmer beef cheek curry, grilled buffalo jerky, rice noodle salad and local favorite – crab and green mango salad.
Cambodian Recipe: Nhorm Svay (Mango salad)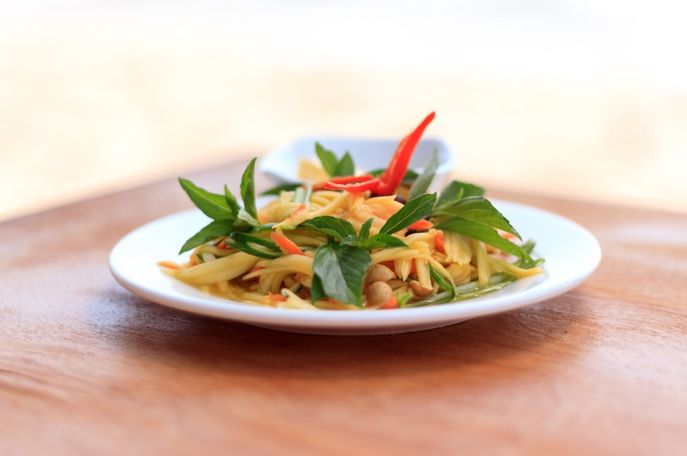 Variations of green mango salad can be found in Thailand and Laos, with the main ingredient – grated unripe mango being central to this dish. The Cambodian version of this delicious salad features mint and Thai basil and is typically combined with grated carrots and dried shrimp.
To make your own version of this Cambodian favorite, Caroline's Cooking offers a simple step-by-step green mango salad recipe to try. Ready in just fifteen minutes, this recipe combines the flavors of dried shrimp, lime juice, fish sauce, sugar, mint, and roasted nuts with the tangy crunch of green mango to make an irresistibly tasty salad.
Thanks for joining us in our second series of Taste of ASEAN, while we explored ten incredible cuisines across ten wonderful southeast Asian countries. Which country caught your interest the most? We'd love to hear if any of these fascinating destinations have made it onto your travel hitlist!