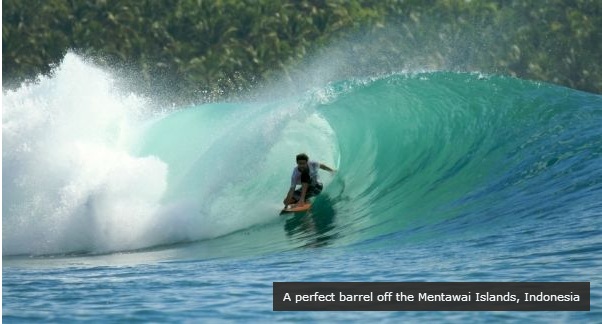 Pioneered by surfers in the '70s, Indonesia's reputation as the world's premier surf destination holds true today. In Indonesia, it is possible to surf with as many or as few people as you like – depending on how much time and money you have – and while areas of Bali are overrun with surfers, waves in remote areas of Sumatra or Timor can go unridden for weeks. While this may sound idyllic, be warned that most Indonesian waves break on sharp coral reef, so beginners and experts should take caution.
Beginning at the most northerly tip of Indonesia, the Aceh province of Sumatra has been surfed for years, but has rarely been documented. With civil unrest now over, Aceh is one of the final frontiers for surf/travel adventures. The waves of Aceh are surrounded by natural beauty and visitors, venturing along its seldom-traveled coastal road, will see awesome mountains and forests in-between glimpses of untouched of beaches. Weh, a particularly picturesque spot more famous for diving (whale sharks and turtles) than surfing, is well worth a look. The most popular waves in Aceh are surfed from the capital, Banda Aceh, to the port town of Meulaboh and beyond. From here, head south towards Susoh for a ferry to the Island of Simeulue, or further south to Singkil for access to other lesser-surfed Island destinations.
In the middle of Sumatra, lies Padang, a bustling coastal port where most surfers embark on boat trips to a number of island chains. The most popular of these trips is undoubtedly the Mentawai Islands, which have been frequented by amateur and professional surfers for over a decade. Like much of Indonesia, big wave season is from June to September, so travel on the shoulder season for a mellower and/or less expensive trip.
Also accessible from Padang are flights to Nias and the infamous Lagundri Bay, a right hand point break that goes for more than 100 meters. This wave breaks in perfect almond shaped barrels at around 4ft and will hold up to 15ft of swell (for big wave surfers only). Close to the epicenter of the 2005 Sumatran earthquake, much of Nias was decimated by the quake and the tidal wave that followed, but locals have had time to rebuild their villages and are once again welcoming tourists with open arms. As well as being one of Indonesia's standout waves, Lagundri Bay is also one of the few world class right-handers in the Indonesian archipelago.
Heading further south towards Java, there are great waves and surf camps located near Lemong. If you have limited time, but still want quality un-crowded waves, South Sumatran surf camps will give you this. Flying into Jakarta you can travel overland to Lemong – roughly five or six hours – or get a connecting flight and be in the water within hours of landing in Indonesia. This is a very good option for the time conscious surfer, and will still take you off the beaten path.
Despite the enormity of the island, Javanese surf is still a mystery to many and most of the Island's surf stories come from the east and west extremes of the island. Heading four hours south from Jakarta, the closest surf to this heaving metropolis is in Pelabuhan Ratu. This townhas the friendly atmosphere of a fishing village and several waves to suit all levels. One standout isCimaja, a friendly right hand break on a pebbly beach that gets crowded on weekends, but is still a great option if you're only visiting Java for a few days.
From Pelabuhan Ratu, venture south to Ujung Gentend. This area has predominantly reef breaks and is a great place to get away from it all. If Turtles – a friendly left hander that rarely gets bigger than 6ft – seems too mellow, a short motorbike trip through the beautiful jungle will get you to One Palm Point, a heaving left hander that picks up open ocean swell from all directions.
Also in the vicinity is Panaitan Island, described by some surfers as, "one of the most exotic and perfect wave havens in Indonesia". Although surfers have been known to camp on the island, most choose to visit Panaitan on a 10 or 14-day boat charter from Jakarta. These boats leave in the afternoon, to have you at one of the breaks by morning and guarantee to have something for everyone.
In 1993 Ean Johnston left London for greener pastures and found himself hooked on board sports, spending a decade pursuing waves and good snow. A freelance journalist, he now resides in wave rich New South Wales with his wife and two daughters.