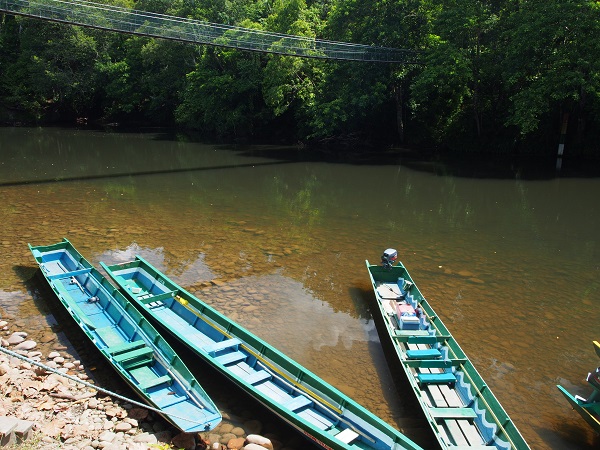 The tiny nation of Brunei and the massive Malaysian state of Sabah share the northern part of Borneo Island that extends into the Sulu Sea. But even this small slice of Borneo reveals the island's natural beauty in close to its full splendor.
This 500-plus-kilometre jaunt between Bandar Seri Begawan in Brunei and Sandakan in Sabah cruise through a variety of natural environments, from coral diving off the Brunei coast to meeting orangutans in Sepilok. If nature's your thing, this itinerary is exactly what the tour-guide ordered.
Starting point: Brunei International Airport serves as the hub for flag carrier Royal Brunei Airways, which connects to global air hubs Bangkok in Thailand, Kuala Lumpur in Malaysia, Singapore and Hong Kong.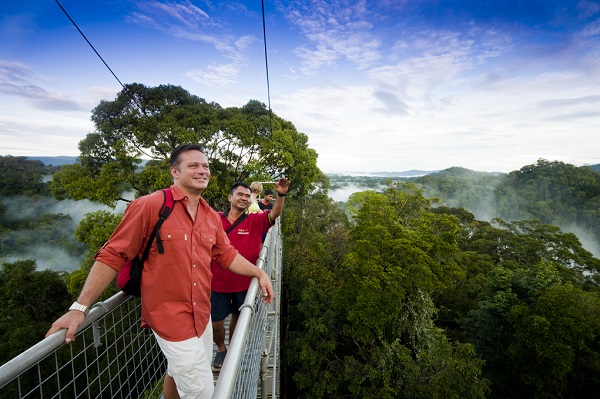 Rainforest Run Riot: Ulu Temburong National Park
You don't need to go far beyond the capital Bandar Seri Begawan before nature takes over. Deep, deep nature takes a little effort to get to: take a water taxi from Bandar Seri Bagawan to the town of Bangar, then drive to Batang Duri, afterwards riding a longboat down the Temburong River to Ulu Temburong National Park.
Ulu Temburong covers a 5,000 square metre parcel of Brunei, an overgrown jungle that may be one of the last parcels of pristine rainforest left on the island. Tourists are only allowed to explore the area through carefully-guided tours in a small, one-square-kilometre piece of the park.
But even that is plenty. From the park's trails, you'll dive deep into Borneo's jungle life – butterflies, gibbons, and hornbills, to name a few – all making their home amidst Temburong's aged dipterocarp trees. A 60-metre-high canopy walkway, accessible via 20 ladders from the ground level, provide an excellent birds'-eye view of the wild communities in the tree branches.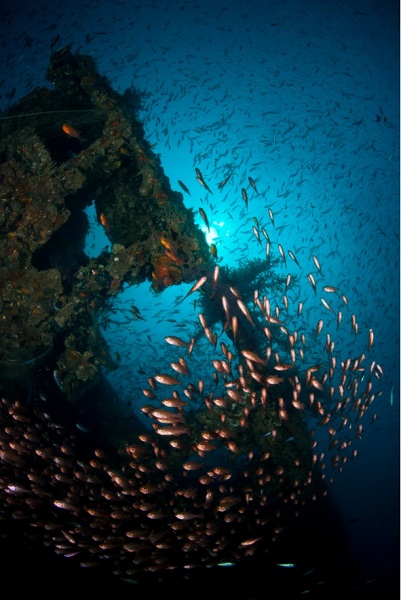 Deep Dive: Exploring Brunei's Coral Reefs & Wrecks
The best (and least-known) natural wonder near the capital lies beneath the sea. Off Bandar Seri Begawan, a 4,500-hectare spread of pristine coral reefs reveals the Coral Triangle's best kept secret to divers, paired with a series of wrecks lying close to the ocean's surface.
The reefs can be surprising in their variety. The colorful corals shelter solo-swimming whale sharks and hammerhead sharks together with large schools of groupers, barracuda, and jacks darting out from behind seafans and anemones.
Four shipwrecks and a number of disused oil rigs compete with the coral reefs for divers' attentions and the patronage of the local marine life. Even less-experienced divers with open-water certificates can visit the upper areas of some wrecks.
The dry season between March and October is Brunei's peak diving season: at this time of year, the seas are calmer and the waters are less likely to be cloudy from runoff, with a visibility between 20 and 30 metres.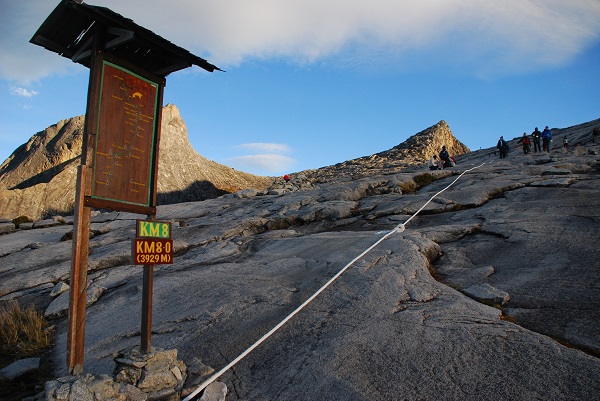 Touch the Sky: Climbing Gunung Kinabalu
Now that you've plumbed the depths, reach its almost-unsurpassable heights for a change. Kinabalu National Park and its centerpiece – Mount Kinabalu – can be reached by bus from Bandar Seri Begawan, crossing the land border between Brunei and the Malaysian state of Sabah.
Mount Kinabalu is a granite spur pushed out of the crust of Borneo – it rises over 4,000 metres above sea level, offering challenges for climbers of all levels of expertise.
The routes pass through four different vegetation zones – as you ascend from 500 metres to a maximum of 4,000 metres above sea level, you'll pass by carnivorous pitcher plants and massive stands of trees that give way to lichens and ferns before disappearing completely in favor of solid rock.
Kinabalu National Park's hiking trails allow even climbing beginners to find their way to the summit, but climbers looking for a real challenge can ascend one of Kinabalu's two via ferrata: routes that conquer the rock face using metal rungs and steel cables permanently attached into the mountainside. The via ferrata leads to an ascent point over 3,800 metres above sea level.
The more difficult of these takes up to five hours to complete – a grueling effort ameliorated somewhat by the dazzling views of Sabah you get as you struggle upward.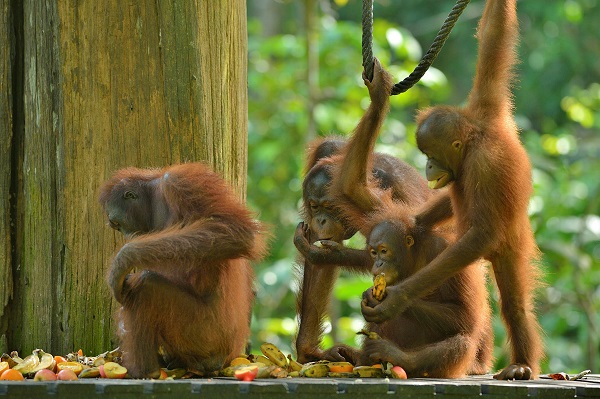 World Gone Ape: Meeting Orangutans at Sepilok
At the easternmost extreme of Sabah – near the city of Sandakan – travelers can get an up-close look at Southeast Asia's only native ape.
Visit the Kabili-Sepilok Nature Reserve to meet our orange cousins up close; located in the 4,294-hectare Kabili-Sepilok Forest Reserve west of Sandakan, Sepilok rescues orangutans from the illegal hunting and logging trades prevalent around Borneo.
80 orangutans now live in Sepilok, most of them undergoing a gradual rehabilitation process that hopefully train them into full independence. For visitors, the Sepilok Orangutan Rehabilitation Centre gives tourists an intimate look at these apes.
From viewing platforms all around the park, visitors can see orangutans learning to live on their own in the wild. Stay for feeding times, when you see orangutans from all ages bounding in from the jungle to eat their fill.
Fly out: Kota Kinabalu International Airport is Malaysian Borneo's key air hub, connecting Sabah to the rest of Southeast Asia, including (but not limited to) Singapore, Bangkok in Thailand, and Hong Kong.