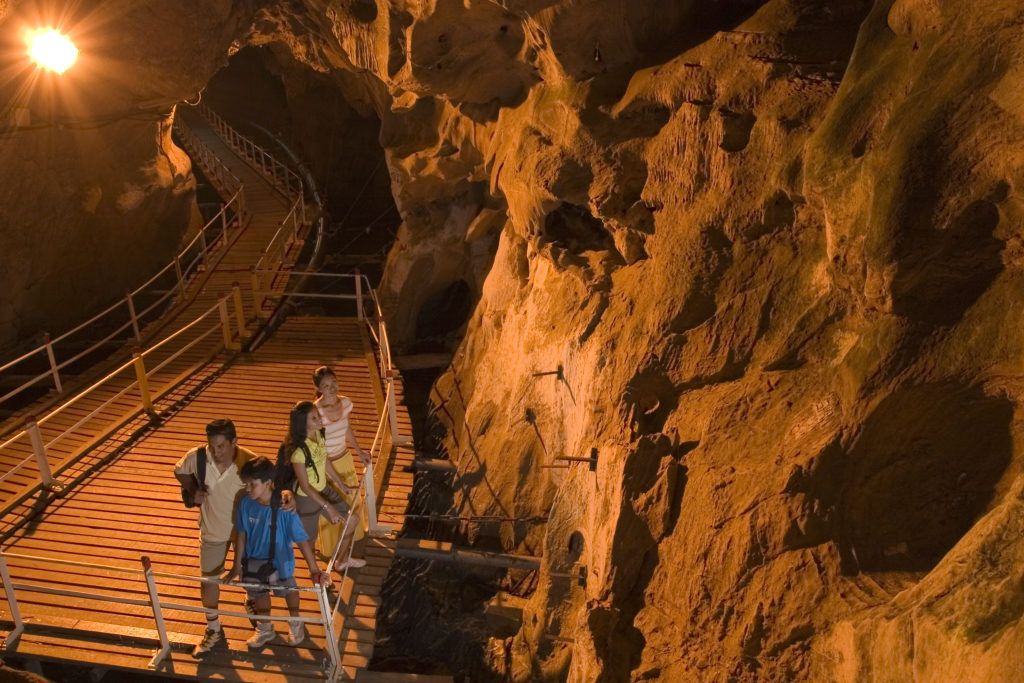 Cave Kelam, Malaysia
Seeking the passage to the center of the earth? Head to one of ASEAN's hundreds of crevices, chasms, caverns, and underground rivers for a great subterranean adventure. And, you don't have to be a hardcore spelunker to explore the caves, as the region's porous limestone geology offers amazing experiences for every level of expertise and interest. It just depends on how low you want to go.
Java is the king of Indonesian caves. The most popular include the 20-kilometer Luweng Jaran maze and Gua Barat's underground river system, the longest recorded in the southern hemisphere. In Sewu, you can creep around in more than 600 caves, and those in Yogyakarta will find a cool stream running through the 1,200-meter-long Cerme Cave, which once served as an Islamic meeting hall. Liang Bua Cave on Flores Island has been drawing more tourists since 2003, when archaeologists discovered the skeletons of the meter-tall, previously unknown "Indonesian Hobbits" (Homo floresiensis) and small elephant-like stegodons, which have been extinct for some 15,000 years.
For those heading to the Philippines, don't miss the UNESCO World Heritage Saint Paul Subterranean River National Park's eight-kilometer underground waterway, which expands to 120 meters wide before draining into Saint Paul's Bay. For an amusement park of caverns, visit Samar Island, "The Caving Capital of the Philippines", with its myriad of sinkholes, rock-cutting rivers, mud rooms, waterfalls dropping in the dark, and natural geological bridges inside labyrinths more than 20 kilometers long. Hardcore adventurers can tackle Robin's Cave, the country's deepest, which descends for 190 meters.
Hardcore spelunkers hit the jackpot at Sarawak's Mulu National Park, starring the world's largest underground cavity, Sarawak Chamber, which takes a four-hour jungle walk, steep climb, and a slog through a stream to reach. In Mulu, a three-kilometer-long wooden plank ends near Deer Cave, where you can watch innumerable bats flocking out at sunset. A path from here leads to a sinkhole with vegetation sprouting in shafts of light. Also in Mulu, a pleasant boat ride leads to Simon's Cave, where showerhead-like formations sprinkle water during the rains.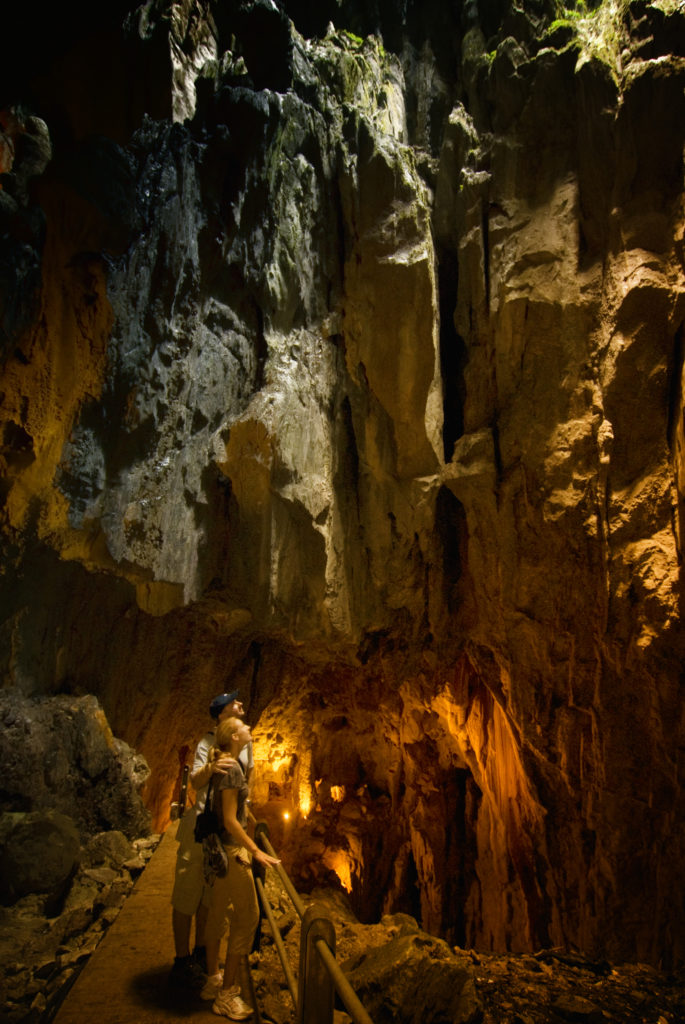 Cave Mulu, Sarawak, Malaysia
Thailand's southern Andaman coast hosts majestic limestone karsts pocked with incredible caves. Sea kayakers can explore Krabi's Viking Cave to inspect ancient cave paintings of longboats, sailboats and elephants. On Lanta Island, a forest trek leads to a small gap that drops to the Khao Mai Kaeo Caves. In the kingdom's north, cavers can examine Tham Lot's atmospheric caverns and river tunnels in Mae Hong Son Province either by raft or by foot in the dry season. Another cavern houses a prehistoric coffin, and nearby, archaeologists recently uncovered a 20,000-year-old human skeleton in a cave that attracts thousands of birds at sunset. In Chiang Mai, a 72-kilometer drive from the city leads to a covered staircase climbing to the Chiang Dao Caves complex consisting of over 100 caves, which extends for some 10-12 kilometres, where a fish-filled stream welcomes visitors to the cool crevice displaying stalactites, stalagmites, and a reclining Buddha.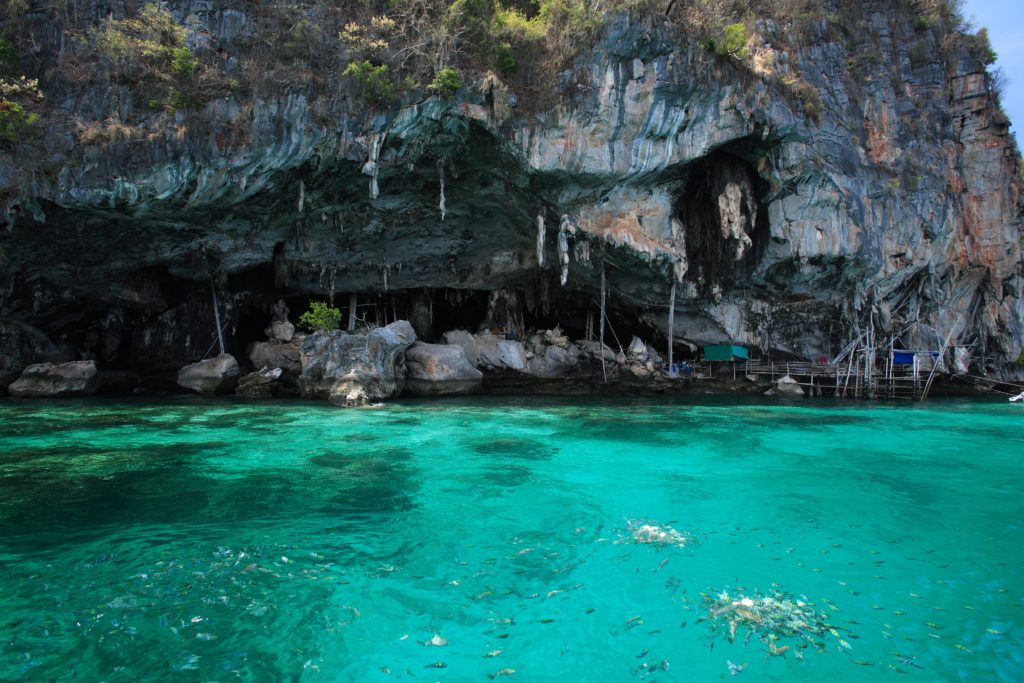 Source: TAT, Viking Cave in Krabi, Thailand
Though Cambodia holds loads of caves, most remain unexplored, but a trip to the southern coast's Phnom Slap Ta'aun in Kampot Province reveals a maze filled with limestone formations and underground domes.
Next door, Laos offers loads of accessible caves. Khammouane Province, in the country's center, hosts the nation's highest concentration of caves including the famous 7.5-kilometer Konglor Cave navigated by boat. Just outside the provincial seat, Thakhaek, the 12-kilometer "Cave Alley" presents some half a dozen cave complexes, with Buddha Cave and its 229 ancient Buddha images, discovered in 2004, as its main attraction. North of Vientiane, Vang Vieng, once known as the "Party Capital", has been reinvented as the "Cave Capital" with numerous, easy to explore caves, most of which are found in clusters, turning a single trip into a multi-cavern adventure.
Northern Laos features famous must-enter caves. In Luang Namtha Province, the roadside Kao Rao labyrinth, in which professional spelunkers have yet to reach the end, presents enormous passages leading to a series of five easy-to-reach chambers displaying bizarre limestone formations. Further east in Houaphanh Province stands the nation's pride, Viengxay "Cave City", known as the home of today's nation. This multi-cave complex housed over 20,000 people and the headquarters for the Lao revolutionary movement from 1964-1973. The sprawling mass houses more than a dozen caves for every purpose with an audio tour to match.
Those venturing to Viet Nam will find a world of grottoes on Halong Bay's Islands, the most famous of which is the "World's Biggest Cave", Son Doong, discovered in 2009. A 2.6-kilometer river follows a route through chambers, and parts of the boat ride head through channels up to 138 meters wide. South of Hanoi in Ninh Binh Province, you can take a boat to navigate Tam C?c (Three Caves), and close by, the Flute Wind karst, topped with a Buddhist temple, hovers over three caves holding Buddhist statues, and blowing a breeze that emits the sound of woodwind instruments. Thanh Hoa Province presents Cuc Phuong National Park and Con Moon Cave with evidence of Paleolithic and Neolithic man. Source: Wikipedia.
http://en.wikipedia.org/w/index.php?search=Caves+Asia&title=Special%3ASearch