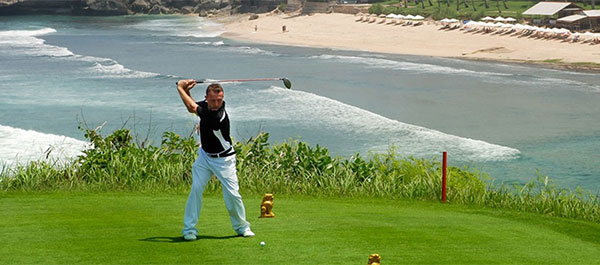 From Brunei to Viet Nam, golfers wishing to improve their game will find great instructors, excellent facilities and world renown golf courses. Qualified professionals coaches hold programmes for everyone from beginners, to groups and families, to advanced players. Facilities include Arnold Palmer-designed courses, covered and lit driving range bays, simulators, short game and bunker practice areas, putting greens, and Par 3 courses under the lights. For club-swingers tackling Southeast Asian courses and who want to improve their game, check out each country's offerings.
Brunei Darussalam: Many consider Brunei's Empire Golf Academy as the country's premier school for boosting your golf game. Resident golf professional, Ahmad Bateman, a Canadian national, who has won on the competitive US Professional Golf Association's (PGA) Tour circuit, coaches the classes. The academy offers several different programmes such as "Exclusive Group Lessons" with a maximum of six students, "Individual Private Lessons" with only one or two students, and optional on-course playing lessons in the afternoon with Coach Bateman. Programmes are customised for each student. Source: The Empire Golf Academy.
Cambodia: Though Cambodia has a very active golf scene with some of the best-designed courses in Southeast Asia, especially in Siem Reap and Phnom Penh, few offer firm line ups for improving your game. This leaves golfers to rely on their own skills to tackle 18-hole top-grade courses such as the Nick Faldo-designed Angkor Golf Resort and Jack Nicklaus' creation, the Grand Phnom Penh Golf Club. To brush up on your stroke, both Siem Reap and the capital offer driving ranges. The Angkor Golf Resort hosts an elusive grass range and club hire, and Phnom Penh's City Golf Cambodia offers late-night practice and a Par 3 course under the lights, while the Elite Golf Club presents a golf simulator and chipping/putting greens on Diamond Island. Source: Golf Cambodia.
Indonesia: The Golf Academy Bali at New Kuta Golf Resort offers private lessons, clinics, and corporate events led by British PGA Professional, Rory Young. Coaching takes place on the new driving range, or during a nine or 18-hole "Play & Learn with the Pro" session. The learning centre holds classes for juniors, women, men, and senior golfers of all ability levels, and includes advice in swing theory, video analysis, custom club-fitting, and equipment checks. Facilities include a 42-bay floodlit driving range, large putting/chipping green, and practice bunker. Source (and pic): The Golf Academy Bali.
Lao PDR: While Laos's golf scene is still blossoming, the country has its own resident pro. Simon ""The Swing Doctor" Ward has been a qualified UK PGA Professional for more than 35 years, and offers classes for players of all ages and abilities. He teaches at Vientiane's Don Deng course, and welcomes those seeking individual and group lessons. Source: Find in Laos.
Malaysia: Malaysia offers several top-notch golf instruction centres with lessons taught by PGA pros. "Mr Golf" coordinates with Impact Golf Malaysia at Kelab Darul Ehsan at the Aquatic Driving Range in Kuala Lumpur. The coach, Martyn Roberts, a fully qualified Australian PGA member and a former international tour player, offers a practical menu including a one-day fundamentals programme – playing and practicing habits, gold swing, short game, and course management – as well as customised corporate clinics. Those looking for indoor lessons can head to K's Island Golf Academy supported by Saujana Golf & Country Club, in the Publika Shopping Mall. A Japanese LPGA pro teaches one-to-one personalised lessons, and specialised programmes for couples, parents and their children, pairs lesson, and youth sessions. Golfers wanting to work on special aspects of their game can turn to Golf Lessons Malaysia's on-line coach finder. Sources: Mr Golf, K's Island Golf Academy Publika Malaysia, Golf Lessons Malaysia.
Myanmar: For those seeing to spark up their game, Myanmar offers some of the most reasonable prices in golf coaching in the region. Lessons at the Han Golf Masters Academy on Kyauk Yae Twin Street in Yangon range from 30-minute sessions to a package of 12, one-hour lessons. The modern school features an extensive short game area to work on putting, chipping and sand play. The academy, which runs adjacent to the Myanmar Golf Club, is the training ground for the country's national team. Source: HK Golfer.
Philippines: Golfers in the Philippines will find a choice of golf courses and coaches for improving your game. Camp Aguinaldo Golf Club in Quezon City, Manila, welcomes tourists, offers lessons. The Arnold Palmer designed Evercrest Golf Club, about an hour from Manila, houses excellent golf professionals offering instruction for all ability levels. Those looking for a specialty golf coach, such as Buddy de Joya, certified by the Professional Golfers Association of the Philippines, can visit "Golf Philippines". Sources: Dusit Thani, Manila Expat, Golf Philippines.
Singapore: Its small size has not stopped Singapore from developing some of the best golf courses in the region. With over 20 golf courses and driving ranges, Singapore has hosted numerous international golf events and welcomed numerous golf professionals such as Greg Norman, Nick Faldo, Phil Mickelson, Na Yeon Choi, Lorena Ochoa and Stacy Lewis to name a few. Visit www.yoursingapore.com for more information on golfing in Singapore.
Thailand: In a country that is loaded with excellent courses from north to south, a good bet for finding a pro to up your game is with On Green Golf, which presents packages in Bangkok, Chiang Mai, Hua Hin, Pattaya, and Phuket. On Green Golf designs golf instruction packages for golfers of all skill levels from beginners to golfers looking to improve their golf swing, short game, and putting. They also offer tailor-made packages and lessons taught by PGA professionals to fit your training needs and improve all aspects of your game. For those heading to Chiang Mai, stop into the Three-Generation Golf Academy, just 25 km from town. Facilities at the indoor-outdoor facility include a video-swing studio, driving range, covered hitting and chipping nets, 825 sqm of putting and chipping greens, a short game practice range, hitting bays, andwater hazard green. Sources: World Golf, Golf Tours Thailand.
Viet Nam: For golf lessons in Viet Nam, try Golf au Vietnam's golf school vacation packages. Golf au Vietnam provides group and individual programmes for all levels of players, from teaching basic fundamentals to more advanced playing lessons such as quick fix tips to long term practice strategies and short game skills. Sessions are taught by qualified golf professionals, who offer short classes or will play a round with you. Ny Vietnam Golf Experience presents a 20-lesson experience that takes you from "Introduction to Golf and ½ Swings" to "The Long Game" and three days on the course. Sources: Golf Au Vietnam, My Vietnam Golf Experience.