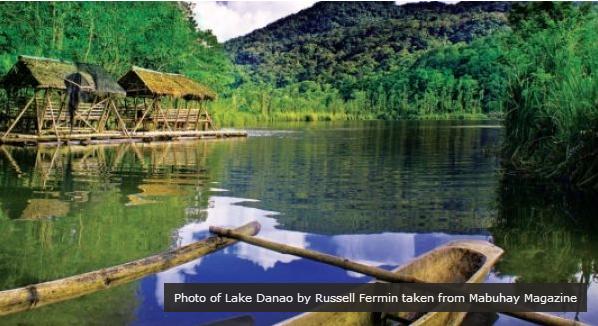 A bamboo raft, more like a floating cottage really, glides serenely on the dark water of the guitar-shaped Lake Danao, cited as the Cleanest Inland Body of Water in Region 8 for three consecutive years. There are no motorized vehicles of any kind allowed here, so the stillness is only broken up by bird calls, a paddle slicing into the water on bancas carved from a single piece of hardwood, or the hushed conversation on the next raft, where a family of five is grilling a lunch of saltwater fish and salt encrusted pork.
I n the silence, my own thoughts seem to sound much louder. What are those? Beneath the glassy surface, a mysterious form twists below. My friend and tour guide, Kenneth Enecio, watches me bemusedly and answers, "Treetops." The gnarled forms are the tops of full-grown trees submerged in the 148-hectare lake's deep water, so deep that urban legends of expert divers never making it to the bottom (or back to the surface, for that matter) abound. Like all dark lakes, it also has its own legend, in this case, the casili, a giant species of eel that locals believe claims lives below.
It is my nth visit to Ormoc, the bustling gateway to Western Visayas, and yet my first to hear of the lake and its secret creatures. As an independent component city on the landmass of Leyte, Ormoc is a busy port of entry by land, sea, and air. By day, it is a place of traditional commerce. At night it becomes, quite unexpectedly, a marketplace of other delights.
Night Market
Obrero Street, a stone's throw from the seaside Centennial Park,the central town plaza, is now known as party street, lined with watering hole sof varied persuasions: there is the pioneering Bebidas (Ormoc Centrum; tel. +6353561 6591), a coffee bar that serves alcohol and chill-out music. You can opt tostay in an air-conditioned interior festooned with native art, a banca suspended on the ceiling, and bric-a-brac, lending an earthy feel. Or, step out and head for the mono bloc tables and chairs put up to your specifications out on the sidewalk, the better to enjoy the sea breeze and the social voyeurism. Across the street is Dustria (tel. +6353 255 2765 or +6353 561 4101), what baby boomers would call a disco, and what this generation touts as a club. It is replete with the standard equipment: booming speakers, a well-stocked bar, a club DJ, a dark second floor for ogling, and music that spans the range of 80's dance tracks, hip-hop and R n' B, and later into the wee small hours, the current toast of the floor: trip-happy music quite appropriately named "house." A chill-out bar, Dadaz (Ormoc City Superdome; tel. +6353 255 8409 or +6353 5619717), is the newest kid on the block, with its distinctive "sexy lighting," as the locals describe it. Further along the length of party street are al fresco bars, no-nonsense beer joints that feature a local live band nightly, and part of the array of choices.
Eating Ormoc
Ormoc nightcap? Go native, try pacdol. A clear soup made of carabao knee meat, it is served steaming hot at Doro's (Ormoc Public Market;tel. +6353 255 3950), a sidewalk carinderia (eatery) that opens at 4 a.m. and closes at 5 p.m. Pacdol, at Php 80 a full bowl, is the breakfast of choice fora sharply contrasting clientele. Those starting their day at the crack ofdawn—drivers from the bus terminal next door, workers from the wharf across it—and those just ending theirs, SUV-driven locals, inebriated from a night out on the town. I prefer dunking the chunks of carabao meat that slide off from the bone in a dip of ginamos (small fermented fish in brine) with a squeeze of lemoncito (local lemon) and a piece of sili (chili).
Ormoc families have also appropriated popular recipes, adding an Ormoc twist, and serving them with little fanfare and gobs of homemade treats to a loyal following. Merienda, a snack inbetween full meals, is replete with choices: a plate of pancit palabok, a dish of round rice noodles, shrimp-based sauce, topped with crushed pork crackling (chicharon), or the moist chocolate cake at IKEA (25 Bonifacio St.; tel. +6353 255 4569), family recipes of Laura Manansala Enecio. A rectangular pizza at JCS (25 Bonifacio St.; tel. +6353 255 7401) is also a local favorite, the brainchild of Butchoi Sia, who in a nod to his Chinese ancestry, serves dimsum (siomai and the popular steamed rice), which is fancier than it sounds—topped with minced pork, thick gravy, and a smattering of green peas.
But what's a trip to Ormoc without a taste of the Queen pineapple? A popular pasalubong (trip souvenir/ favor), the diminutive varietyhas become Ormoc's unofficial yet ubiquitous symbol. At the Larrazabal's 120-hectare plantation Toril, between the towns of Kananga and Ormoc, it is plucked fresh from the ground and sliced lengthwise in fibrous bars to emphasize the uniqueedible core.
l Stay
• Sabin Resort Hotel – Bantigue, Ormoc City; tel. +6353 2553801to 3; http://www.sabinresort.com
• Ormoc Villa Hotel – Obrero Street, Ormoc City; tel. +63532558117; http://www.ormocvillahotel.com
New Old News
If you didn't know it yet, that's because a particular segment of the fan base want to keep it their little secret. Allow me to spill this then. The 18-hole Leyte Golf and Country Club (Km. 7 San Antonio, Mabini; tel.+6353 255 4177) is a short, 2.9 kilometer ride from the national highway, and a mere 20 minutes from the city proper. It is often the hushed primary destination of avid golfers who jet in from Cebu and other metropolitan destinations for its affordable rates, uncrowded greens, unparalleled vista overlooking the Ormoc Bay, and 80 hectares of semi-rolling terrain dedicated to the game. If there are other secrets Ormoc holds, under dark waters, in a plateau surrounded by mountains, inside the pots of side-street eateries, they remain so not on purpose. They merely lie in wait for your discovery.
This article was provided by Philippine Airlines' Mabuhay Magazine.Mabuhay Magazine is published by Eastgate Publishing Corporation (email:info@eastgatepublishing.com;website: http://www.eastgatepublishing.com).