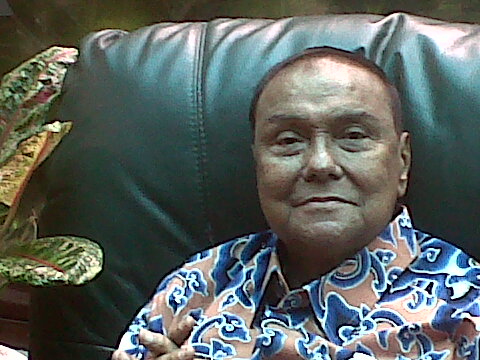 News received on Wednesday afternoon (5th February) stunned the tourism world of Indonesia that their most respected and loved tourism leader, Bapak Joop Ave has passed away in Singapore at 18.30 Singapore time or 17.30 West Indonesia Time, from health complications.
Although it was not unexpected since Joop Ave had suffered for some time, yet when the moment arrived it still came like a thunderbolt. For despite his illness until his death, Joop Ave never lost his vigor to contribute his thoughts and energy for the advancement of Indonesia's tourism in particular, giving his thoughts and advice to whoever came to see him. He had an open personality and was often frank in telling his opinion.
Tourism and Creative Economy Minister, Mari Pangestu, paid tribute to this larger- than-life personality when in an interview with antara agency, she said that Joop Ave is a most extraordinary personality who has opened the way for the continued development of Indonesia's tourism.
Because of all what he has done and accomplished, he should be called "Indonesia's Father of Tourism", said Minister Mari Pangestu.
Throughout his life he has unabatedly promoted Indonesia overseas. He materialized the Nusa Dua Integrated Resorts concept in Bali to become Indonesia's iconic MICE venue. He was highly creative, Mari said, Joop Ave inspired her to make the Indonesia's Creative Economy Blueprint. He also initiated the idea that APEC Economic leaders attending the 1994 Conference wear batik. All these are actions aimed at building Indonesia's positive image globally.
Within the country he pushed the hospitality standards, and developed human resources within the Ministry which he led as well as for the Indonesian tourism industry.
In Marketing, Joop Ave initiated the Visit Indonesia Year, the Indonesian Tourism Promotion Board (ITPB) a government-private sector joint cooperation. TIME or Pasar Wisata, Indonesia's very own contract mart was also his brainchild.
Born on 5 December 1934 in Yogyakarta, Joop Ave started his career in the Foreign Office, first stationed as Information Attache at the Consulate in the United States, then becoming Director General of Protocol.
As Chief of Protocol, Joop Ave met many foreign dignitaries among whom Queen Elizabeth of UK, President Tito of then Yugoslavia, and many more when he accompanied the Indonesian President on overseas trips.
In Bandung he later materialized the Asian-African Museum, brainchild of then Foreign Minister Mochtar Kusumaatmaja.  
Joop Ave held the office of Director General of Tourism for two consecutive five years terms, and was installed as Minister for Tourism, Post and Telecommunications (1993-1998).
As Director General Joop Ave was also Chairman of the ASEAN Sub –Committee on Tourism (1983-1986) and Chair of the Pacific Asia Travel Association (PATA) from 1984-1986.