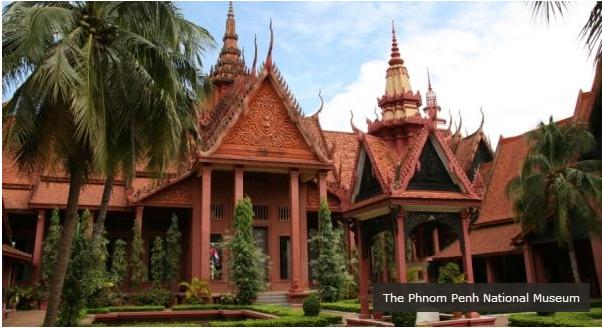 For travellers to Southeast Asia, a visit to a museum generally isn't the motivation to come to the area. And for a long time, museums in the region did not look overly attractive: displays were bland, information scarce and opening hours complicated (this last point still persists for many institutions-travellers should check opening hours). However, lots of renovations have been carried out over the last decade or so, and this necessary facelift has helped to unveil a host of wonderful treasures.
A trip to any country would not be complete without a visit to a National Museum as it provides a comprehensive overview of national cultures. The importance of showing national artifacts prompted the regional colonial powers to build grand structures. In many cases, the national museums are hosted in architectural gems dating back from the XIX° or early XX° century. These architectural masterpieces are still around today and worth a visit.
The Phnom Penh National Museum has probably the most romantic court of any national museum in the region. Hidden behind the dark red and yellow earth walls of the museum, an inner courtyard offers a small garden with a pond ideal to rest or for a meditation. The most charming of all national museums is certainly the one in Luang Prabang, Laos. Following the war, the museum was set in the old Royal Palace. Strolling there is like visiting the private residence of the last Laotian King.
Other national museums in the region have a long history. The splendid Jakarta National Museum was opened in 1867 by the Dutch. The classic structure is full of treasures showcasing art from the entire archipelago, including graceful statues from Borobudur and gold pieces from former Kingdoms. Bangkok's National Museum is famed for its display of royal barges and coaches (some made from pure gold) as well as its exquisite collection of Buddha sculptures. Hanoi's History Museum is hosted in an old French colonial-style building which dates back to 1931. It includes a comprehensive display of art dating back to prehistoric times which highlights some 50 exquisite pieces from the Champa civilization and delicate chinaware from the XVIII° and XIX° century.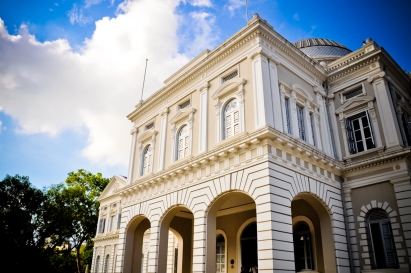 The Singapore National History Museum
The Singapore National Museum has taken over the elegant neo-classical structure of the former Raffles Library and Museum, which opened in 1887. The Museum has been extensively renovated many times. Since its last renovation in 2006, the distinctive Victorian style building has hosted Southeast Asia's most innovative national museum. Interactive rooms highlight various aspects of Singaporean life; from food to fashion to the arts. The film room actually offers an emotional vision of a world which has completely vanished today, showing old Malay movies on display. The interactive circuit gives a deep vision of Singapore's rich history, seen from both an official point of view and through the life of individuals. A must-do in the City-State!
Another must-visit is the Brunei Royal Regalia Museum. It shows a wealth of glittering gold items, especially the ones used during the coronation of the current Sultan. In Kuala Lumpur, Muzium Negara (National Museum) was built in 1963 with some striking frescoes on the outside walls. In a typical sixties design, they depict various Malaysian ethnicities and cultures as well as historical events of the nation. Inside the museum's collections have recently been completely renovated and include beautiful art pieces. Unfortunately, the Museum tends to be Malay centric and lacks comprehensive information on other communities, such as Chinese and Indian.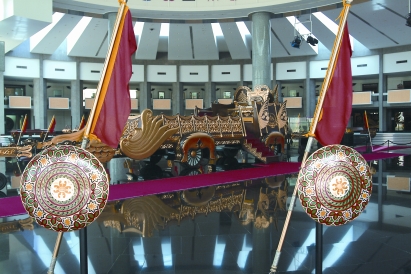 Inside the Brunei Royal Regalia Musuem
Beside national museums, some private museums are among the top places to visit. Hidden beside the sprawling shopping malls of the Rachaprasong area, the Jim Thompson Museum in Bangkok is located in exquisite 300-year old traditional Thai houses. The American-born Thompson, who revived the silk industry in Thailand, was also a lover of antiques. Angkorian sculptures, delicate mural paintings from Siam, elegant furniture from Siam and Myanmar are testimonies to his passion. Another amazing collection can be admired in Manila at the Ayala Museum in Makati. One of the country's most powerful families built the museum to show extraordinary jewel and costume pieces from pre-colonial and colonial Philippines. Not to be missed is also a diorama tracing back the country's raucous history. In Siem Reap, Cambodia the brand-new private Angkor National Museum shows over one thousand pieces of Khmer art using a unique interactive technology. The highlight is a room displaying over 1,000 buddhas…
Many niche museums are also worth a visit; in Jakarta, the Wayang Museum in the old town as well as the Textile Museum in Tanah Abang give an overview of two of Java's iconic cultural treasures: puppets as well as batiks; Kuala Lumpur has probably the best collection of Islamic objects at Muzium Kesenian Islam (Museum of Islamic Arts); and in Singapore, Penang and Malacca, the peculiar way of living of Sino-Malay ethnics are on show in beautiful 'Peranakan' culture museums.
Remember Nixon and Kissinger 'dominos theory"? If not, Vietnam and Laos will refresh your memory. Reunification Palace in Ho Chi Minh City used to be the residence of the South Vietnam President until the fall of Saigon in 1975. The rooms have been kept exactly as they were on the day Saigon fell and strolling around the palace is like stepping back in time. Some of the furniture would in fact fit very well in some of Singapore trendiest clubs today! In Vientiane, the shabby National Museum is short on artifacts but big on communist propaganda and the infamous Tuol Sleng Prison in Phnom Penh has been converted years ago into a memorial museum dedicated to the victims of the Khmer Rouge atrocities. It is a deeply moving place to visit, as some of the heart-wrenching displays are nearly unbearable to look at. It is indeed, another profound way to learn about Southeast Asia's tumultuous history.
Luc Citrinot is a well-known freelance journalist and travel consultant who has worked regularly with PATA, Air Asia, Tourism Authority of Thailand and the Indonesia Ministry of Tourism, among others.