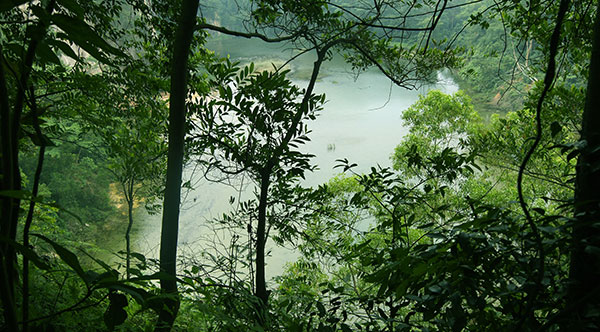 If you are on a short visit to a Southeast Asian capital city for business or leisure but fancy heading out of town for a day to experience a slice of paradise in a national park, then we have 10 suggestions for you.
From Bandar Seri Begawan, Borneo Darussalam: Ulu Temburong National Park in the easternmost part of Brunei is rich in unspoiled natural heritage. The area possesses the astounding biodiversity for which Borneo is famous. The forests teem with wildlife, but these creatures are invariably shy and are quick to avoid human contact so it is advisable to close your mouth, open your eyes and ears, and tread lightly. From the capital of Bandar Seri Begawan water taxis take about an hour to ply the route to the main town of Bangar in Temburong District, offering glimpses of the mangrove forests that line the muddy delta of the Limbang River. With luck, proboscis monkeys may be sighted. From Bangar, a short bus ride is needed to reach Batang Duri which is the embarkation point for Temuai longboats that carry visitors up the Temburong River. At National Park Headquarters boardwalks, suspension bridges, canopy walkways and observation towers offer views of the rainforest from multiple levels and perspectives. Accommodation is available at National Park Headquarters if you wish to stay longer, but it is best to book in advance. Source: Ecology Asia.
From Phnom Penh, Cambodia: Preah Soramrit Kosamak Kirirom National Park (Kirirom National Park for short) is about 117 km southwest of Phnom Penh in Kampong Speu. This well conserved park, centered on the 700-metre high Kirirom Mountain, is abundant in waterfalls, pine trees, and orchids and is an ideal spot to glimpse some of Cambodia's unique bird life. Kirirom is best visited during or just after the rainy season when the waterfalls are in full flight and water birds are plentiful. Chambok Ecotourism Site on the edge of Kirirom National Park offers treks of up to four kilometers with interactions with local villagers along the way. Other activities include ox-cart riding, renting bicycles, picnicking, bird watching, swimming, visiting a bat cave, and lunch in a villager's house. Buses to Sihanoukville pass through Kampong Speu and depart Phnom Penh hourly. There are also organized day tours to the National Park, which can be booked through travel agents in the capital. Kirirom Hillside Resort offers accommodation for those who wish to linger. Source: Tourism Cambodia.
From Jakarta, Indonesia: Gunung Halimun National Park is a refreshing slice of paradise only 80 km southwest of Jakarta. The park is prime rainforest centered on the mountains of Halimun (1929 meters) and Kendeng (1764 meters), with waterfalls, hot springs, and babbling streams to discover and enjoy. Wildlife is plentiful with Javan gibbons swinging through the trees, cheeky squirrels that will steal your lunch if you're not careful, and forest cats and leopards concealed in the undergrowth. In the skies above, the Javan hawk eagle reigns. There is plenty for the casual visitor to do, such as bird watching, trekking, mountain climbing, mountain biking, and taking a dip in a hot spring. While it is relatively close to Jakarta, a day trip to Gunung Halimun isn't really possible if you want to see anything. Organised tours are usually three days and two nights. Camping facilities and simple eco-lodges are available in the park. Source: Go Travel Indonesia.
From Vientiane, Lao PDR: Located 40 km northeast or only an about an hour away from the city of Vientiane, Phu Khao Khouay National Park is the closest nature reserve to the capital, offering some great scenery, magnificent waterfalls, rivers, and trekking trails through evergreen and deciduous forests. The landscape and ecosystem varies from sheer sandstone cliffs and pristine river gorges to rough mountain slopes. Three large rivers and numerous tributaries empty into the nearby Mekong. The park is home to rare mammals such as sun bears, tigers and elephants. More than 50% of Lao PDR's orchid species recorded to date can be found in the park. The friendly village of Ban Hat Khai is a good place to learn more about the genuine lifestyle of the Lao Loum people. Organised day tours of various themes can be booked in Vientiane. Sources: Trekking Central Laos, Visit Mekong.
From Kuala Lumpur, Malaysia: Malaysians are proud of their Taman Negara, which in English literally means "National Park". While it is not Malaysia's only national park, Taman Negara has the distinction of being within a day trip of the capital city of Kuala Lumpur and, more importantly, showcases what is regularly referred to as "the world's oldest rainforest" (a venerable 130 million years). The park has become a famous ecotourism destination based on several geological and biological attractions. Gunung Tahan within the park is the highest point on the Malay Peninsula and is attractive to climbers. Taman Negara is home to some rare fauna, such as the Malayan tiger, crab-eating macaque, Sumatran rhinoceros, great argus, red junglefowl, Malayan gaur, Asian elephant, and the Malayan peacock-pheasant. At or nearby Kuala Tahan, the park headquarters, casual visitors can enjoy a canopy walkway, explore the Gua Telingam cave system, ride the Lata Berkoh rapids, and set out on jungle treks of varying lengths. Source: Wikipedia.
From Yangon, Myanmar: Hlawaga National Park in Mingaladon, 35 km north of Yangon, was established as an environmental education center in 1982. It is has become a popular day-trip destination for Yangonites and ecotourists. Hlawaga is divided into three zones: rest and retreat, adventure and recreation, and education and hobbies. The rest and retreat zone offer forest eco-lodges, boat houses, and a health spa resort. Adventure and recreation activities include jungle trekking, bird watching, wild life safaris, fishing, a camping ground, and training areas for mountain climbing and parachuting. Those interested in learning will enjoy the timber species display center, butterfly park, insect kingdom, and reptile park. There is also a mini-zoo providing an opportunity to see local wildlife up close. Of course the park was created to allow animals to roam free, and you might glimpse them in their semi-evergreen, mixed deciduous, and swamp forest habitats on a safari tour. Source: Wikipedia.
From Manila, the Philippines: Deep in the forest of Mount Arayat National Park, legend has it that an angry goddess lurks. Mariang Sinukuan was once a generous spirit watching over nearby villages, but once spurned by their greedy plunder of the mountain home, she became a menacing presence. Just 45 minutes drive north of Manila, the Park showcases an inactive volcano as a dramatic landmark rising more than 1,000 meters from the surrounding pancake-flat landscape. Visitors start at a small ranger station where tour guides and park information are available. With clearly marked trails and spectacular views of rice fields and rapidly developing Central Luzon area, the 8-hour hike to the summit begins on a dirt road which quickly narrows through lush foliage, passing waterfalls and pools of cool water perfect for a quick dip. A shorter hike up the mountain to view the majestic formation called White Rock takes one hour and includes a stop at "7-11", a tiny store selling food and water. Once past this point, there is no water on the mountain. The La Mesa Ecopark is a 33-hectare public park located in North Fairview, Quezon City just outside the natural boundaries of the watershed and 40 meters below the reservoir. It is a living classroom and laboratory for environmental education, and aims to be a center for biodiversity conservation. A popular destination for photography shoots, family outings and picnics, and educational field trips, the Ecopark has picnic grounds, flower terraces, orchidarium, fitness and mountain bike trail, amphiteater, mini-forest, swimming pool, haven for fishing, horseback riding and butterfly watching, adventure zone, boating lagoon and overnight camping facilities. From Fairview public market, one can take a tricycle for a 30-minute ride to the park.
From Singapore: Near the geographic centre of Singapore about 12 kilometres from the CBD, and covering an area of approximately 3,043 hectares, Bukit Timah Nature Reserve (pictured above) has been left mostly undisturbed despite the development that has transformed much of Singapore. One of the first forest reserves to be established in Singapore, Bukit Timah is home to Singapore's highest point Bukit Timah Hill (163.63 metres) as well as more than 500 species of animals and 840 flowering plants. The Visitor Centre provides information, a natural history display, and can arrange guided tours. To protect biodiversity, certain activities are prohibited within the nature reserve such as hiking in groups of more than 30 without a permit. A solitary stroll along the walking trails will transport you to another time and place far from manic modernity. For the more energetic visitor, an abandoned quarry in the park offers rock-climbing. Source: Your Singapore.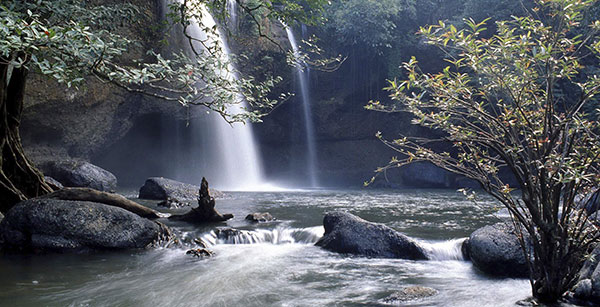 From Bangkok, Thailand: Day tours to KhaoYai National Park (pictured above) from Bangkok are available but you would appreciate it more if you overnighted. Thailand's first national park, located 190 km northeast of the capital, ranges in altitude between 400-1000 metres above sea level. Its 2,168 sq km comprises evergreen forests andgrasslands that are home to 3,000 species of plants, 320 species of birds such as red junglefowl and coral-billed ground-cuckoo, and 66 species of mammal, including Asiatic black bear, Asian elephant, gaur, gibbon, Indian sambar deer, pig-tailed macaque, Indian muntjac, dhole, and wild pig.Wild tigers are possibly still in residence. There are plenty of things to do if you have the time, including hiking trailsranging from one hour to three days, kayaking and rafting, observation towers, and night-time wildlife spotlighting.KhaoYai National Park's many waterfalls are another big draw. Accommodation options range from camping in the park to luxury resorts just outside it. Sources: DNP, Wikipedia.
From Hanoi, Viet Nam: Cuc Phuong is the first-established national park in Vietnam located only 120km southwest of Hanoi and offers a great day trip. Cuc Phuong boasts engaging cultural and natural heritage and enchanting scenery. Located on two limestone mountain ranges, Cuc Phuong is a wonderfully rich ecosystem; a habitat for some of Asia's rarest species. Magnificent limestone karsts rise up from the green rice terraces and contain valuable archeological vestiges, such as a fossilized sea reptile dated at about 200-230 million years old, and evidence of a prehistoric people who lived in the forest some 7,500 years ago. A few scattered villages around the park still house Muong hill-tribe people and their unique culture. If you visit these communities you will see traditional stilt houses, waterwheels, bamboo rafts, and brocade looms. Another highlight of the park is the Endangered Primate Rescue Center which has 15 different species and subspecies of gibbons and langurs on site in breeding programs and in huge forested enclosures. It is no wonder naturalists, anthropologists, archeologists, conservationists, and tourists are drawn to this corner of the world. Source: Buffalo Travel.