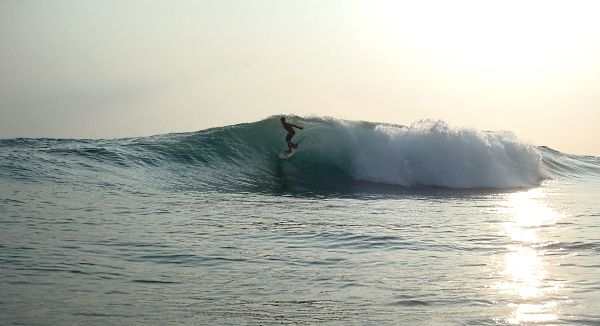 As local surfing's popularity grows, overcrowding has plagued most of the known surf spots in the country. Catanduanes' spots, although spoken about in hushed tones, have seen its share of hardcore wave riders who welcome its rustic ambience, limited road network, unexplored coves, and the absence of a fast-food franchise. Bordered by the Pacific Ocean to the east, this island on the eastern side of Bicol has been accustomed to the onslaught of typhoons from the Pacific. Yet, the resilient spirit of the Catanduenos has made them overcome this anomaly of nature and made them realize the gold mine that its swirling winds bring. Miles and miles of surf blasting on jagged rocks, sudden downpours, exotic food, and the promise of an adventure day in and day out make Catanduanes an adrenaline junkie's paradise.
There's a lot of exploring to do in Catanduanes. Within a 30-kilometer radius from the capital city of Virac, you can chance upon a cave, a secluded cove, an unexplored reef, or your own secret surf spot.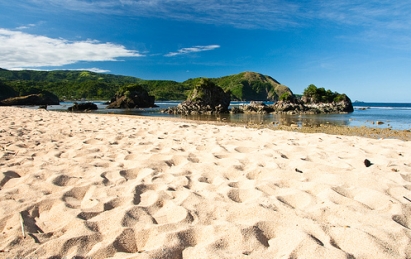 1. Go surf in Puraran. Merely 40 minutes from the city in the Municipality of Barras, Majestics Break is considered the best in terms of its swells. Winds from the sea collide with shore winds to create a magnificent barrel that Lacey King, an Ohio native now based in Barras, describes as feeling "one with God." The currents on the beach and on the reef are strong, which is dangerous for inexperienced surfers. Only advanced surfers or the stupidly courageous hit the waves here. Stay in the rustic Puting Baybay Resort (mobile no. +63926 710 7811; fan rooms at Php400/US $8 a day) or indulge in the penthouse suite of Angie's Bed and Breakfast (mobile no. + 63919 439 5141; http://www.angiesbedandbreakfast.com; rates start at Php1,000/US $38) for a breathtaking view that stretches to the Pacific Ocean.
2. Visit the crab center in Barangay Palnab. Learn how king crabs are cultured, starting from the crablets to the plate. On average, crabs grown at the crab center weigh 1.8 kg. Catanduanes, which supplies crablets to most of the king crab growers in the Philippines, aims to be the crab capital of the country.
3. Head out to Batong Paloay for some divine time. Visit the Batong Paloay Church in San Andres, which houses the miraculous gem with the image of the Virgin Mary. It is believed to be growing in size every year. Pilgrims flock to the church in search of a miracle. Marvel at the Bato Church in the town of Bato, which was built in 1883 from coral stones.
4. Hike up to the Sto. NiÑo tower. The 1.4 km trek is a good way to loosen those joints and be rewarded with an unobstructed view of the city of Virac.
5. Dive at Panganiban. Ismael Rendon, a dive explorer who's made Catanduanes his residence, considers the reefs in Panganiban a world-class dive site. Clown fish, manta rays, and sun fish are common sightings.
6. Go sport fishing, and catch a live blue marlin. Get into a battle of wits and brute strength against big game fish. Contact the provincial tourism office at tel. +6352 811 3225 for assistance.
7. Shop at handicraft centers in the city, or better yet, go into the heart of where they were made. Head out to Hawan Grande to the shop of Caesar Angeles and be toured around. Wall frames made of bamboo, driftwood, and abaca range from Php250-Php600 (US$5-US$13).
8. See how abaca (banana plant hemp) carpets are made. These carpets have made their way into the homes of the rich and famous. The abundant Abaca has been the major source of income for Catanduanes' residents.
9. Have a picnic at the Twin Rock Beach Resort. Located nine kilometers from the city center, it has been a local institution and a favorite destination for weekenders because it has a lot of open space. It's enclosed in a cove so the water is calm, which is ideal for swimming especially for kids. Also, its proximity to the city makes it very accessible for residents of Virac.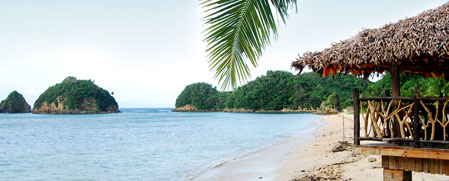 10. Unwind at several watering holes in the city. Dine at Park and Grill, fronting the seaport, for a taste of the local exotic delicacies such as karakol (snails cooked in coconut milk) and cabacab (grilled mountain frog). Dishes are affordable at Php150-Php300 (US $3-US $6) per order. Grab a drink at nearby Seaside Restaurant while listening to the waves crashing on the rocks. Or take in the nightlife at the Midtown Café where local bands play.
GO
• Surfing season is from September to November. For non-surfers, the summer months of March to May are ideal as this is the driest season for Catanduanes. These are the months when typhoons are rare.
STAY
• Marem Pension House, which started out as a homestay, has now expanded to 36 rooms.—136 Rizal Ave. cor. Rafael St., Sta. Cruz; tel. +6352 811 3439; http://www.xanga.com/marempensionhouse; rates start at Php775 (US$16) The Twin Rock Beach Resort in Igang is already a tourist spot in itself, featuring the twin islands that sit on its cove. — tel. +6352 811 1707; http://www.twinrock.com.ph; rates start at Php1,200 (US$25)
CONTACT
• For assistance when traveling to Catanduanes, call the Department of Tourism office at +6352 811 3225. You can also log on to http://www.catanduanes.gov.ph for more information.
PALExpress flies between Manila and Virac daily. For more information, call PAL reservations office (+632 855 8888 and +632 855 7777) or log on to www. philippineairlines.com.
This article was provided by Philippine Airlines' Mabuhay Magazine.Mabuhay Magazine is published by Eastgate Publishing Corporation (email:info@eastgatepublishing.com;website: http://www.eastgatepublishing.com).