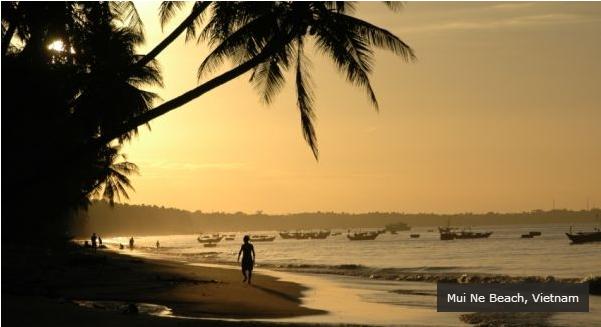 So, you've experienced some of the famed beaches of Thailand, had an excursion to Bali, and possibly even soaked up the sun in Malaysia (insert slogan "Truly Asia"). But a seaside sojourn in Vietnam? It's time to discover the possibilities.
Vietnam is generally more renowned for its history and culture than its wondrous coastal scenery; the stunning exception being the celebrated karsts of Halong Bay – announced a world heritage site in 1994 – a magical cove peppered with 3000 or more isles springing from its emerald waters. Have you imagined, however, sunbathing on golden and white-powdered sands in Vietnam's Central or Southern coasts? Ever heard of Phu Quoc Island, an unspoiled paradise southwest of the mainland? All deserve as much attention as the popular shores of Phuket or Bali, but of course the appeal is that they are nowhere near as crowded as Southeast Asia's more famous beach hotspots. Add in the unique and hospitable culture of the Vietnamese and you have the ingredients for an extraordinary holiday.
Central
From the coast of Danang, Vietnam's third largest city, to the historically renowned tourist town of Hoi An, is one of the country's most spectacular shorelines. A 25 km coastal stretch of beach, so vast and yet during the summer months (April through to September), the waters are exceptionally placid, stunning in color, with enough depth to properly cool you down. While the two towns are essentially joined by this singular stretch of sand, portions of it have been given separate names.This is why many visitors are generally unaware the two destinations are in such close proximity. There is also an industrious amount of development going along the coast (with golf courses and several international hotel chains being built) as 'luxury' has become the central coast's middle name. In the near future, tourists will have an array of high-end hotels beckoning them to soak up the central coastline.
Known by many as "China Beach", Danang's My Khe beach was once a rest and recreational site for US soldiers during the American-Vietnam war. Today, it remains a striking seaside town with hotel and resort options for all kinds of travelers. A little further south brings you to Hoi An, known more for its UNESCO-protected status as a heritage town than for its remarkable beaches. Yet the shores of An Bang and Cua Dai offer plenty of pleasant oceanic respite for Vietnam's visitors. Hoi An accommodation choices are varied as well, across all budgets and tastes.
Off the mainland, the Cham Islands offer magnificent beach, snorkeling and diving, with trips easily organized from Hoi An. While harboring beaches blessed with crystal clear waters as well as vibrant marine and coral life, the Cham Islands are often overlooked by the many tourists visiting Vietnam's central coast. They shouldn't be. Any visitor to Danang or Hoi An should consider a day or overnight trip to this dazzling group of islands.
South of Central
Suprisingly off the tourist trail, Quy Nhon is one of the country's most idyllic beach towns. White powder sands, azure waters and a quiet, slow-paced atmosphere make this township a truly worthwhile seaside destination about 4 hours south of Hoi An. The main municipal beach offers backpacker and small hotel accommodation, while further south you will find the gorgeous and salubrious private beach of Life Resort (Bai Dai). For those on a budget (and unwilling to pay steep prices for private beach time) travel one kilometer further and you will discover the beautiful white-sand beach of Bai Bau.
If you're traveling from North to South, then Quy Nhon is a must, before reaching the popular and bustling beaches of Nha Trang. Likewise, a visit to the barely known coastal town of Tuy Hoa is highly recommended. Although void of high-end hotel options, the broad golden sand beach makes for an enjoyable day or overnight trip (there are a few humble yet clean hotel options).
Nha Trang's beaches are perhaps Vietnam's most reputable. As the most developed of Vietnam's seaside cities Nha Trang offers all the dining and nightspot activities one might hope for during a beach vacation. Of course, it is definitely on the main tourist trail and finding information on how to get there and where to stay is easy. Nonetheless, the picture perfect blue waters seen in the advertisements to Nha Trang are a reality and most visitors enjoy the plethora of activities available to them. Diving is quite famous in Nha Trang which is refuge to colorful hard and soft coral reefs and some fascinating underwater caves. Innumerable high end resort options await the luxury traveler and direct flights from Vietnam's main cities make it a favorable stopover during any trip to Vietnam.
Further south and popular among locals of Ho Chi Minh City, Mui Ne has become an increasingly happening beach destination. The once secluded white sand stretch is now dotted with hotels, yet has not lost its charm or beauty. Plenty of dining, hotel and nightlife options of various budgets await the visitor. Between here and the nearby Phan Thiet you'll discover stunning red and white sand dunes and more sandy coves for beach-farers.
Southern Island Paradise
Off the southwest coast, underneath bordering Cambodia lies an idyllic island gem – Phu Quoc Island. Still underdeveloped, unspoiled and marked by lush forest areas and white powder beaches, Phu Quoc is by far one of Vietnam's best beach destinations. Flights can be organized cheaply from Ho Chi Minh City and the island boasts a number of resorts as well as budget accommodation. To lounge in truly lavish seaside surroundings, head to the island's west coast. The idea is to get to Phu Quoc before the rest of the world catches on.
Amy Morison is a writer who lives in Hoi An, Vietnam. She is founder and managing editor of Live Hoi AN Magazine (www.livehoianmagazine.com) and director of the Central Vietnam Advertising & Marketing Company.