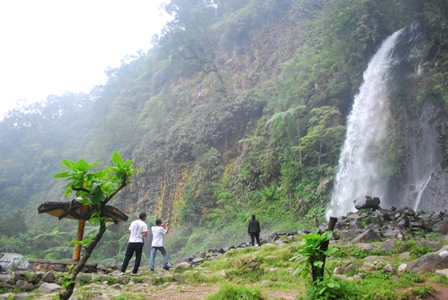 Image courtesy of Michael Aquino
The slopes of Gunung Gede Pangrango National Park are close enough to Jakarta to serve as a weekend getaway from the capital's heat and traffic. Most refugees from Jakarta go through the Puncak-Cianjur route to the park, but those with a bigger appetite for adventure tolerate the four-to-five-hour drive from Jakarta to the town of Sukabumi, where a variety of active pursuits await.
Sukabumi first came to prominence when the Dutch governed Java; the cool upland climate drew rich Dutch planters into the area, where they transformed the mountain slopes into tea plantations.
Today, a series of hiking trails snakes through areas of the National Park and beyond – hikers can start at the town of Sukabumi and proceed up these trails to explore West Java's rich natural heritage. The Pondok Halimun trail winds through tea plantations and into thick forest cover, stopping at the Cibeureum Falls at the foot of Gunung Pangrango (pictured above); travelers looking for other areas to set up for the night can stop at the camping grounds in Cangkuang and Buni Ayu.
As you roam within the Gunung Gede Pangrango National Park, you might meet some of the local residents, or at least hear them – wild boar, leopard, and macaques roam amidst the trees. Icy-cold waterfalls punctuate the trails; the streams on the slopes of these mountains feed Jakarta's water supply.
From Sukabumi, travelers can also undertake a number of other adventure activities, including (but not limited to) whitewater rafting and caving.
Elsewhere on the Web: Read Indonesia Travel's official page on Hiking and Camping in Sukabumi.