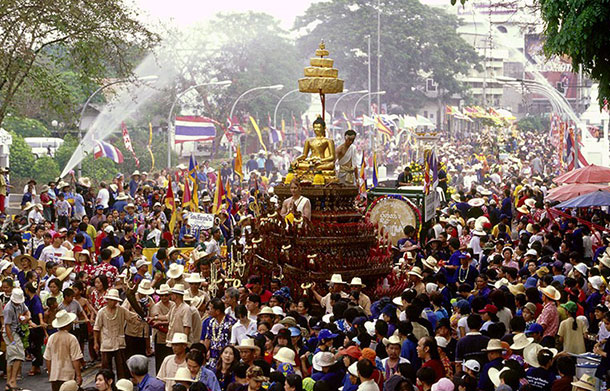 To mark the traditional Thai New Year, the Songkran Festival is celebrated from April 12 to 15 all throughout Thailand. It is a time of rich tradition and an outpouring of merrymaking. The Songkran Festival is when Thais across the country visit their local temples and offer food to Buddhist monks, and when rites of purification and washing away bad luck takes on a fun and riotous turn.
While Buddha statues are gently bathed with water and elders are shown respect by having water poured water over their hands, many locals and foreign visitors engage in what has evolved to be the world's biggest water fight. Expect to get soaking wet when you venture out in the streets of Thailand during Songkran, but the festive atmosphere will likely stop you from being a wet blanket.
Smaller towns and provinces usually celebrate in a more traditional and modest manner with temple visits and processions. But to experience the unreserved revelry of Songkran in all its drenched glory, you can head off to any of these cities:
Chiang Mai, the Rose of the North knows how to party and its old city moat is undoubtedly the centre of Songkran celebrations where you can find yourself in the middle of an epic city-wide water fight for four days, though the opening parade, Lanna-style cultural performances, and street food will also keep you occupied;
Bangkok, the sprawling, bustling city gets armed with water pistols and water buckets and tourists typically congregate in backpacking hub Khao San Road, the bohemian enclave Phra Athit Road, the cosmopolitan street of Silom, and historic Rattanakosin Royal Square; and
Phuket, Ko Pha Ngan and other islands, which already know how to throw massive parties are the best places to welcome the Lunar New Year when you want to have the sand and the water nearby after all the loud music and water splashing.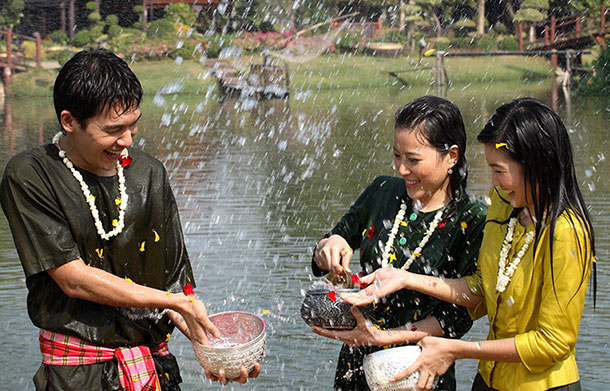 You Might Also Like…
The nations of Cambodia, Thailand, Laos and Myanmar share close cultural ties, and thus also share common New Year traditions, occurring at the same time. Cambodia celebrates Angkor Sankranta; Myanmar's Thingyan; and Laos Boun Pi Mai Lao near simultaneously with Songkran. For other festivals in the month of August, visit the Philippines' Kadayawan Festival, Brunei's Sultan's Birthday festivities and Malaysia's Merdeka Day Celebrations.