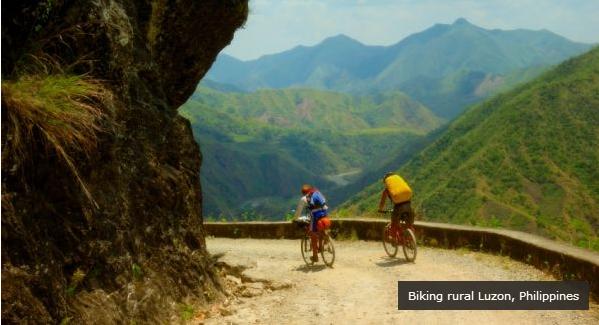 "Hi, I am Paul. You have a bike for rent?" goes an e-mail I had received the other day. Paul is American, and we met the next day at my place, where I showed him the bike and gave him some info about cycling in Cebu. "But all the trails you show me are only around 25 to 35 kilometers. I am used to cycling 50 to 60 per trip," was his reply.
I smiled and said, "Just give it a try, and take it easy… it's mountainous here." Off he went with the bike, content with the thought of doing his favorite sport. Hours later on the same day, Paul texted: "This country is unbelievable, amazing people, great scenery…even though I had to walk 40 percent uphill. Regarding your kilometer info, now I know what you are talking about. Cycling in this country is fun and an unforgettable experience."
Seven years ago I arrived here, as a quite ex­perienced road biker but I have never been on a saddle of a mountain bike. One thing led to another when I met the right guys. I just found myself at a bike shop and left with a basic mountain bike. Working for the German government during weekdays, I'd spent my weekends on the bike—"suroy suroy lang" (Cebuano term for "just roaming around"). I was impressed with the countryside, the scenery (plus the fact that one moment you are on top of an island after a tough climb and 30 minutes later you're already having a refreshing swim in the ocean) and the hospitality of local folks. Cebu was soon too small for me, so Bohol was next, then Siquijor, Camiguin, Negros, and a lot more other islands. With every ride, I became more overwhelmed by the experiences.
After a whole day of cycling during one of my trips, I arrived around dawn in a small village, where I was expecting to find a resort (at least, that's what my guide book tells me). While having a soft drink and asking for directions, I found out that the resort had closed down. There I was, sitting in front of the store, my energy spent and with no options. I was, honestly, not the happiest person in the world. "Don't worry, enjoy your soft drink. The barangay (village) captain will be here soon," the old lady at the store consoled me.
"Why would a barangay captain show up for a stranded foreigner?" I wondered, and even before I could finish my thoughts, he arrives. I was brought to the barangay hall, where a table filled with fish, rice, vegetables, and some tuba (coconut wine) was waiting for me. I couldn't believe it. After eating and talking with the people for hours they told me, "We have to go now." "But why?" I asked, taken by surprise. "Because our children are waiting outside and they also want to talk to you."
Having lived 35 years in western culture, I know what it is to "close" our doors when a foreigner arrives. On the contrary, here in the Philippines, they open them. For sure every island has its own charm, and whichever island you go to, great fun awaits.
Cebu
Cebu has rides for everybody. For a family, highly recom­mended is a nice day trip to Olango Island including a visit to the bird sanctuary while enjoying the car-less roads.
If you want to explore Cebu on a multi-day bike trip I would suggest the so-called "Vegetable Highway." This road goes inland down South and passes through the areas where Cebu's vegetables come from. It's a nice three-day ride with amazing scenery.Now, for hardcore bikers like Paul, the perfect trail is in Guba. This mountain barangay, which lies around 600m above sea level in the northern part of Cebu City, has numerous trails and roads going in and out that you'll never get bored. Trails like "Mountain Goat," "The Big Loop," and "Dutch Connection" are bound to get your adrenaline pumping. And yet another challenge is climbing around Barangay Tabunan at the foot of Mt. Manunggal. There are inclinations where even a four-wheel drive will have a hard time negotiat­ing. For those who prefer a sweaty but familiar ride, head to JY Square in Lahug and make your way up to the "White House." This is a favorite ride for Cebuanos on weekends.
Bohol
One of the Philippines' most visited islands is also a spe­cial place for biking. Hang out in Loboc and explore the challenging rides up to Cruz Daku or just around Loboc and its muddy trails. Need a place to stay? Nuts Huts resort is highly recommended, bike rental available. The place has detailed descriptions for dozens of trails in the vicinity. Another must-see is Danao, touted as the new "capital" of adrenaline sports like zipline and canyon swing. The place also offers incredible bike rides.
Sagada/Banaue
Once in a while, when I miss the alpine environment, I visit Sagada. This includes Bontoc and Banaue, and the ride up to Batad especially is a unique adventure. In Sagada, you'll always find somebody who is willing to explore trails like "Marlboro Country" and others with you. But, be aware that you're 2,000 meters above sea level, which causes your heart to beat faster.
Davao
One of my favorite scenic areas is Davao. Wherever you go, whatever you do, you will never lose the breathtaking view of Mt. Apo (Philippines' highest moun­tain). On a weekend, nothing beats exploring Samal Island and its rolling roads and having a nice swim after the ride. Also nice but a bit challenging is a ride up to Eden Nature Park. This paradise in the mountains offers various activities, like zipline and rope gliding. The nearby restaurant is the perfect place for some carbo-loading before you head back down.
Palawan
Palawan boasts of 2,000 kilometers of coastline. It is the most sparsely populated region in the country. Combine this with its natural beauty, friendly people, superb seafood and you may never want to leave. The width is 40 km at its maximum, so do not get confused when you find yourself cruising with the sea to your right and end up with the sea at your left just an hour later.
This list could go on and on for pages. You don't believe me? Let me finish with a testimonial of Giel and Floor from the Netherlands after their 10-day trip in Cebu and Bohol in July this year: "I never thought that biking here is such a great fun, and I am surprised that this country is not yet on the world biking map."
That statement made me smile and I replied, "Don't worry, Giel, we are working on it."
GET STARTED!
To experience the fun get yourself a decent bike, meaning a mountain bike from a bike shop. There are excellent (but limited) bike shops all over the country and the owners will give you the bike that suits your needs. BugoyBikers (www.bugoybikers.com) in Cebu, and Nuts Huts resort in Loboc, Bohol, rent out quite decent mountain bikes and even provide trails information.
TRAVELING WITH YOUR BIKE
• By boat: All boat companies will ac­cept your bike, even though you have to pay for it. To avoid the payment, use a bike travel bag (check out www.team­bloodred.com).
• By plane: All airlines accept bikes. This is included in the 20kg baggage allowance per person. Make sure to let some air out of the tires.
CYCLING PHILIPPINES
The first bike guide about the Philip­pines contains more than 120 trails, with detailed information about road condi­tions, a map and description for each trail, and other outdoor activities. This book covers all Visayan islands, Palawan, Romblon, and Camiguin. It's available in National Bookstore, Island Souvenirs, or through http://www.bugoybikers.com.
BUGOY BIKERS
This is a group of bikers with the inten­tion to make the Philippines known to other biking tourists, locals, as well as foreigners. Bugoy Bikers assist you in bike rentals, tours, and lots of other useful information. Visit www.bugoy­bikers.com for more information.
BIKE FOUNDATION
Bike4U (www.bike4u.org) is a Cebu-based non-profit organization that utilizes the bicycle to build skills and foster personal growth of young adults through bicycle-related programs and services. Till today, more than 200 bikes could be given away to underprivileged students who use the bike for fitness and commuting purpose.
This article was provided by Philippine Airlines' Mabuhay Magazine.Mabuhay Magazine is published by Eastgate Publishing Corporation (email: info@eastgatepublishing.com; website: www.eastgatepublishing.com).