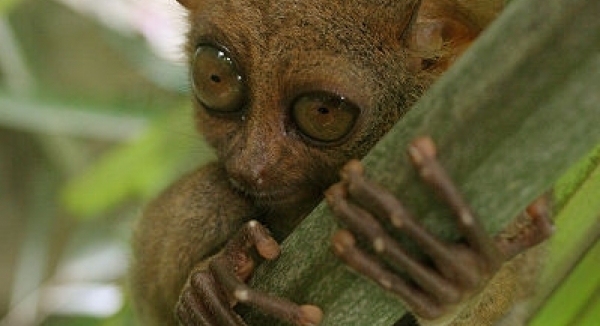 If it's true that wildlife conservation efforts favor "cute" species, the endangered Philippine tarsier should get no shortage of attention. The tree-dwelling primate looks like a ball of fuzz with a long tail, pointy ears and huge yellow eyes. It's smaller than a coconut, has no neck, and its head swivels 180 degrees.
Loveable though they may be, tarsiers have not had it easy in the past few decades. Fifty years ago they were abundant on several Philippine islands. Older residents of Bohol, the island with the largest density of tarsiers, recall the days when forays into the forest frequently brought tarsier sightings.
But a familiar lineup of environmental ills – habitat destruction, pollution, poaching and human encroachment – had substantially reduced the tarsier population by the 1990s. Locals in Bohol would stuff them and sell them to tourists as souvenirs. Farmers killed them off in the mistaken belief that the insectivorous tarsiers ate crops. Businesses along the river in touristy Loboc put them in cages, where the shy, canopy-loving critters would rarely live more than a year. On Bohol, the population shrank to an estimated 700.
Ecotourism to the rescue
That's when the government stepped in. Alerted to the declining tarsier population by concerned locals in Bohol, the Philippine departments of tourism and environment combined to launch one of the country's first bona fide ecotourism project in the late 1990s: the Tarsier Visitors Center, managed by the Philippine Tarsier Foundation Inc (PTFI). A 134-hectare forest sanctuary was set aside for tarsier protection, located in the village of Canapnapan, just 15km from Bohol's capital, Tagbilaran.
The sanctuary includes a 15km nature trail and a small patch of forest near the Visitors Center where four or five tarsiers reside permanently. The territorial tarsiers do most of their hunting by night and camp out in trees by day, dozing and munching on the odd hapless cricket that happens by. Every morning guides from the Visitors Center track down the resident tarsiers in their new locations, so that they can easily be found when the tourists arrive.
Sightings of tarsiers along the nature trail are fairly rare, but birds and other wildlife are abundant. While not quite as thrilling as spotting them in the wild, observing tarsiers at the Visitors Center is eco-friendly, and if you're lucky you might see one loudly chomping on a giant green cricket, or witness a new-born tarsier clinging to its mother (the author witnessed both on a recent visit). The Visitors Center (admission $0.40) has heaps of background information and photos of tarsiers leaping several feet in the air to nab insects with their spindly feet.
Unfortunately, some cages still operate in Loboc. According to PTFI Program Manager Charisse Ann Vallestero, these cages do operate legally, but it is illegal for tourists to touch or feed the animals (you are encouraged to report any violations to PTFI). Meanwhile, a law has finally been passed that makes it illegal to capture tarsiers in the wild for this purpose. In the future, only animals born in captivity can be kept in the cages.
While PFTI said exact figures on tarsier recovery rates in Bohol are not available, Ms Vallestero confirmed that tarsier numbers are on the rise.
"There are minimal deaths now because their habitat is taken care of, and they're not going into cages anymore," she said.
Visiting the Tarsier Visitors Center is easy – buses from Tagbilaran pass right by the center, or rent your own motorbike and look for the turnoff about halfway between the towns of Corella and Sikatuna. There's plenty more going on in the vicinity, including the iconic Chocolate Hills and the brand-new Eco/Extreme/Educational Adventure Tour Danao (E.A.T. Danao), with its thrilling 500m zipline-like 'Suislide'. Stay at Nuts Huts a backpacker Shangri-La on the river in Loboc, about 15km from the Visitors Center.
Greg Bloom is a Phnom Penh-based writer and editor who has co-written Lonely Planet guides to the Philippines and Cambodia.