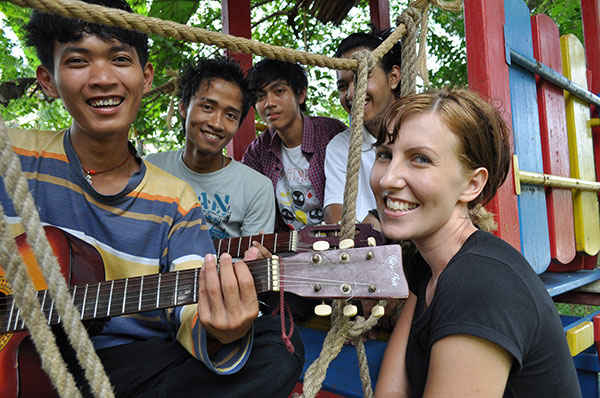 Not a lot of travel brochures talk about the most rewarding Southeast Asia experience of all: giving time to a cause you believe in.
And there are plenty of causes in Southeast Asia in search of volunteers. Kids in isolated villages needing teachers; elephants needing a little human tender-loving-care; and even hostels looking for volunteers to help other travelers find their way – all these could use help from travelers coming in from outside, with time, expertise and concern to spare. (Volunteering in Southeast Asia requires a little forethought: when in doubt, follow these simple ethical travel tips before jumping in.)
The following bloggers volunteered in Southeast Asia, giving their time to a wide variety of causes (one of which may strike your own fancy).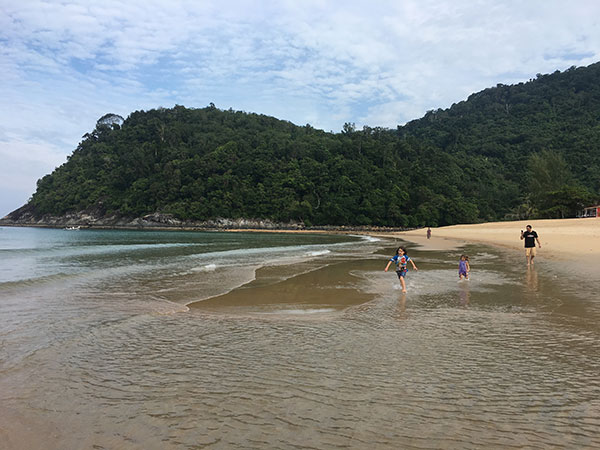 Turtle Conservation at Tioman Island, Malaysia
For Emma Walmsley of Small Footprints, Big Adventures (Facebook|Instagram) volunteering in Southeast Asia was a family affair. While traveling through Tioman in Malaysia, Emma's family found the perfect opportunity to make a difference while vacationing – with activities that matched the gorgeous landscape.
"Juara Bay is a calm yet stunning beach, alive with wonderful snorkeling opportunities," Emma tells us. "We couldn't believe how beautiful it was, and how un-spoilt it still is today."
Volunteers working for the Juara Turtle Project help out with the organization's turtle patrols, education programs, nest protection activities and turtle hatchling releases. "Sometimes the tasks are fun activities like cooking or hiking to a nearby waterfall," Emma says. "Staying at JTP for one week costs 700MYR/US$180 which includes breakfast and lunch, drinks, and use of their snorkeling and recreational equipment."
The social aspect cheered Emma the most. "Volunteers from all over the world get to know each other in the friendly environment while working together for a great cause," she tells us. "And we had a wonderful week learning about turtles, helping with many tasks, enjoying the beach, and seeing lots of hatchlings scurry to the water!"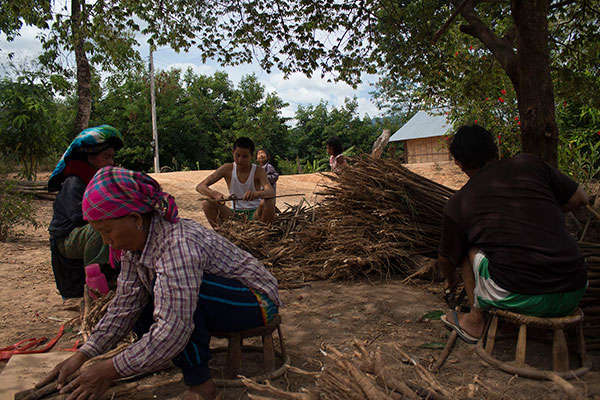 Village Volunteering at Northern Laos
Muang Sing in northern Laos has some of the most isolated village communities in Southeast Asia, says the Orient Excess' Marie-Carmen Infantes (Facebook|Instagram|Pinterest), and she and her partner had the good fortune to live among them recently.
"The Yao, a tight and small community, live not too far from the border with China," Marie-Carmen explains. "Through research, we found an opportunity to visit said village and stay a few days to work with them and get to know what life was like in such a hot and harsh area."
Once esconced among the Yao, Marie-Carmen and her partner "joined in the daily tasks, getting rubber plants out of the ground and cutting them back in the village," she tells us. "While this was hard labour, the beds on the wooden floor of our hut quickly felt very enjoyable."
To spread the benefits of hosting visitors, each guest is hosted by a different family in the Yao village, "allowing for the money collected to be shared equally), we quickly," Marie-Carmen explains. "Those few days were hard work for us, but they gave us a perspective of the Yao's life."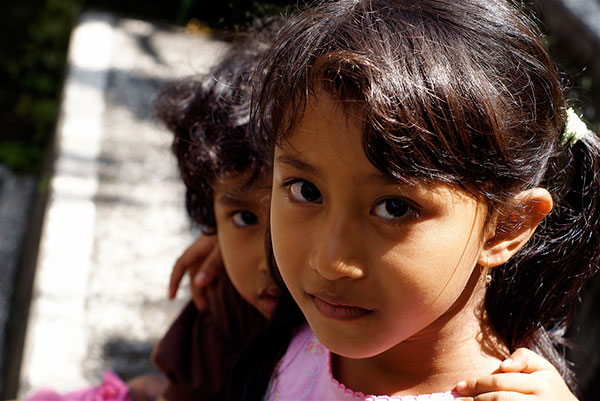 Community Care at Ubud, Bali
Helping Balinese women give birth made the top of Rivka Cymbalist's most memorable list. The blogger of The Birth Conspiracy (Facebook|Twitter|Instagram) tells us that volunteers there are always welcome.
"Yayasan Bumi Sehat is situated in Nyuh Kunung village, just outside Ubud," Rivka explains. "Bumi Sehat started as a clinic that provided free maternity care to women from the surrounding areas, and has grown to be an integral part of the village, the country of Bali, and the world."
For visitors who want to give their time to help the Balinese, Rivka says "there is always demand for upbeat, dedicated volunteers to staff the Youth Center," she explains. "You will be hosted in the volunteer's ashram, which has private rooms and a communal kitchen. You're expected to put in four hours per day, four days per week. The rest of the time is yours!"
On your free days, you can explore the local area at leisure. "Nyuh Kuning is a lovely, typically Balinese village," Rivka tells us. "Surrounded by rice paddies and coconut trees, it is a quick scooter ride (rent a scooter!) through the Monkey Forest to Ubud where you can find things to do day and night."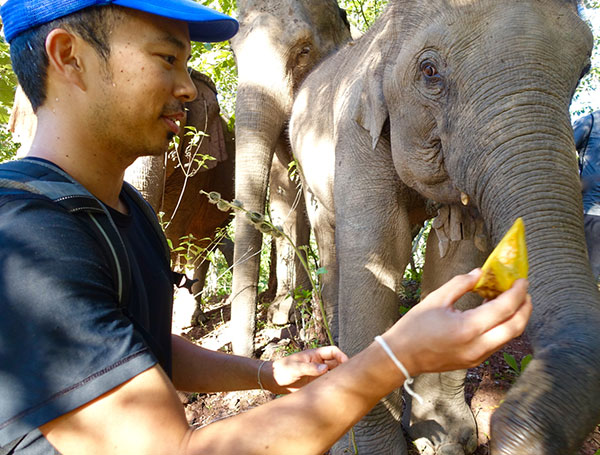 Elephant Outreach at Chiang Mai, Thailand
Michelle Chang of Intentional Travelers (Twitter|Facebook|Instagram) went to a remote village five hours off Chiang Mai in northern Thailand to visit "one of the only places where Asian elephants live in their natural environment," as she calls it.
Kindred Spirit Elephant Sanctuary was co-founded by an Irish zoology graduate from Ireland and a Thai mahout (elephant caretaker); their project "aims to promote better welfare for Asian elephants by studying and documenting their behaviors in the wild," Michelle explains.
Volunteers are welcome to help the elephants and the local community, depending on their interests and abilities. While Michelle and her husband trekked into the forest (and stayed at a local homestay) to commune with elephants, "volunteers and interns are invited to help in the research efforts with the elephants, participate in village life, and collaborate on community projects," she tells us.
A longer-term volunteer onsite helped with Asian elephant research, "trekking out each day to record different behaviors of the elephants for the research project they were working on at the moment," Michelle recalls. "She was also helping do an after-school program at the village primary school."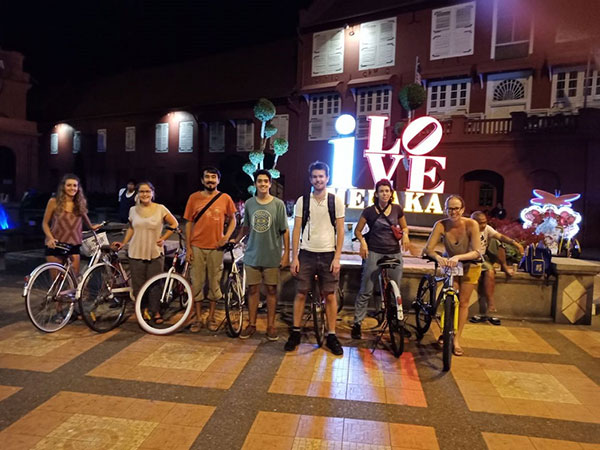 Hostel Help at Melaka, Malaysia
"Volunteering can also be about serving the travelling community," says Jane Clements of Scarlet Jones Travels (Facebook|Instagram|Pinterest), who told us about the extra work that she took on while volunteering in a hostel in Melaka, Malaysia for eight weeks.
"I worked the usual reception and bar duties but in my free time I led bicycle tours and I put together a comprehensive information pack," she tells us. "This gives the hostel guests detailed information about many things to do in Melaka; including detailed directions and the opening times."
Jane says her work also benefited the local community as well: "The information pack raises awareness of places in Melaka that are not on the mainstream tourism circuit," Jane says. "They will receive increased exposure and visitors, helping the community both economically and socially."
If you're thinking of volunteering yourself, Jane suggests you "try to think outside the box, and add value to the role that you are filling."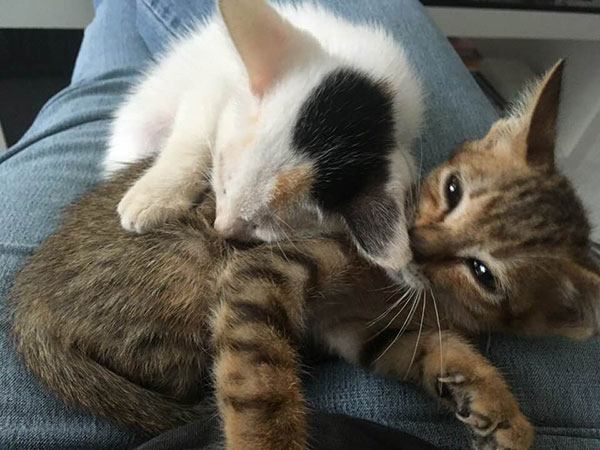 Vietnam may feel overrun by stray cats and dogs – but as RTW (Round The World) Families' Suewan Kemp (Facebook|Twitter|Instagram) explains, even these ubiquitous animals offer an opportunity for tourists to help.
"Jack's Cat Café is a cat shelter in Hoi An run solely by volunteers," Suewan tells us. "They run both a cat shelter and a cat café where people can come for a drink in the peaceful gardens with lots of gorgeous kitties." Cats in ill health get nursed back to health by the shelter – "then they try to get the cats adopted out to their fur-ever homes," Suewan explains.
With six weeks in Hoi An, Suewan contacted Jack's to offer their help. Jack's offered them two cats to foster during their time in Vietnam. "They needed people to foster some kittens as the space in the shelter is limited," Suewan tells us; the cats "Tommy" and "Honey" have enriched their time in Hoi An considerably, "particularly for our 9-year-old who loves playing with them," she tells us.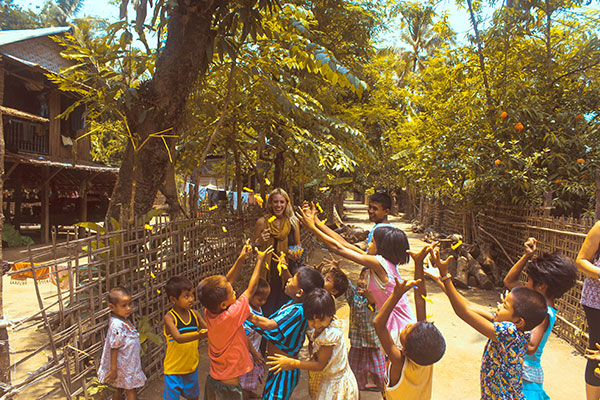 Building a School in Mae Hong Son, Thailand
Monique and Dylan Mac of Honeymoon Backpackers (Instagram|Facebook) spent three days volunteering in the mountains of Mae Hong Son, Northern Thailand, helping build a mud brick school for refugees. "There's nothing like giving back to the local community, especially in the country you're travelling," Monique explains. "Volunteering is such a fulfilling experience."
The duo spent three days in Mae Hong Son as volunteers. "We got down and dirty mixing mud, water, straw and clay with our feet!" Monique recalls. "My husband Dylan and I were in charge of building the main classroom wall, while our more talented friends sculpted clay designs on the walls."
The kids who benefited from the work also benefited from the volunteers' company. "We'd play games, count together in English and pick longan fruit from the trees," Monique tells us. "The school has a huge impact on these kids livelihood and changing them for the better – there's an army of people working relentlessly to give these children a better livelihood."
Despite their dire straits, Monique says that the kids were upbeat about the future: "Their happiness, positivity and outlook on life is infectious," she recalls. "Although we went there to give back to the local community, I think they inspired us more so than we helped them."