Browsing through recent articles the attentive reader could have come to the conclusion that South East Asia is a true treasure trove for festivals. Rightfully so, Malaysia not being an exception.
Henceforth, it won't come as a surprise that this multi-cultural, multi-religion and multi-ethnic country shares similar festivities with other SE Asian states, such as Chinese New Year, Deepavali and Eid-Al-Fitr. More uniquely Malaysian are the feasts of "Hari Merdeka" and "Thaipusam".
To start with the latter, "Thaipusam" – a Hindu festival – occurs during this time of the year, on the full moon of the Tamil month of Thai (January or February). It is mostly celebrated by the Tamil speaking community settled in Malaysia.
The festival commemorates the occasion on which the Goddess Parvati presented a lance (called a 'vel') to her son, Lord Murugan (the God of War), to vanquish the demon army of Tarakasura (under the baton of evil demon Soorapadman) and combat their evil deeds. Therefore, Thaipusam is a celebration of the victory of good over evil. On that day many a disciple bear milk, water, fruits and floral compliments on pails hung from a yoke and carry them on their shoulders to various Murugan temples. This wooden or bamboo structure called 'Kavadi' is covered with cloth and decorated with feathers of peacock – the bird being the vehicle of transport for Lord Murugan.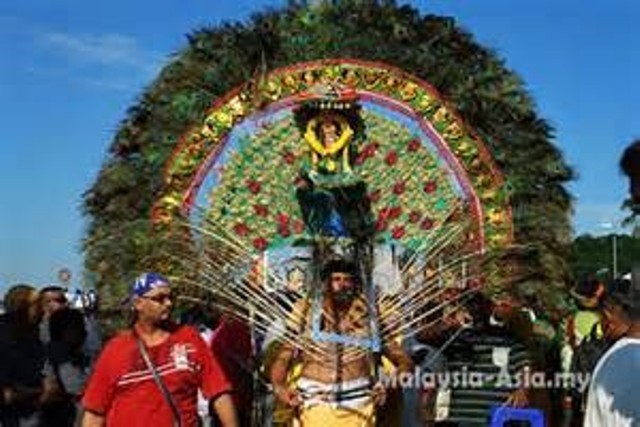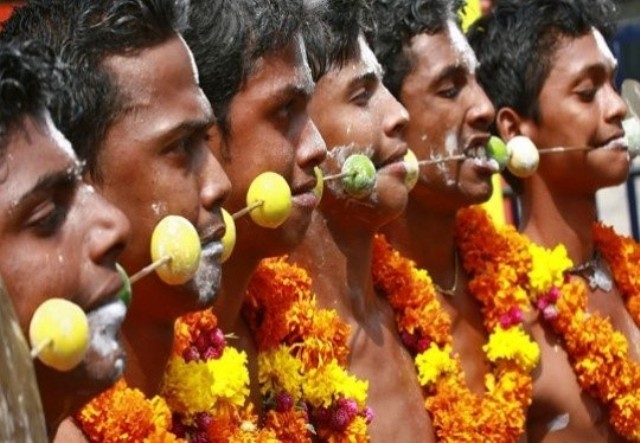 Thaipusam celebrations; Sources: www.blog.malaysia-asia.my (left) www.pinterest.com (right)
Thaipusam is celebrated as public holiday in some parts of Malaysia, with various parades and rituals, but the most famous gathering is at the Batu Caves on the outskirts of Kuala Lumpur. Here over a million join together each year. Tourists flock to see the colours and the spectacle as devotees smear their bodies with holy ash, wear saffron robes, and carry gifts of orange and yellow flowers and fruit. A major feature of Thaipusam celebrations is body piercing with hooks, skewers and small lances (or 'vel'; see above). Many of these devotees even pull chariots and heavy objects with hooks attached to their bodies and some insert metal skewers through their cheeks and tongues. Outside the caves a massive 42.7 metre gold statue of Lord Subramaniam (one of the 108 names given to Lord Murugan) was unveiled in 2006, and devotees climb the 272 stone stairs leading to shrines in the mountain caves.
Not long after Thaipusam, Chinese New Year, the first of the three aforementioned, widely celebrated festivals, starts. Though these festivals have a lot in common, most of times a few aspects give them a local flavour. For instance, in Malaysia Chinese New Year – covered extensively in last month's article on Singaporean festivals – is known by its Hokkein[1] name Chap Goh Meh. Notwithstanding its nationwide celebration, the festivities in Penang are usually acknowledged to be the most colourful, with the highlight for many occurring when single women and girls – including tourists – throw oranges into the sea in the hope of getting good husbands.
Thus, when in Malaysia in February 2015 head towards Penang and try your luck in finding a dedicated spouse. That is, when you are of the right gender, of course. It could become the auspicious beginning of the – oh irony! – "Year of the Sheep" (starting on the 19th).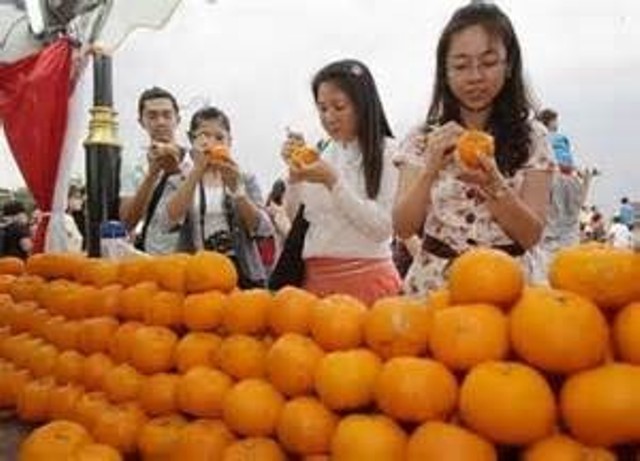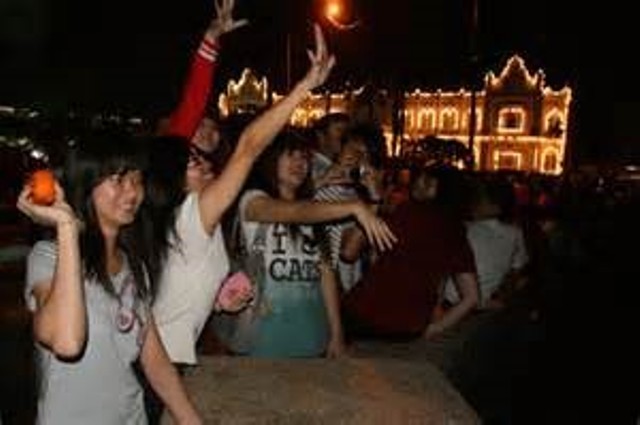 Maiden prepare and throw oranges to fetch the apple of their eyes
Sources: www.shuangxingfu.blogspot.com (left) and www.contemporarynomad.com (right)
The Muslim celebration of Hari Raya Puasa (or "Hari Raya Aidilfitri" in Brunei as a September article revealed) marks the end of Ramadan, a month of fasting and prayer in the Muslim world. At this time many Muslims return to their family home, visiting with relatives and, of course, feasting on traditional Malay delicacies like ketupat, rendang, satay, lemang and curry. It's a joyous celebration where family members greet one another with a hearty "Selamat Hari Raya". In 2015 Ramadan lasts from mid-June to mid-July.
Traditional Malaysian food after the end of Ramadan; Source: www.airforce.gov.my
Hindu's New Year, Deepavali, featured extensively in previous articles, is celebrated end of October, early November. Like in Singapore, visiting Little India in Kuala Lumpur will soak up the festive mood. No problem if you are anywhere else in the country, it is celebrated nationwide.
Colourful paper lanterns and kolam – complex floor designs made from coloured powder – decorate the home, and at dawn on the day of Deepavali Hindus perform a ceremonial oil bath which signifies the cleansing of the body and soul. They then put on new clothes before performing prayers at home and in temples, and afterwards families and friends gather for meals, while children delight in setting off fireworks to scare evil spirits away.
Deepavali 2013, an intriguing example of 'kolam'; Malaysia; Source: www.the malaysianinsider.com
On the last day of August, Malaysians celebrate Independence Day, known as Hari Merdeka, which commemorates the gaining of independence of the Federation of Malaya from British colonial rule, back in 1957. Major cities throughout the country have their own festivities. However, Kuala Lumpur is undoubtedly the epicentre; residents rejoice with parades, flags, and loads of fireworks. Highlights include a royal procession, cultural performances, military demonstrations, intricate floats and the Merdeka parade finale. This grand parade is held in a different venue every year, but regularly returns to Merdeka Square in KL, not far from the Perdana Lake Gardens and Chinatown. Since 1985, after a general consensus by the federal government to bring the celebrations to other parts of the nation, the parade has been held in Malacca Town, Johor Bahru, Kuching, Kota Kinabalu, George Town, Shah Alam, Putrajaya and Kuantan, so check ahead of time for the exact location of the major gala.
Sabah Malaysia Hari-Merdeka celebrations 2013; Source: http://commons.wikimedia.org
---
[1] Hokkein: A Chinese dialect originating from the native language of the Min Nan region in southern China in the 17th century, brought by emigrants, foremost from the port of Quanzhou to Taiwan and from there to other places in SE Asia