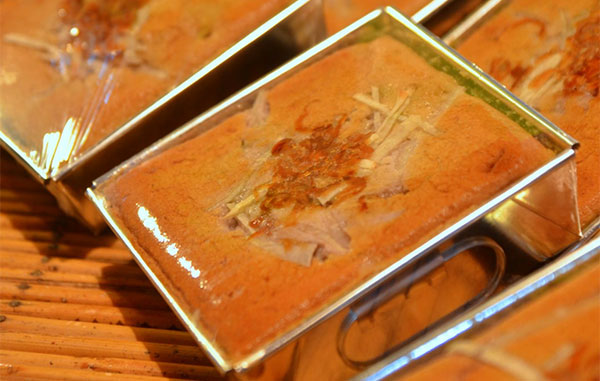 The staples of Southeast Asia, rice and noodles, are usually eaten with plenty of vegetables with moderate portions of meat and/or fish. Vegetarians find plenty to drool over with tasty options dosed with spices. These tend to be the balanced healthful dishes normally associated with Asian cuisine.
However, dishes served on special occasions are often sinful belly-busters. And for ASEANers looking for carbo-loaded fuel to drive them through their working days, simple fried and grilled foods and sugary treats abound. So, forget about calorie-counting on your Southeast Asia holiday, and enjoy the many dining experiences the region serves up.
Brunei Darussalam: As Brunei is an Islamic nation, visitors will mostly see halal dishes on the bill of fare, and its geographical location influences the choices. Pork is out for religious reasons, and beef is very expensive and not found on many menus. As such, most cuisine and treats are relatively low in calories, but the tasty dishes draw on those from China, India, Indonesia, Japan, Malaysia, Singapore, and Thailand.
Cambodia: Though rice and fish are Cambodia's staples, many flavoursome and fattening dishes adorn the menus. French influence brought baguettes, filled with pâté or eggs, along with butter and even chocolate. Nom pang, another favourite, will fill visitors' bellies with freshly buttered baguettes stuffed with ham slices or grilled meats. The national pride, prahok jien, presents a fried dish with beef or pork and chilli, also the main ingredients for twah ko Khmer sausages. Mee katang, another temptation, consists of noodles plated under stir-fried beef and vegetables and topped with scrambled eggs. Visitors can also sink their teeth into lok lak – marinated, stir-fried cubed beef on a vegetable bed – and its lok lak American variant with French fries and a fried egg, found in Phnom Penh bistros. For dessert, look for nam yip, made of egg yolk, flour, and sugar.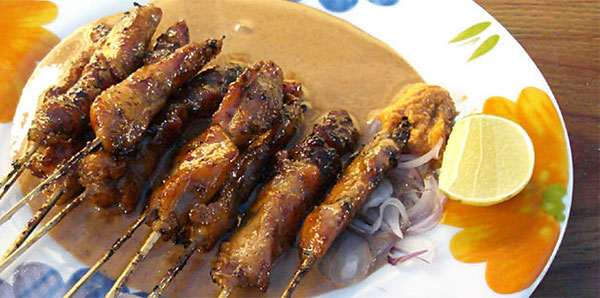 Indonesia: Indonesia's belt-looseners have been influenced by cuisine from China, Europe, India, and the Middle East, and travellers will find that spicy, calorie-packed dishes vary around the archipelago. In East Java, try ayam goreng (fried chicken), babi panggang (roasted pork). In West Java, taste mie kocok, a beef and egg noodle soup, and soto Bandung, a beef and vegetable soup, while Central Java serves sweeter dishes like gudeg, a curry made from jackfruit, and desserts such as klepon (green rice-flour balls filled with palm sugar filling). When in Bali, checkout sate lilit (spiced minced meat pressed on skewers) and babi guling, a spice-stuffed spit-roasted pig, and West Sumatra serves rendang, a rich and spicy buffalo meat or beef dish. Fried street food can grease you up with sate (satay) (pictured), deep-fried fish cakes, and nasi goreng (fried rice). Indonesia also offers a range of cakes, cookies, pastries for sweet-tooth tourists.
Lao PDR: Though Lao food mostly centres on sticky rice, vegetables, and fish, there are plenty of diet-ending dishes. Lao pork sausage tempts palates, as do seen savahn (sweet, sliced beef jerky), and khai khuam (stuffed eggs covered with sesame seeds). Grilled (ping) titbits include ping gai (marinated chicken), ping sin (marinated beef), and ping moo (marinated pork). Many call laap the national dish, and though not too fatty, it consists of spicy, marinated minced meat, poultry, or fish. Khanom (treats) can come quite sweet such as nam wan (sugary tapioca and fruit) and maw kaeng (coconut custard cake). Kids love baguettes coated with sweetened cream, while adults prefer their sandwiches stuffed with shredded pork.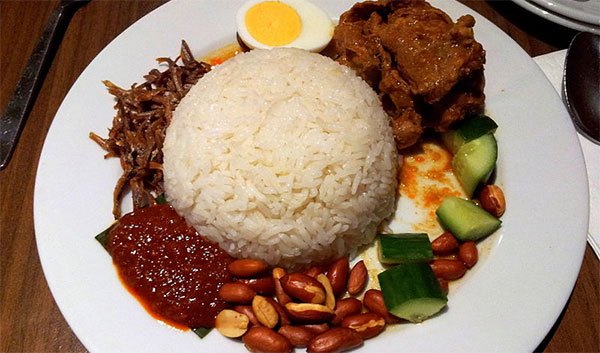 Malaysia: Malaysia dishes up loads of delicious cholesterol-filled cuisine and desserts. The non-Muslim community delves into great pork dishes, but plenty of other tempting offerings are on the slate. Dive into ayam percik made from marinated grilled chicken with spicy coconut-milk gravy, and ayam goreng kunyit (deep fried marinated chicken). Rendang presents a spicy meat stew often served, among other things, with nasi lemak (pictured; rice cooked in coconut milk and pandan leaf). Murtabak – stuffed roti, usually including minced and seasoned mutton folded in an omelette – lures diners. Chinese-influenced favourites include bakkwa (barbecued pork) and mee (deep-fried rice noodles served in a thick egg white sauce). And, don't forget the Malaysian satays and roti bakar, sweet coconut and egg jam spread over toast. An endless list of sweets (kuih) include onde onde (coconut-coated rice balls filled with palm sugar), and kuih lapis (a sweet steamed layer cake). Other desserts include cendol (rice noodles in chilled coconut milk and coconut palm sugar) and simple pineapple tarts.
Myanmar: Though vegetables and fish with rice are Myanmar staples, the most prized dishes can add to the waistline. Traditional dishes rely on meat, and meat broth pops up in many meals. Mohinga, an unofficial national dish of rice vermicelli in fish broth includes boiled eggs, fried fish cake (nga hpe) and fritters (akyaw). Considered by some as Myanmar's "identity dish", Chinese-inspired seejet khao swè is based on duck or pork fried in garlic oil. The southern coastal fried noodle dish, kat kyi hnyat, is capped with a fried egg, and comparable to Thailand's pad tai. Scrumptious snacks include the Indian-inspired halawa, made with sticky rice, coconut milk, and a large dose of butter. Hpaluda presents a jelly dessert topped with a scoop of ice cream, and the baked sweet, saw-hlaing mont, tempts taste buds with millet, raisins, and coconut soaked in butter.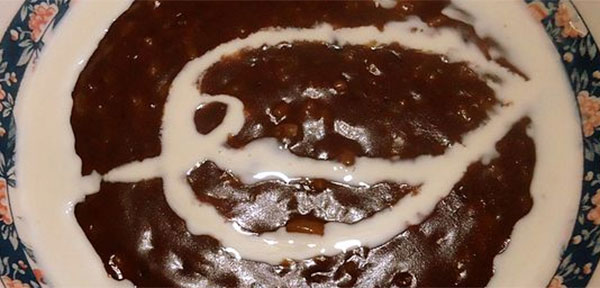 Philippines: With its Spanish influence, Philippine cuisine can definitely add a kilo or two to the scales. Favourites include lechón (roasted pig), longganisa (Philippine sausage), tapa (cured beef), torta (omelette), adobo (chicken and/or pork braised in seasonings), and kaldereta (meat in tomato sauce stew), Try a breakfast of kesong puti (white cheese), champorado (pictured; chocolate rice porridge), or sinangag (garlic fried rice). For lunch or dinner, look for marinated bistek, also known as "Filipino beef steak", or sample tomato sauce-based mechado, kaldereta, or afritada, similar dishes with pork fat inserted in a slab of beef. For dessert, choose from bibingka (hot rice cake topped with butter), kesong puti (white cheese), or sapin-sapin, which is a three-layered, tri-coloured gelatinous sugar-and-coconut treat. Palitaw rice patties covered with sesame seeds, sugar, and coconut; and pitsi-pitsi cassava patties coated with cheese or coconut are also tough to pass up.
Singapore: Many consider dining in Singapore as a tourist attraction itself. While compact in size, Singapore offers a wide variety of cuisine due to its cosmopolitian city and multicultural heritage. But for its local signature dishes, the main ones not to be missed are drawn from Chinese, Malay, Indian and Peranakan cuisines. Must trie while in Singapore include: bak kut teh (pork rib soup), bak hang (rice dumplings filled with meat, mushrooms, and stewed eggs), char kway teow (pictured below; flat rice noodles fried in pork fat and soy sauce with cockles, Chinese sausage, prawns and other tasty morsels), kaya toast covered with sweet coconut and egg jam, roti prata (an Indian dish similar to a flatbread which can be eaten with curry or sugar), satays (grilled meat on skewers, served with a peanut dipping sauce), hainanese chicken rice (it is often known as a Singapore's national dish), rojak (salad tossed with beansprouts, fried beancurd, you tiao, pineapple, cucumber, peanuts and prawn paste), and the undeniable chilli crabs (best eaten with fried bread). Dessert options are also mind-boggling: sago gula melaka (pudding with coconut milk and palm-sugar syrup), ice kacang (grated ice soaked with syrups, beans and milk), sugar cane juice and all the local and traditional kueh (pastries). Source: Your Singapore.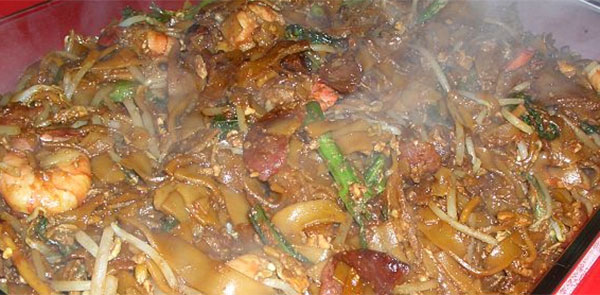 Thailand: Many travellers have dined on tasty Thai cuisine at home, but diving into the real deal can add even more calories. The slate of fried dishes lists khao phat (fried rice) with chicken or pork, phat siyou (stir-fried noodles with pork or chicken), and phat kraphao (stir-fried beef, pork, prawns or chicken seasoned with basil, chillies and garlic). Kai yang (marinated, grilled chicken) tempts fried chicken skin-lovers, while moo ping (marinated, grilled pork on a stick) offers calorie-boosting snack. Another diet-crushing treat, keep moo, are deep-fried, crispy pork rinds. On the dessert cart or at snack stands, you'll discover khanom thuai talai (steamed sweet coconut jelly and cream), chao kuai (jelly with shaved ice and brown sugar), and khanom mo kaeng, (pictured at top of story) a traditional Thai sweet baked pudding made with coconut milk, eggs, palm sugar and flour. Source: Tourism Thailand.
Viet Nam: Plenty of Vietnamese food can really raise the calorie count. Instead of the popular and slimming ph? for soup, try the more substantial mì bò viên, an egg noodle soup with beef meatballs and raw steak, with chives and roasted shallots. Alluring rice dishes can offer a dose of diet-enders: bò lúc l?c (sautéed cubed beef) and c?m t?m (ribs or shredded pork meat and skin on fried rice). Bánh xèo, a type of crêpe made of rice flour with turmeric, shrimp with shells on, slivers of fried fatty pork, is tough to pass up, as is bánh mì k?p th?t, a baguette filled with pâté, mayonnaise, cold cuts, and spicy pickles. Vietnamese ground pork or beef sausage, giò, are begging to be bitten, and for a full button-popping dinner, try bò 7 món, a meal of seven beef dishes. For dessert, try sweet chè pudding.
Sources: Unless otherwise cited, the sources of information for this article are the author's experience supplemented by Wikipedia. All pictures sourced from Wikipedia.