Taste of Southeast Asia: Dining in Brunei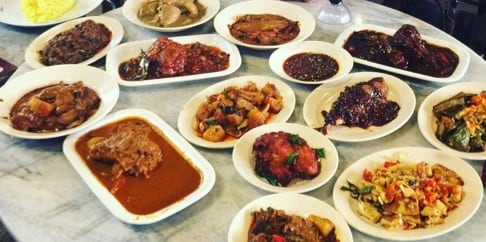 Welcome to our third post in the Taste of ASEAN series, where we discover the exquisite range of foods from Southeast Asia. In our previous food adventures, we went on a hungry-eyed journey exploring the exciting cuisines of Indonesia and the Philippines – and it didn't disappoint!
Join us in this feature, where we discover local dishes in the fusion-food country of Brunei. A country rich with diverse cultures, food and people, Brunei is a fantastic place worth adding to add to your list of travel destinations.
The food in Brunei is a fusion-cuisine, combining Malaysian, Chinese and Indian cooking techniques to form a delicious melting pot of flavors. Typically, Bruneian dishes tend to be more Malay than Chinese, featuring vibrant spices such as chilies, fennel, cumin, coriander, turmeric, lemongrass, and cinnamon. Recipes are often prepped with key Asian seasonings – garlic, ginger and onions to produce wonderfully flavorsome meals.
Spicy curries are common across Brunei and often accompanied with noodles or rice. Local staple dish, Sayur Lodeh (vegetable curry) is a common household meal that's worth looking out for. Made with cabbage, long beans, and other vegetables in coconut milk, meat or tofu can also be added for extra density. Most venues in Brunei will serve it – be sure to give it a try on your next trip.
Bruneian Restaurant – Chop Jing Chew
There's plenty of incredible food throughout Brunei and the best options can be found in the Gadong area, just north of the center. Take a trip to Jalan Gadong and visit well-known local Kopitiam (café) – Chop Jing Chew. A long-standing venue on Brunei's café scene, this venue maintains its popularity with locals and foreigners alike.
Chop Jing Chew was founded by Chinese-born Han King Juan in 1946. Han became known for his "Roti Kuning" (yellow-colored bread). You'll find an eye-popping variety of the yellow-colored baked goods filled with coconut jam, peanut butter and buttermilk. For those of you who enjoy people-watching, this is the place to spot loyal local customers, who come in for their regular Teh-Tarik (hot milk tea) and Kopi-O (strong black sweet coffee).
Chop Jing Chew also offer a variety of traditional lunch and dinner dishes. Many visitors give Chop Jing Chew's savory offerings high praise. The menu features a range of Bruneian meals, including their own kway teow (flat rice noodles) dish, named 'seama kway teow'. Containing a glorious mix of flat rice noodles, sweet sauce and sesame – it is topped off with tasty deep-fried fish and tofu.
Bruneian Recipe: Char Kway Teow
Kway teow is Chinese flat rice noodles and you'll find many recipe variations using kway teow, across Brunei. Local Bruneian food blogger – Thanis Lim, points us in the direction of this delightful tomato kway teow served at Sukyana Restaurant. If chicken is your preference, chicken-skin fried kway teow can be enjoyed in big slurpy portions at My Town Eating House – located in the Crowne Princess Complex (Bandar Seri Begawan area).
Char kway teow is a popular dish using kway teow noodles and is widely enjoyed in Brunei. In this char kway teow recipe from Leitesculinaria.com, cockles, shrimp, Chinese sausage, mung beans, eggs, and broad flat rice noodles are combined with a host of delicious spices, seasonings and flavors to produce tasty dish, ready in just 25 minutes. Best cooked one portion at a time and served hot – straight from the wok!
Bruneian Restaurant – SDK RESTAURANT
SDK restaurant in the Rimba area of Brunei, might not be the easiest place to find but it's well worth the trip. Native foodies – Bruneian Eats, Thanis Lim and Bruneian magazine – Neue, all share their love for SDK's signature dish – nasi katok. Nasi katok consists of plain rice, fried chicken and sambal (spicy sauce).
Local blogger Bruneian Eats provides step-by-step directions in her blog post showing you how to find this hidden gem. Highlights on SDK's menu are the honey nasi katok and much-loved buttermilk nasi katok. If you're not afraid of spicy chili and have a love for fried chicken – you must head here on your next visit to Brunei.
Bruneian Recipe: Nasi Katok
Nasi katok, meaning "knock rice", is one of the easier dishes to recreate in your own kitchen. Simple ingredients combined with uncomplicated preparation, gives you the chance to sample a taste of Brunei before your next travel trip there.
This quick video tutorial from 'dishes around the world', provides a speedy recipe tutorial on how to make nasi katok. The sambal takes a bit of preparation before it's cooked and contains a lively mix of onion, garlic, ginger, red peppers, chili, dried peppers, shrimp paste, tomato paste, and seasoning. Once pan-fried, this incredible flavorsome sambal is ready to serve with cooked white rice and fried chicken. A great dish for entertaining.
Bruneian Chef – Chef Muhammad
An unlikely combination of successful tech-distributor and foodie, Chef Muhammad's true love is food. The Bruneian chef's culinary talents have gone on to win multiple awards and Muhammad continues to take a hands-on approach to his cooking.
Happy Tummy, a joint food business with old friend and fellow chef Mohd Nasrul Hadi Hj Morni, has resulted in the creation of modern versions of classic recipes. Borrowing taste influences from Indian and Malaysian cuisines, their signature dishes include nasi padu and variations of nasi lemak.
Head to the Royal Brunei Recreational Club to enjoy these dishes and many more from Happy Tummy. Served here from 9am-9pm, every day.
Bruneian Recipe: Nasi Lemak
Nasi lemak, a traditional Malay dish, is a widely-loved dish in Brunei with locals creating their own exciting variations to this popular breakfast recipe. This spicy nasi lemak recipe from BBC Food shows you how to make your own nasi lemak dish, in one hour.
Coconut milk is combined with lemongrass, ginger, and rice to create a beautifully fragrant rice. For the accompanying sambal (spicy sauce) – onion, garlic, shrimp paste, chili paste, anchovies, sugar, and tamarind are heating together in a pan to form a paste. Dish up the rice and sambal on the plate – top the rice with a fried egg and finally garnish with peanuts and cucumber to complete your nasi lemak. Eat and enjoy!
If we've tempted you into choosing Brunei for your next travel trip, we recommend checking out this incredible eating guide from Thanis Lim (Brunei's unofficial foodie ambassador). It provides fantastic insider tips on where to find the best local dishes in Brunei.
Thanks for joining us on another food adventure, we hope you enjoyed exploring what to eat and where to eat in Brunei. Did you try any of these recipes at home? We'd love to hear from you! Join us for the next Taste of ASEAN feature, where we'll be taking a dive into Singapore's culinary offerings.