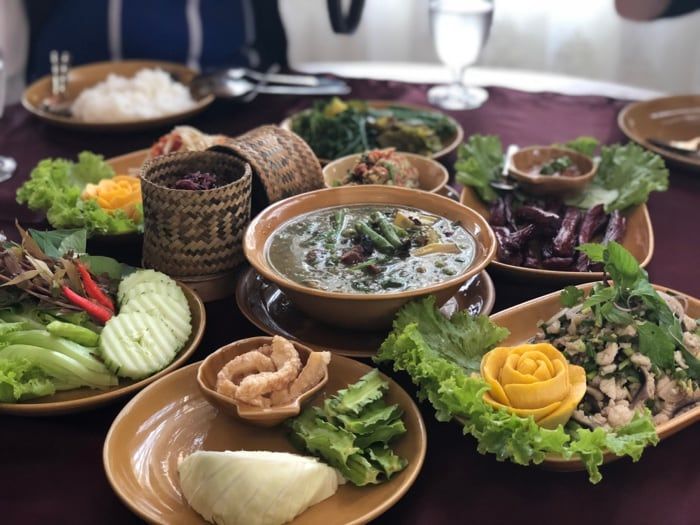 Welcome to Taste of ASEAN and another exciting culinary exploration of Southeast Asia. Our food travels have already taken us to eight wonderful nations, in search of all the best local foods. From sweet and sour to salt and spicy, we've discovered a host of tantalizing dishes that stirred up our appetites.
Join us in this feature, as we continue our food venture into the special cuisine of Laos. We shall be diving into best-tasting local dishes and sharing a few recipes to try at home. The food alone might be enough to tempt you into visiting this wonderful country for your next vacation.
Lao Cuisine
The only southeast Asian country that's surrounded entirely by land, Laos (pronounced Lao) borders Myanmar, China, Vietnam, Cambodia and Thailand. Laos, meaning "land of a million elephants", is mainly a Buddhist country consisting of over sixty different ethnic communities. Boasting mountainous ranges, stunning views of the Mekong river and friendly hospitality – one of the richest characteristics of Lao culture is its food.
Laotian culture has similarities with the northeast Thai region of Isaan, where the language, architectural design and food share a crossover of influences. Formerly part of the French colonial empire, French influences are still prominent throughout Laos and has left an unmistakable mark in the laid-back capital city– Vientiane.
Padaek (Lao fish sauce) made from fermented fish is a core ingredient in Lao cooking and commonly added to curries, dips and sauces. Another significant national food is sticky rice (khao niaw) and is usually eaten at breakfast, lunch and dinner. To immerse yourself in local sticky-rice-eating etiquette, roll up a ball of sticky rice by hand and use it to sponge up curries, salads and sauces.
Coffee is one of the largest and growing exports coming out of Laos, with two types being harvested; Arabica and Robusta. For coffee lovers, no trip to Laos is complete without enjoying a cup of oliang (Laos coffee), made with condensed milk.
Lao Restaurant – Lao Kitchen
Based in Vientiane, Lao Kitchen provides a modest contemporary experience with a focus on traditional Laotian dishes. Modern, spacious and friendly service make Lao Kitchen a fantastic first place to enjoy a taste of Laotian cuisine. A little more expensive than average, but still reasonably-priced, Lao Kitchen offers diners truly authentic dishes that are typical of the region. Remember to ask for "lao- spicy" if you like your dishes with a bit more kick, as "tourist-spicy" might be a little too mild here.
You can expect to find a range of delicious authentic Lao dishes including stir-fried morning glory (water spinach), grilled Mekong fish, sai gok (herb pork sausage) and variations of the famously popular Lao dish – laap (meat salad). Soak up the juice from the laap salad with a side order of sticky rice served in bamboo tube. Lao Kitchen also offer a tasty vegetarian version of this dish, featuring wild mushrooms. Thirsty travelers are well catered for too, with a range of fruit shakes, herbal teas, and local beers to choose from.
Lao Recipe: Laap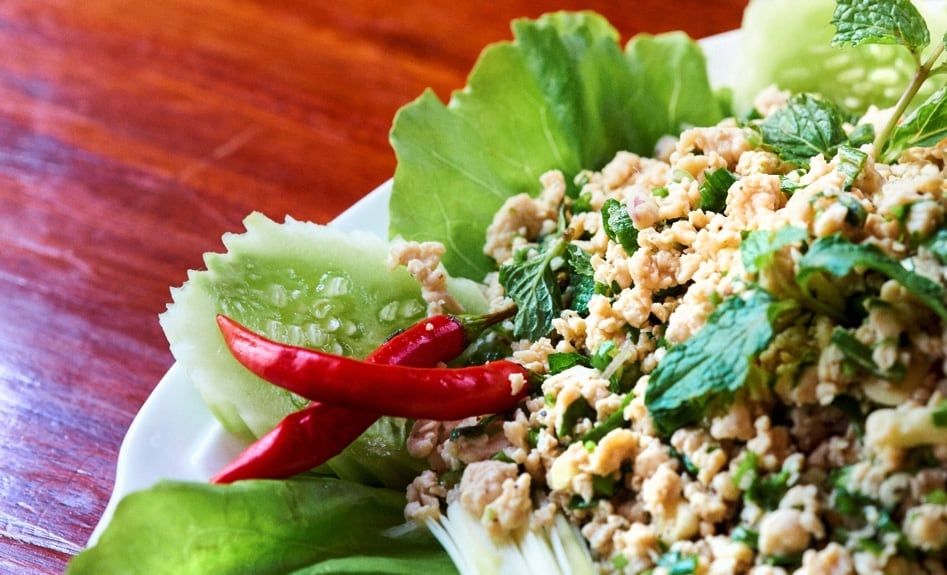 Popularized in Thai cooking, meat salad – laap (also written as larb or larp) in fact finds its roots in Laotian cuisine. The original (Lao) version of this dish features the distinguishing ingredient called Padaek, a fermented fish sauce intrinsic to Laotian cuisine.
To sample a flavor of Laos, this fantastic Larb recipe from The Woks of Life, provides simple step-by-step instructions to make laap at home. Made with ground pork, this recipe includes all the typical ingredients used in Laotian cooking including fish sauce, lime, chili, shallots, cilantro, and mint. Packed with lots of flavors, it's a superb dish for entertaining.
Lao Restaurant – 3 Nagas
For those seeking a break from the street food and canteen eateries, luxury restaurant – 3 Nagas hits all the right notes. Located in the UNESCO world heritage city of Luang Prabang, the 3 Nagas restaurant sits within a main hotel, as part of the Sofitel group. The ultimate fusion of French colonial style and Indochinese design, when it comes to the food it is all about authentic Lao cuisine.
The philosophy of 3 Nagas is to serve traditional Laotian cuisine, using only locally-sourced ingredients. The menu boasts a truly authentic fare, where you will find Laotian classics including khaow niew (sticky rice), sai oua kwai (buffalo sausage) and variations of mok dishes (fish, meat or vegetables wrapped in banana leaf). A truly unique experience, it is the perfect spot to experience a touch of Laotian luxury.
Lao Recipe: Mok Pa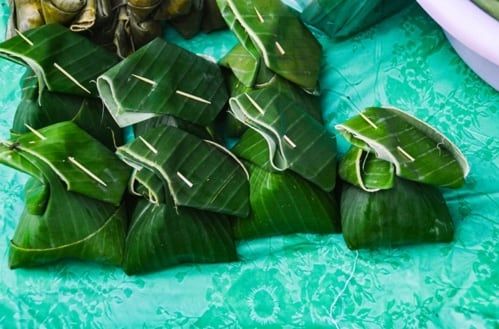 Mok, meaning wrapped in banana leaf, refers to the various delicious combinations of fillings that are wrapped and steamed inside banana leaves. Mok pa is the most common fish variation made with herbs and spices, but you'll also find pig's brains, chicken or vegetables used across different regions of Laos.
To make your own version of mok pa at home, this delicious recipe from Avocado Pesto, helps you do just that. Parchment paper, aluminum foil or green pepper can be used as an easy alternative to banana leaves. Ready to eat in just thirty minutes, this recipe combines the wonderful flavors of white fish, garlic, chili, lemongrass, kaffir lime, dill, basil, onion and fish sauce. Serve hot with sticky rice and enjoy all flavors of this aromatic dish.
Laos Restaurant – Kua Lao Restaurant
A traditional Lao meal consists of several dishes served together and enjoyed with family and friends. There's no better place to enjoy dinner in a group, than at Kua Lao Restaurant in Vientiane. Housed in a two-story French-colonial villa, Kua Lao has been serving up traditional Laotian fare to its clientele since 1994. The impressive venue stages traditional Lao dance and music performances that immerses guests into an unforgettable dining experience, typical of Laotian culture.
The menu at Kua Lao reflects traditional Laotian cuisine, with their signature platter (pa kao yai) offering a wide selection of authentic dishes including laap (meat salad), mok pa (steamed fish) and tam mak hoong (green papaya salad).
Laotian Recipe: Tam Mak Hoong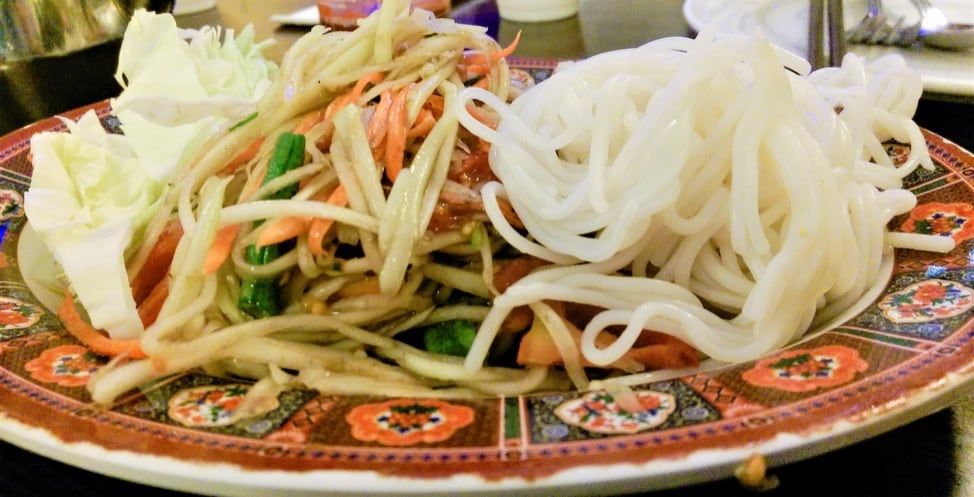 Similar to Thai "som tam" (green papaya) salad, Lao green papaya salad is also made using shrimp paste, green papaya, garlic, chilies, and tomatoes. The main difference is that Lao version (tam mak hoong) uses core Laotian ingredient padaek (fermented fish).
If you're craving a taste of this flavorful salad, Epicurious shares a wonderful green papaya salad recipe, you can try before your trip to Laos. Bursting with the typical flavors of Lao cuisine including green papaya, lime, garlic, chili, tomato, fish sauce, and sugar, it's a dish best-enjoyed Lao-style with sticky rice. Here's a Laotian sticky rice recipe from International Cuisine, to complete your Laotian culinary feast.
Thanks for joining our tour of Laotian cuisine, did you enjoy making these recipes at home? We'd love to hear from you! Join us next time for the final feature in the Taste of ASEAN series, as we conclude our culinary travels in the charming country of Cambodia.